Search Data Reveals Trump's Most Impactful Moments of the First 100 Days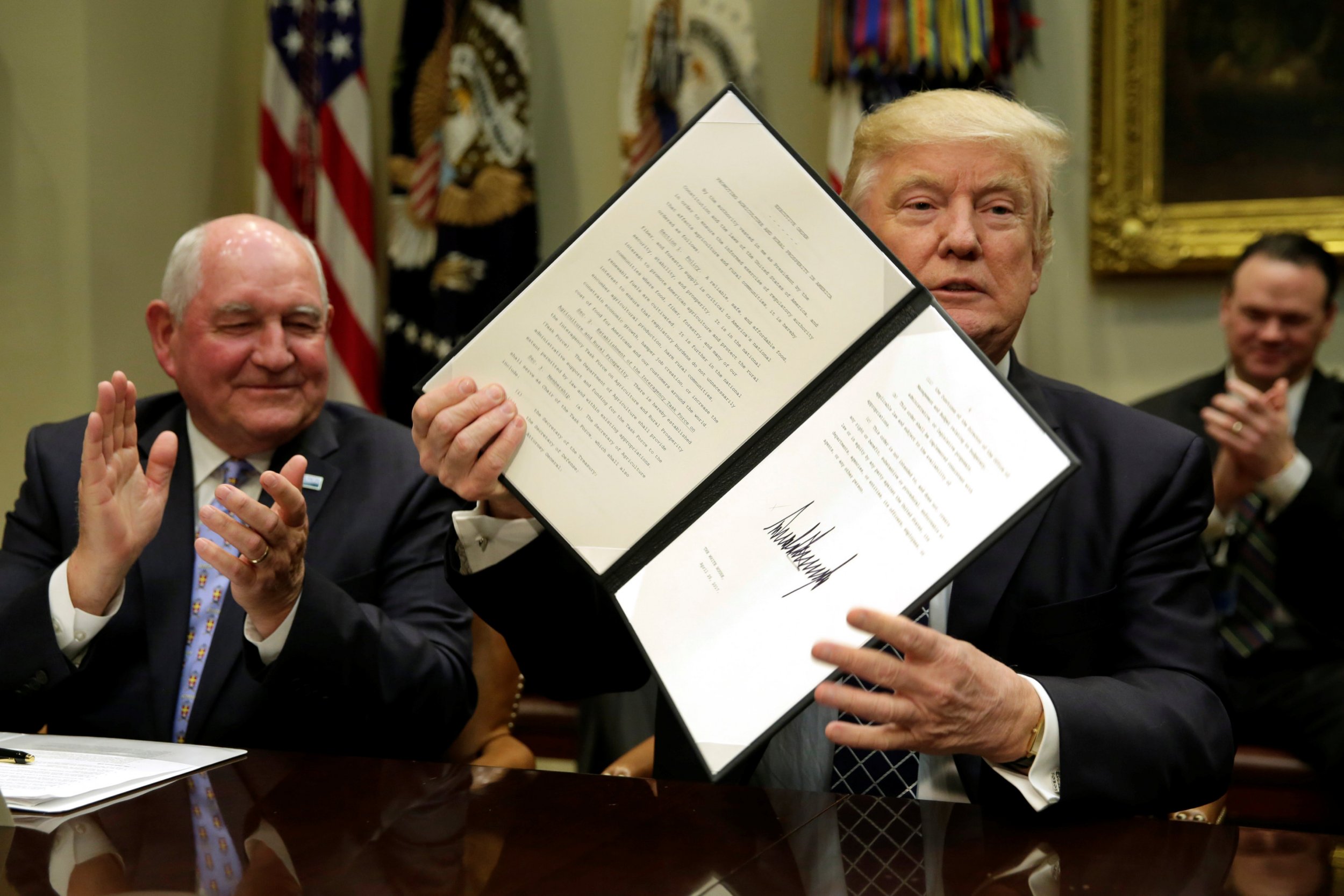 On the day that President Donald Trump touted what he believes are the noteworthy and, indeed, historic accomplishments of his first 100 days in the White House, an analysis of online search data has suggested a very different picture of what events have had the most impact on Americans.
Related: Trump's 100 Days: How to Make Sense of the Economic Policy Roller Coaster Ride
Analyzing search volume for "Trump" since he became the country's 45th president, search intelligence company Captify found that the most impactful moment of his short-lived presidency was Mike Flynn's request for immunity over ties to Russia. Flynn stepped down from his role as national security adviser in February after misleading administration officials over his communication with the Russian ambassador to the United States during Trump's transition.
Six weeks later, Flynn requested immunity in exchange for testifying before federal and congressional investigators as part of their probe into Russia's interference in the election. It was that day, March 31, that saw the biggest increase in volume of searches for "Trump," a 224 percent increase compared to the previous seven-day average.
"Looking at search data related to Donald Trump, we can get a good grasp on the issues and media moments people are most interested in," Dom Joseph, CEO and co-founder of Captify said in a press release. "Search intelligence provides an incredibly accurate view of national sentiment, rather than polls which require people to self-report their thoughts. What people type into a search bar comes from a very honest place."
The second most impactful moment of Trump's first 100 days was a little more positive for the president. That was on the day of his first address to Congress, with a 166 percent increase in search volume. Next on the list was the day that it was reported that federal immigration officials arrested 600 people in one week.
Rounding out the top five were two consecutive days in March in which Trump's 2005 tax return was leaked, he backtracked on claims that former President Barack Obama wiretapped Trump Tower and the Congressional Budget Office released a report detailing that 24 million fewer people would be insured under the Republican plan to replace Obamacare.
The report also collected geographic-specific data on which issues mattered most to voters. In the Northeast, people searched for information about the now-suspended travel ban 34 percent more than other areas. In the Midwest and the South, meanwhile, Obamacare was the most searched issue at rates considerably higher than the national average.
It wasn't just the Trump administration's politics where data was collected. The report also tracked search volume for the Trump family's brands. The same day as Trump went on Twitter to accuse Obama of wiretapping his phones, search traffic for Trump Hotels saw a massive 2,649 percent spike.
The question of whether the presidency is being used to enrich the Trump family's business interests has been the subject of much controversy. On Monday, it emerged that a blog post on the State Department website promoted Trump's private Mar-a-Lago club in Florida where he has spent many of his weekends since becoming president. The post has since been removed.
Controversy also erupted in February when White House counselor Kellyanne Conway promoted the brand of Trump's daughter Ivanka during a television interview. Search results show that interest in the Ivanka Trump Collection has tailed off significantly since the first 30 days of her father becoming president, with search queries down 97 percent.