Trump's 2017: Least Popular First-Year President Ever Despite His Boasts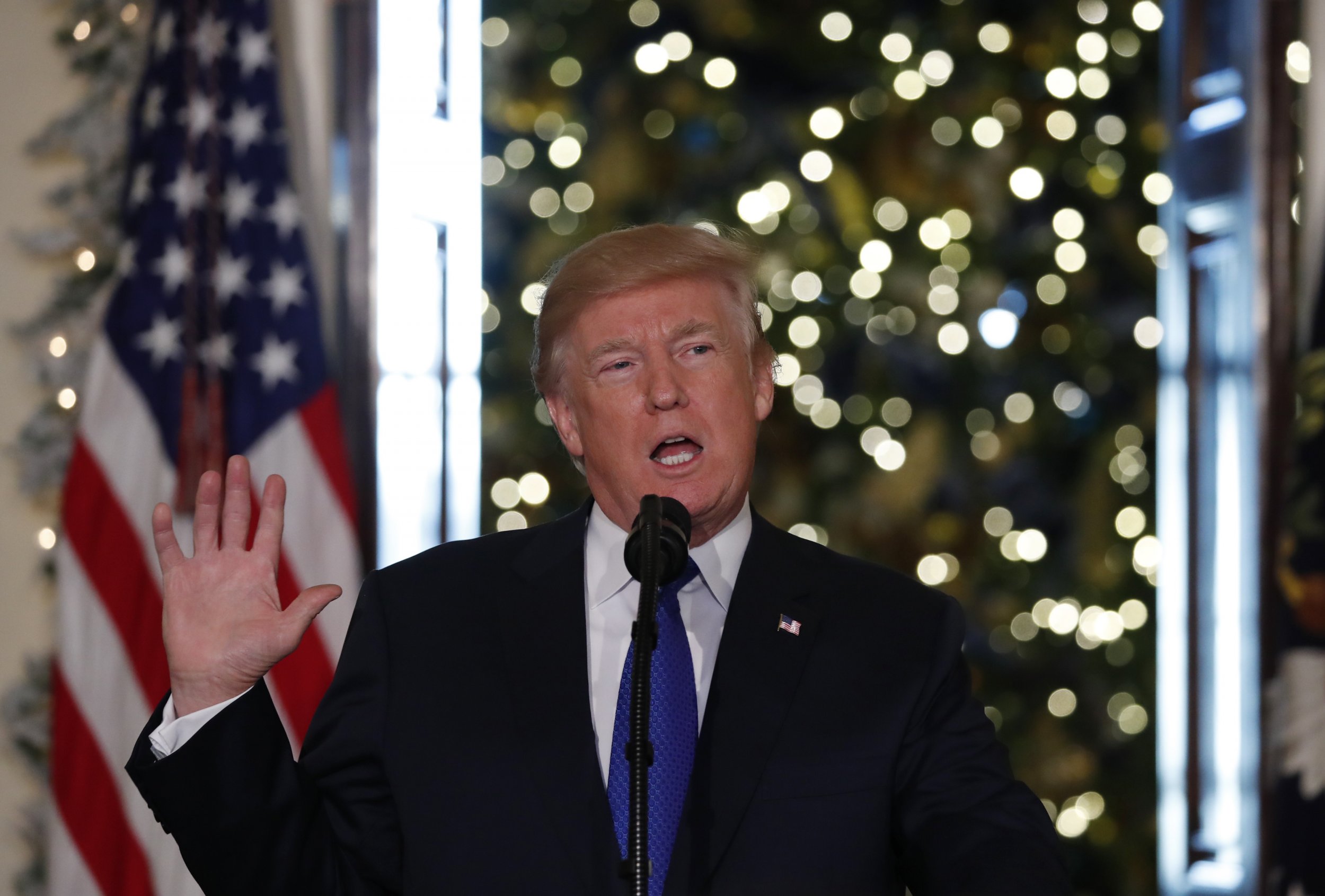 According to President Donald Trump, his administration has been one of the most successful in American history. But the public strongly disagrees.
The Republican Trump is now the least popular first-year president in the country's history and a vast majority believes he has failed to keep the promises that won him the White House, according to two new Associated Press-NORC Center for Public Affairs Research polls.
The results showed a poor approval rating for Trump. The president received a 32 percent rating, marking Trump as the least-popular commander-in-chief since approval ratings were recorded. Conversely, Trump received a 67 percent disapproval rating.
Those figures also included a "quarter" of Republicans disapproving of Trump's first year in office, perhaps suggesting the billionaire's hold on his base is slipping.
Trump's approval rating has largely stayed in the 30s for months now. Both Monmouth University and the Reuters/Ipsos' latest polls show a 33 percent approval rating and only two other major polls have notched the rating above 40 percent. RealClearPolitics's current average sits at 37.2 percent approving compared to 58 percent disapproving.
In contrast, President Barack Obama began his first year in office with a 57.2 approval rating and began his second year at 46.7 percent, according to Gallup.
Trump has routinely boasted that he's kept campaign promises, but the AP-NORC polls indicate Americans have a far different opinion. Only 23 percent of those polled stated Trump had kept his campaign promises, while 45 percent believe he's failed to do so and 30 percent think Trump has tried and "failed."
The president's numbers were much stronger when it came to the economy. Forty percent approved of Trump's work on that front, and he's routinely boasted on Twitter about the ever-surging U.S. stock market and the nation's four percent unemployment rate.
The promises included the "repeal-and-replace" effort of Obamacare - his predecessor's landmark legislation - though it died in Congress despite Republicans owning majorities in both chambers.
Overhauling the tax code and reducing taxes, however, could become a promise Trump keeps. Media reports indicate Republicans are readying for a vote on their new tax bill next week, despite polls showing Americans are largely against a measure criticized for reducing taxes on the wealthy instead of the middle and lower classes.
Last week, Trump, too, kept a promise to recognize Jerusalem as Israel's capital and to move the U.S. embassy in Tel Aviv to the holy city. However, Secretary of State Rex Tillerson said moving the embassy may not occur to 2020 at the earliest.
The two polls were conducted between Nov. 30 and December 4 and December 7 to 11, drawing results from 1,444 and 1,020 adults with margins of error of 3.7 percent and 4.3 percent, respectively.