What Will Trump Do in 2018? Welfare Reform, Obamacare Repeal and Infrastructure Are Top Priorities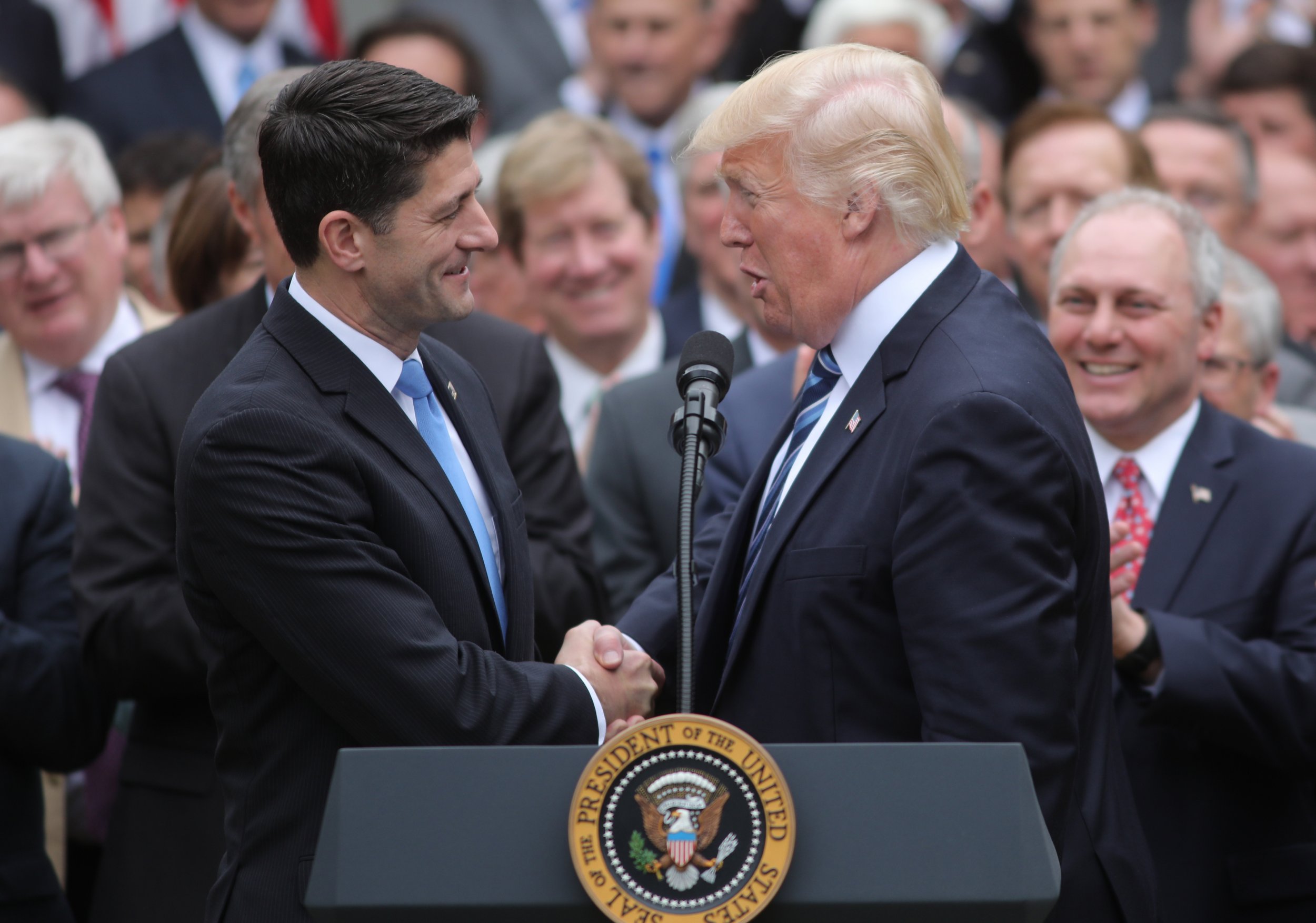 The Trump administration is riding high on its historic tax plan win, and it's hoping to harness that energy in pursuing an ambitious legislative agenda in the new year. With 2018 comes the midterm elections, and Republican senators and representatives are hoping to get a few more legislative wins under their belts before their voters head to the polls in November.
President Donald Trump has indicated that his two major priorities are welfare reform and a $1 trillion infrastructure bill, but there's much more on the docket. In what is expected to be a busy year, here are the topics that will likely dominate your news feeds for the next 12 months.
Infrastructure
Sweeping infrastructure reform legislation will likely be the first agenda item presented by congressional Republicans in 2018. The Trump administration and the GOP leadership have been working to come together on a $1 trillion plan to revamp America's crumbling roads, bridges, airports and railroads.
Republicans have indicated, however, that the bill will largely focus on streamlining bureaucracy and ending agency review processes instead of physical building. The bill will also focus on public-private partnerships and on halting regulations that make it difficult for companies to build.
Democrats have already been calling foul, saying they're being shut out of what should be a bipartisan bill.
"They haven't really talked to any Democrats as best I can tell," said Maryland Representative John Delaney. "And it seems like their plan is based on regulatory relief—some of which may make sense, I bet a bunch of it doesn't—and if you really want to do infrastructure on any kind of meaningful scale, it has to have some funding associated with it from the federal government."
The bill will need to attract a 60-vote majority to pass through the Senate, so without some bipartisan action it could well be dead in the water.
Welfare Reform
Trump and top Republicans have indicated that reforming welfare is a main priority for the new year. They just have to figure out how they're going to do it.
House Speaker Paul Ryan has said he wants to make cuts to entitlement programs and Social Security, but he'll have to get the president—who made campaign promises not to do so—on board. During a December radio interview, Ryan made it appear likely that Trump would be willing to budge on his Medicare promises, but sources said he'll wait until 2020 to move on Social Security.
Trump seemingly has no problem with the idea of limiting access to food stamps and housing benefits, however. His administration is reportedly preparing an executive order to mandate an extensive review of the programs. Meanwhile, Congress is working on legislation to limit who qualifies for these safety net programs, and could be considering work requirements and worker training programs.
"We want to get our people off of welfare and back to work," Trump said. "So important. It's out of control. It's out of control."
Obamacare
The Republican tax plan killed Obamacare's individual mandate, which required Americans to either be covered by health insurance or pay a fine. Trump has indicated that while he believes this deregulation effectively ended Obamacare, he wants to make sure it's truly dead by replacing it with new legislation.
"When the individual mandate is being repealed, that means Obamacare is being repealed," Trump said during a Cabinet meeting. "We have essentially repealed Obamacare and we will come up with something much better."
Contrary to Trump's claims, the Affordable Care Act is still in place and individuals can still purchase insurance through exchanges.
Senate Majority Leader Mitch McConnell has said that he wants to leave Obamacare alone, and after two embarrassing defeats in attempts to repeal and replace the health care act in 2017 it would appear Ryan also wants to give it a rest.
Republicans hold just 51 Senate seats this year, which would make the task even more difficult. Still, Trump continues to push it as a legislative priority.
The Budget
Before leaving for the Christmas break, Congress passed a temporary resolution to keep the federal government funded and open until January 19. Fights over funding for immigration programs, national security, health care and disaster relief were put on the back burner—but they're going to have to get hashed out soon.
Talks involving McConnell, Ryan and the House and Senate minority leaders, Nancy Pelosi and Chuck Schumer, will begin Wednesday.
"I think the GOP leadership will be running the gauntlet. The question is: Will they be able to survive?" said House Freedom Caucus leader Mark Meadows.
Meanwhile, another potential crisis looms: The U.S. Treasury will run out of money to pay its bills this spring unless Congress agrees to raise the debt limit. Fiscal brinkmanship is to be expected, with some representatives already threatening to allow to the U.S. to default on its debts.
Banking Reform
The Trump administration has been quietly deregulating large swaths of the financial services industry, and those actions should continue into 2018.
In 2017, Trump replaced Federal Reserve Chair Janet Yellen with Jerome Powell, a former investment banker. He also saw Joseph Otting, a finance executive who worked for major commercial lenders, confirmed as the head of the Treasury Department's Office of the Comptroller of the Currency, which regulates banks.
The Treasury Department, led by former Goldman Sachs exec Steve Mnuchin, has released reports calling for less regulation of mid-size banks, less emphasis on stress tests and a restructuring of the Consumer Financial Protection Bureau.
Additionally, the Trump administration signed a regulation that blocked consumers from filing class actions against banks they feel have wronged them.
Now, Trump has his eyes on Dodd-Frank, a Wall Street reform and consumer protection effort signed by President Barack Obama after the financial crisis in 2010. "We expect to be cutting a lot out of Dodd-Frank because, frankly, I have so many people, friends of mine, that have nice businesses that can't borrow money," said Trump last year.
The chairman of the Senate banking committee, Mike Crapo, plans to introduce legislation to repeal Dodd-Frank early this year.