When President Donald Trump unveiled his plan to combat the nation's opioid crisis on Monday, he went to New Hampshire, a state struggling with one of the highest overdose rates in the country. But before talking about any of the details, he alluded to another Granite State distinction: its status as home of the first-in-the-nation presidential primary.
At the same time, Trump's daughter and senior White House adviser, Ivanka, went to the Midwest Monday to talk up the president's infrastructure plan in Iowa, whose caucus traditionally kicks off presidential campaign season.
The White House visits to politically potent states come as Trump faces a potential primary challenge within his own party.
Republican Senator Jeff Flake of Arizona, an outspoken critic of the president who has called for a GOP challenge to Trump in 2020, visited New Hampshire last week. On Friday, he attended the "Politics & Eggs" breakfast hosted in Manchester by the New England Council and the New Hampshire Institute of Politics. He reportedly got a standing ovation.
Ohio Governor John Kasich, another Trump critic who mounted an unsuccessful White House bid in 2016, is also expected to visit New Hampshire early next month for a "fireside chat" at a local college, according to The Washington Post.
In addition to the potential challengers, Republican insiders say that Trump should be concerned about losing the political coalition that helped deliver him the White House, including working-class voters who left the Democratic Party to rally around his populist message.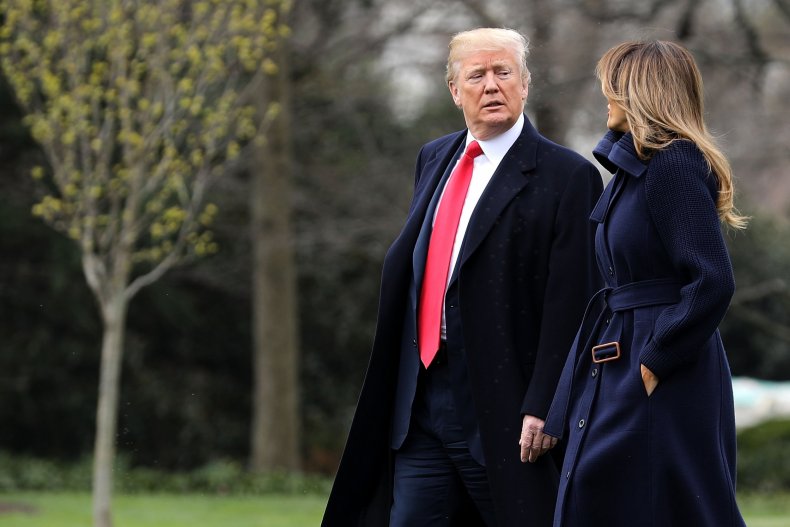 "I'm certain that Trump will draw a serious primary challenger," Fergus Cullen, a former chairman of the New Hampshire Republican State Committee, told The Post. "A lot of voters are getting tired of this act."
Another reason for Trump, who was once a registered Democrat, to possibly fret over 2020 is dissension within the Republican Party.
The last time an incumbent president faced a primary challenger was 1992. Conservative commentator and former White House speechwriter Pat Buchanan went up against George H.W. Bush, claiming the "old conservative movement is breaking apart."
In 2016, as Trump gathered up primary victories, the GOP also faced questions about the direction of the party.
Since he has taken office, Trump has routinely clashed with establishment Republicans like Flake, as well as Senators John McCain of Arizona and Lindsey Graham of South Carolina. McCain sank Trump's attempt to repeal Obamacare, while Graham, who has since become an ally of the president's and plays golf with him, recently stated that if Trump fired the special counsel investigating Russian election meddling it would "be the beginning of the end of his presidency."