Trump 2020 Campaign Announces 'Black Voices for Trump' Coalition: 'Black Americans Have Never Had a Better Champion'
Trump's 2020 presidential campaign on Monday announced it will launch "Black Voices for Trump," a coalition dedicated to recruiting Black Americans in support of President Donald Trump, later this week in Atlanta, Georgia.
"Black Americans have never had a better champion than President Trump," Katrina Pierson, Senior Advisor at Donald J. Trump for President, Inc. wrote in a statement emailed to Newsweek. "The Black Voices for Trump coalition will be a national effort to mobilize and empower Black Americans who support President Trump to help get the message of 'Promises Made, Promises Kept' into communities across America."
The Black Voices for Trump Coalition initiative will be launched at the Georgia World Congress Center, a convention center in Atlanta, on Friday at 3 p.m. ET, during which the president's reelection campaign team will likely tout recent statistics showing low unemployment rates among black workers.
"Under President Trump, unemployment for African Americans has reached historic lows and nearly 1.4 million new jobs have been added for African Americans," Pierson said. "Black Americans' strong support for President Trump will ensure a second term for the President."
According to local reports, Trump will appear at the event accompanied by Vice President Mike Pence. Although the political climate in Atlanta is moderately liberal, a senior White House official said the president chose the city for the rollout due to it being the epicenter of black communities.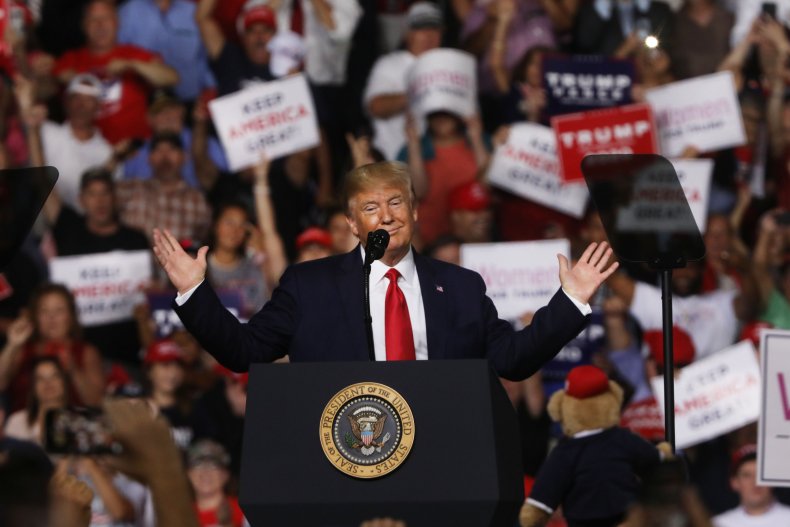 Trump will likely face a tough battle in garnering support from African Americans in Georgia, where Democrats overwhelmingly won the African American electorate in the 2018 U.S. midterm elections. Although voters elected Georgia Secretary of State Brian Kemp, a Republican, over former state House minority leader Stacey Abrams, the Democratic candidate, for governor, 94 percent of African Americans/Black voters backed Abrams, according to exit polls.
National data on African American support for the president is similarly bleak. In 2016, roughly eight percent of black people voted for Trump. A poll recently conducted by the Associated Press-NORC Center for Public Affairs Research showed that just 4 percent of those in the black community believe the president's actions have benefited them.
It is unclear how Atlanta will receive Trump and whether they will remember his January 2017 attacks on the city.
"Congressman John Lewis should spend more time on fixing and helping his district, which is in horrible shape and falling apart (not to mention crime infested) rather than falsely complaining about the election results," the then-president elect tweeted after Lewis, a civil rights icon, criticized Trump and said he will not be attending his inauguration.