Trump Campaign Has Almost $1 Million In Unpaid Public Safety Costs
President Donald Trump has long touted his affection for the nation's police forces and has often referred to himself as the "law and order president," but his campaign has racked up nearly $1 million in unpaid public-safety costs for his rallies, with some debts going all the way back to 2016.
Invoices from ten cities — including El Paso, Texas; Mesa, Arizona; Erie, Pennsylvania; and Green Bay, Wisconsin — show that the president and his campaign still owe local police and fire departments large sums of money for providing him with protection during his various rallies over the last three years.
Not all cities entered into formal agreements with the president and some deployed their own forces as necessary, according to an investigation by the Center for Public Integrity.
The group found one case in Lebanon, Ohio, from October where the president began his rally by asking a cheering crowd if they "love law enforcement or what?" The president later called the local police force "heroes" before adding a hearty, "thank you, law enforcement!" His campaign has still not paid the city the invoice of $16,191 despite a follow-up notification.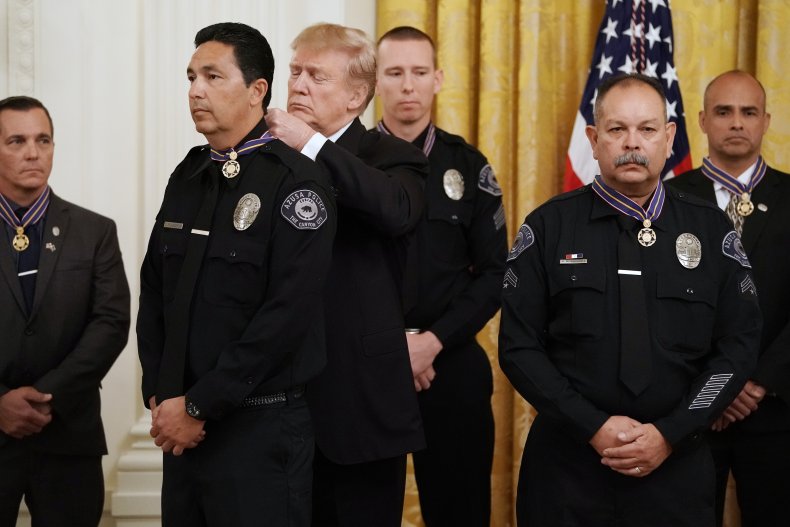 "There's a lot of benefit when a president comes here: economic benefits, more visibility for our community," Lebanon Mayor Amy Brewer told the CPI. "But I would hope and believe the Trump campaign would pay its bills. It's our taxpayer dollars."
Overall, cities are asking for at least $841,219 from the president. But some say if there was no legal agreement with these cities, his campaign is not obligated to pay them. In some cases, the Secret Service did request these services.
"The fiscal impact on local governments, especially during campaign seasons in critical vote states or communities, can be significant," Richard Myers, executive director of the Major Cities Chiefs Association and former police chief for several cities, including Colorado Springs, Colorado, and Newport News, Virginia, told CPI. "When one considers how much money campaigns raise and spend, it does not seem unreasonable to expect some degree of reimbursement for such demands for service."
The largest outstanding bill is from El Paso, Texas for $470,417. Beto O'Rourke, who had a rally in the West Texas city on the same date as Trump paid his full debt of $28,630 off before the bill was due. After Trump missed payment on his bill, the city sent him a sternly worded warning.
"Failure to pay your past due balance or to make acceptable payment arrangement within 30 days from the date of this notice (May 23) may result in your account being charged a one-time collection fee of 21 percent on your gross account receivable balance," wrote an El Paso's official.
Michael Glassner, chief operating officer for the Trump campaign, suggested to ABC News at the time that El Paso may have overcharged the campaign, and that they were looking into it. "Since 2015, the Trump Campaign has held nearly 550 rallies all over the country, and this invoice is roughly 10 times the amount that a locality generally asks to be reimbursed," Glassner said. "We are reviewing it." But that does not explain the other outstanding debts.
"I'm hopeful they'll pay. I'm hopeful they'll do what's right. People that don't pay their bills — that's a character integrity issue," El Paso Mayor Dee Margo told CPI.