Trump 2020 Campaign Rebukes Buttigieg's Plan for Black America as 'Misleading, Presumptuous' and 'Out of Touch'
Black Voters for Trump took a strong swipe at Democratic Presidential candidate Pete Buttigieg's Douglass Plan for Black America on Tuesday, calling it "incredibly misleading and presumptuous."
Three black South Carolina politicians who were named as supporters of the Douglass Plan do not support Buttigieg's candidacy. Two of them claim they never gave permission for their names to be used in the endorsement of the plan. In a statement, Republican initiative Black Voices for Trump called the situation a "blunder with the black community."
"Under the Trump Administration, the Black community has seen historic levels of economic growth and advancement," campaign senior advisor Katrina Pierson said in a statement emailed to Newsweek. "We have seen historically low black unemployment, a reformed criminal justice system, and a 14 percent increase in funding for HBCUs; all thanks to President Trump."
"Mayor Pete's 'Douglass Plan' is not only named after America's most prominent Black Republican but also is incredibly misleading and presumptuous," the statement continued. "His lack of awareness to the current state of the black community, the historical figure his 'plan' is named after, and inability to get real support from blacks in South Carolina shows how out of touch he is."
Pierson concluded: "Presidents don't talk, they act. What have you done for the black community in your city, Pete?"
In an open letter, published by the HBCU Times, more than 400 South Carolinians claimed to endorse Buttigieg's plan, which was described as being "as ambitious as the Marshall Plan that rebuilt Europe after World War II."
"We are over 400 South Carolinians, including business owners, pastors, community leaders, and students," read the letter. "Together, we endorse his Douglass Plan for Black America, the most comprehensive roadmap for tackling systemic racism offered by a 2020 presidential candidate."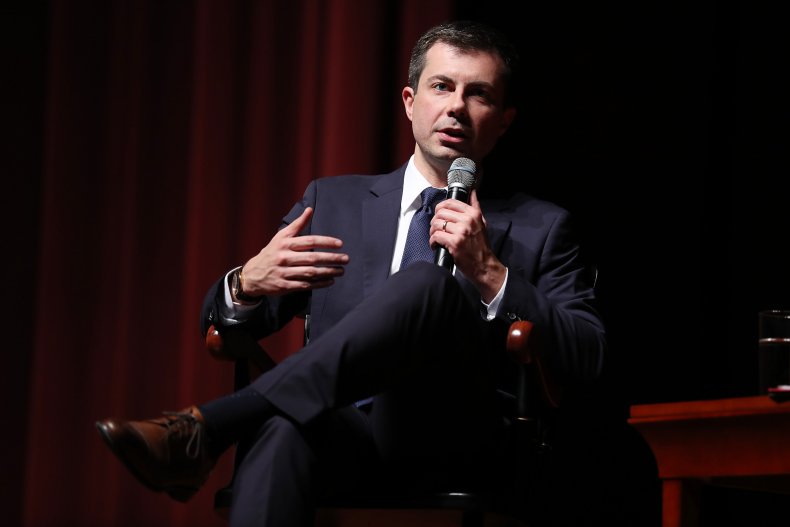 But Columbia City Councilwoman Tameika Devine said she did not mean for her endorsement of the plan to also be seen as support for Buttigieg, according to The Intercept.
"Clearly from the number of calls I received about my endorsement, I think the way they put it out there wasn't clear, that it was an endorsement of the plan, and that may have been intentionally vague," Devine explained. "I'm political, I know how that works. I do think they probably put it out there thinking people wouldn't read the fine print or wouldn't look at the details or even contact the people and say, 'Hey, you're endorsing Mayor Pete?'"
Councilwoman Devine clarified her view on the Douglass Plan in a tweet dated November 16.
"Although I have not endorsed a candidate for President yet, I do support the Douglas Plan by Presidential Candidate @PeteButtigieg," Devine tweeted.
State Representative Ivory Thigpen has already endorsed Senator Bernie Sanders for president and was surprised to see his name on the list of endorsers.
"I do think it was a misrepresentation," Thigpen said, "and it easily could have confused a lot of people as to where I stood."
Leader of the Democratic Black Caucus of South Carolina Johnnie Cordero said he found the plan "entirely presumptuous."
"It's presumptuous to think you can come up with a plan for black America without hearing from black folk," Cordero said. "There's nothing in there that said black folk had anything to do with the drafting of that plan."
"You wanna find out what we need? Come and ask us," Cordero added.
Buttigieg's plan covers health care, education and criminal justice reform.
"The Douglass Plan reflects a fundamental belief about racial justice in America," reads the description on Buttigieg's website, "not only that it is right to remedy centuries of dehumanization and discrimination in and of itself, but also that when Black Americans live in freedom and justice, all Americans have greater opportunities to live in freedom and justice."
Buttigieg's campaign issued a response to the statement from Black Voters for Trump.
"Donald Trump is in no position to give anyone advice on combating racism," said Buttigieg campaign spokesperson Nina Smith in an e-mailed statement, "but we're glad to have another chance to talk about Frederick Douglass and his legacy. Pete was proud to name his comprehensive plan to dismantle systemic racism after one of America's most recognized leaders, Mr. Douglass, with input and support from his descendants."
"Pete's Douglass Plan, which was developed with Black leaders and activists, would make unprecedented investments in entrepreneurship, education, homeownership, health, and justice," Smith continued. "Pete knows it is not enough to simply replace racist policies with neutral ones; he is campaigning on the need to make intentionally anti-racist investments. Pete also knows it is not enough to simply beat Donald Trump; we need to elect someone who will pick up the pieces and bring this nation back together. The contrast will be very clear when Pete stands across from Donald Trump on the debate stage next fall."
Updated 11/20/19 3:06 p.m. EST: This article has been updated to include a statement from Mayor Pete Buttigieg's campaign and a clarifying tweet from Tameika Devine.
Updated 11/21/19 5:38 p.m. EST: This article has been updated to reflect that not all 400 South Carolinians whose names appeared on the open letter were black.