The Man Who Ran Trump's Campaign Is Now Telling Democrats To Run Against Him in 2020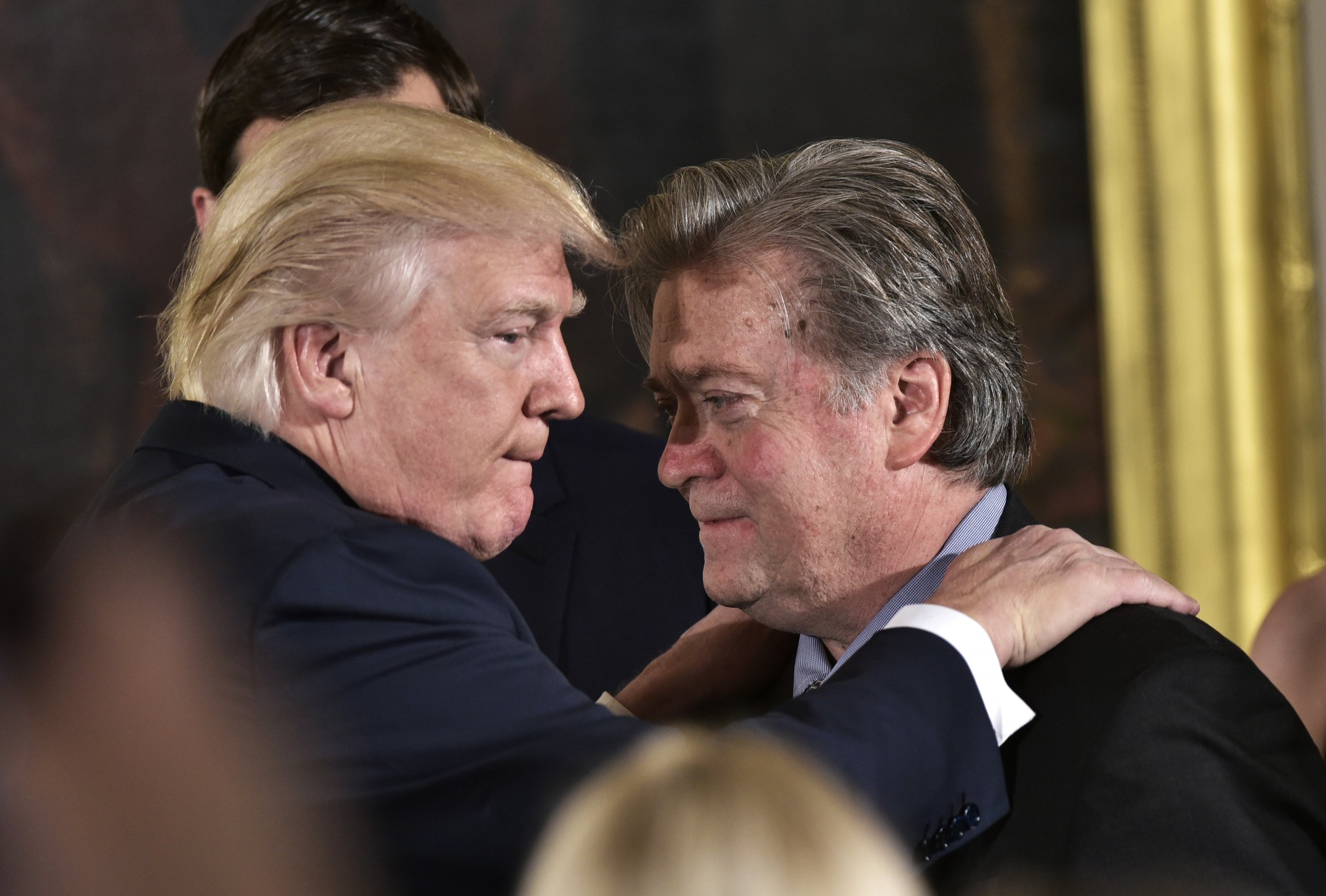 The man who ran Donald Trump's down the stretch of the 2016 election, helping to mastermind his victory over Hillary Clinton, is now seemingly lining up at least one candidate to run against the current president in 2020.
Steve Bannon has advised billionaire owner of the NBA's Dallas Mavericks Mark Cuban to make a run at the White House in the next election and to do so as a Democrat, according to a report from The Daily Beast Friday.
Related: Donald Trump Will Get Crushed by Any Democrat in the 2020 Election, Poll Indicates
The report follows months of speculation about a possible 2020 run for Cuban. Bannon, meanwhile, was ousted from his role in the White House in August and subsequently returned to his role spearheading Breitbart News, while also fielding anti-establishment candidates to challenge sitting Republicans.
Cuban revealed that he has been in contact with Bannon, who took over as the Trump campaign's chief executive last August before moving into the role as chief strategist in the White House. While Cuban played down the significance of those interactions, others said they were more substantial.
"They talk regularly," Sam Nunberg, a former Trump adviser who is close to Bannon, told The Daily Beast. "They're very similar. They have a lot of synergy there. Even when [Steve] went to work for Trump, Mark would be interviewed and say nice things about Steve."
The report cites a total of four sources as saying that Bannon has outright encouraged Cuban to run in 2020 and that doing so as a Democrat would be his best route to the White House.
When asked by TMZ Thursday whether Cuban would be taken seriously as a Republican candidate, Bannon responded "Not as a Republican…Democrat."
Yet, also on Thursday, Cuban insisted that running as a Democrat was something he would never consider, but that he was "honestly considering" doing so as a Republican or independent.
"The positive about running as a Republican is that you get to go head on with Trump in the primaries," he said at The New York Times DealBook Conference.
Cuban had been an early supporter of Trump during his campaign, stating that he was the "best thing to happen to politics." But he later became one of Trump's biggest critics, describing him as "lazy," leading to several back-and-forths between the pair. In February, Trump claimed Cuban was not smart enough to run for president."
But it is the involvement of Bannon with Cuban that provides a major extra layer of intrigue. For all their bickering, there are undoubted similarities between Cuban and Trump. Both are billionaires who came to wider national prominence as hosts of reality television shows—in Trump's case The Apprentice and in Cuban's Shark Tank.
It is their identities as political outsiders that likely most interests Bannon. Since leaving the White House, Bannon has already gone head-to-head with Trump when backing Roy Moore against the Trump-endorsed Luther Strange in the Republican primary for Alabama's special Senate election. Yet at the same time, Bannon has claimed to still be an ardent backer of the Trump agenda.
Perhaps Bannon is just hedging his bets ahead of 2020. After all, Vanity Fair reported him as saying last month that he thinks Trump only has a 30 percent chance of completing a full four-year term.
The Man Who Ran Trump's Campaign Is Now Telling Democrats To Run Against Him in 2020 | U.S.