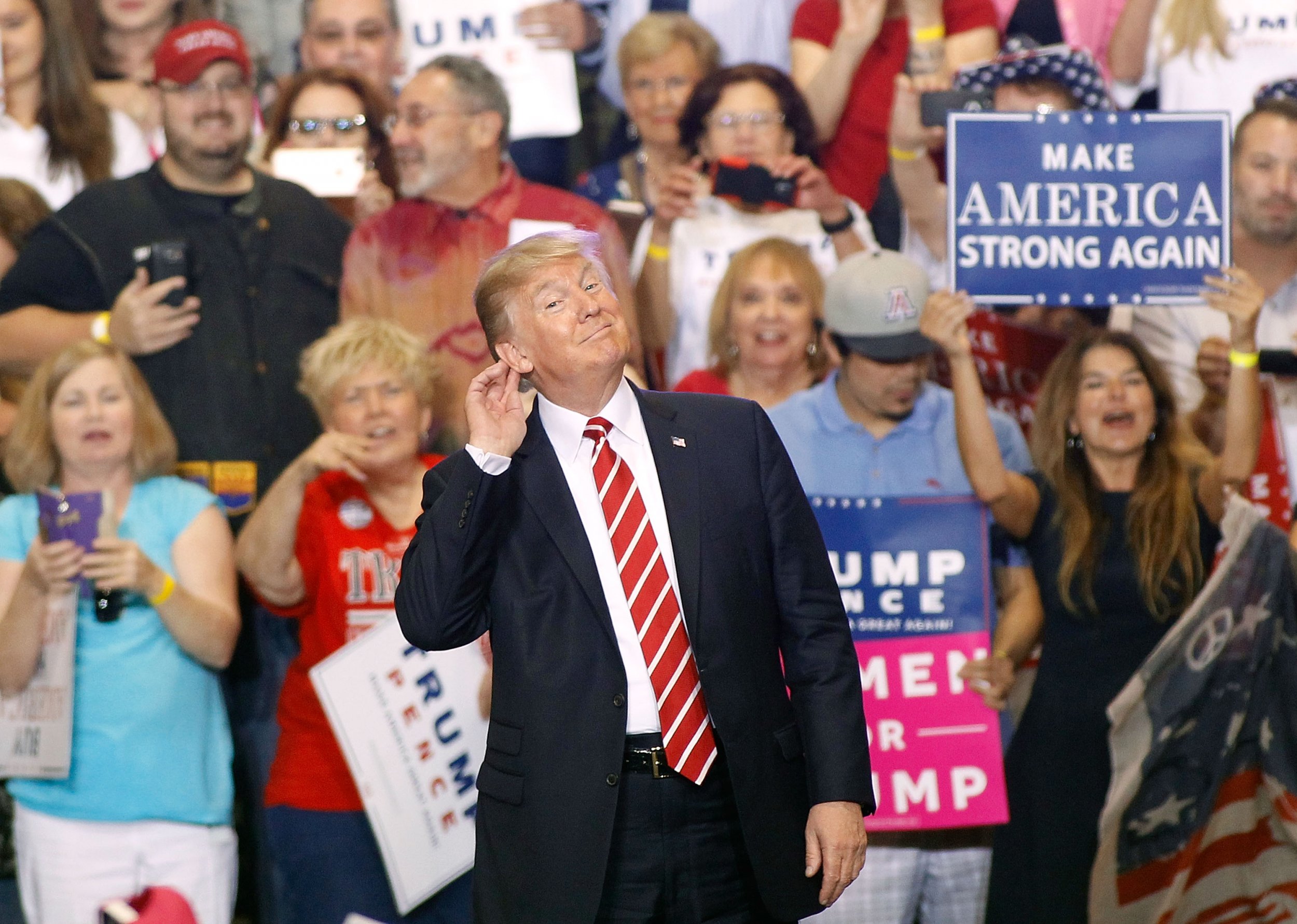 He may have triumphed in the 2016 election, but President Donald Trump continues to be hobbled by poor polling numbers. The latest figures to emerge suggest his re-election prospects, indeed his hopes of even gaining the Republican nomination, face an uphill challenge.
Related: Democrats Really Want Bernie Sanders to Join Their Party Ahead of the 2020 Election
Just 47 percent of likely GOP voters in New Hampshire said they planned on voting for Trump in the 2020 Republican primary in a University of New Hampshire poll released Wednesday. The figure is well below the 64 percent of New Hampshire Democrats who said they would cast a vote for Barack Obama at the same early stage of his presidency in 2009.
Among Republicans, 23 percent said they would vote for a candidate other than Trump in the 2020 primary, compared to just five percent of Democrats who voiced the same opinion about Obama in 2009. Thirty percent of Republican voters said they were unsure who they would opt for in the first-in-the-nation primary in early 2020, according to the poll of 573 adults with a margin of error of plus or minus 4.1 percentage points.
Trump triumphed in the state's primary last year, garnering 35 percent of the vote to best his nearest challenger, Ohio Governor John Kasich, by 19 percent.
There have been reports that Kasich is mulling a challenge to Trump in 2020, either via a primary or as an independent. He backed away from suggestions of a primary challenge in August, however, telling CNN: "I don't have any plans to do anything like that."
Still, in August, a report from The New York Times claimed that a number of Republicans, including Vice President Mike Pence, were conducting "shadow campaigns" for president in 2020. Trump has suffered record low approval ratings for a president in his early months in office and has failed to sign any major pieces of legislation.
Trump has given every indication that he plans to run for re-election in 2020. Earlier this week, he tweeted his "hope" that Hillary Clinton would once again run against him. His 2020 campaign has begun with unprecedented haste, already raising more than $36 million through September as well as conducting campaign rallies, a record for a first-year president.
Although a considerable proportion of the money raised so far has gone toward legal fees connected with investigations into his 2016 campaign, Trump has a substantial head start on his potential Democratic rivals.
Among them, independent Vermont Senator Bernie Sanders remains in debt to the tune of nearly $300,000 for his 2016 campaign, the Center for Public Integrity reported this week. Sanders led the way among Democratic voters in the University of New Hampshire poll, with 31 percent saying that he was their preferred candidate.
Former Vice President Joe Biden was second with 24 percent, with progressive Massachusetts Senator Elizabeth Warren on 13 percent and Cory Booker, Senator from New Jersey, on six percent.