Trump 2020 Strategy: President Workshopping Nicknames for Democratic Challengers
With no serious contenders for the Republican nomination yet announced, President Donald Trump has been brainstorming nicknames for his Democratic challengers, The Associated Press reported on Tuesday.
Trump, who derided Senator Marco Rubio as "Little Marco," Senator Ted Cruz as "Lyin' Ted" and Hillary Clinton as "Crooked Hillary" during the 2016 campaign, has not lost time nicknaming his potential Democratic challengers, of which there are at least 12, including Senators Cory Booker, Amy Klobuchar, Kamala Harris, Kirsten Gillibrand and, as of Tuesday morning, Bernie Sanders.
He has already branded Senator Elizabeth Warren "Pocahontas," because of her claims to Native American ancestry, and has sent a number of tweets mocking the Massachusetts lawmaker.
"If Elizabeth Warren, often referred to by me as Pocahontas, did this commercial from Bighorn or Wounded Knee instead of her kitchen, with her husband dressed in full Indian garb, it would have been a smash!" he wrote about an Instagram video Warren streamed while announcing the launch of her presidential exploratory committee. (She has since formally entered the race.)
Trump again took aim at Warren's claims of Cherokee heritage, which he regularly brings up, earlier this month.
"Today Elizabeth Warren, sometimes referred to by me as Pocahontas, joined the race for President. Will she run as our first Native American presidential candidate, or has she decided that after 32 years, this is not playing so well anymore? See you on the campaign TRAIL, Liz!" he tweeted on February 9 in a message that drew rebuke from those who thought the tweet mockingly referred to the Trail of Tears.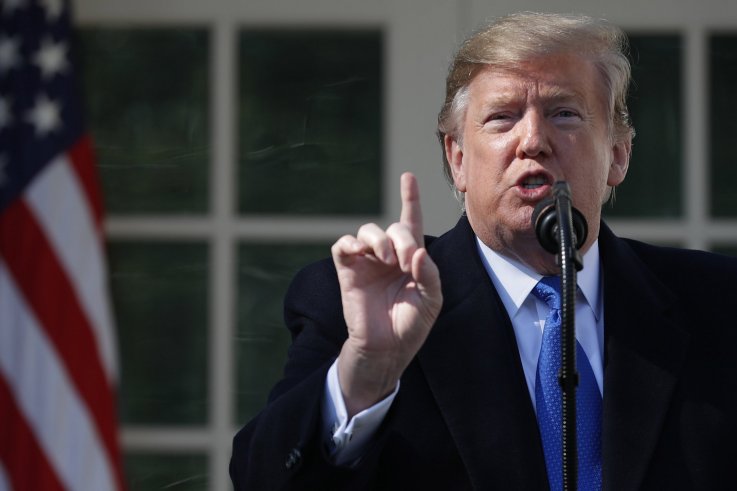 Although four people have indicated they are considering challenging Trump on the Reoublican side, they will likely face an uphill battle in securing the nomination.
While 44 percent of Americans approve of Trump's job as president, 89 percent of Republicans approve of his handling of the job, according to a Gallup poll conducted from February 1 to February 10.
Last month, the Republican National Committee unanimously voted to back Trump for the 2020 party nomination in a resolution that indicated "undivided support for President Donald J. Trump and his effective Presidency."
Trump 2020 Strategy: President Workshopping Nicknames for Democratic Challengers | U.S.