Trump Says Photos From 2021 Prove He Had No 'Sinister Plot' for Documents
Former President Donald Trump said Thursday that photos from 2021 showing packed boxes being taken from the White House as his term came to an end prove that he had no "sinister plot" for the materials he took.
A Department of Justice image that was unsealed this week showed a spread of secret and top secret documents that were found in Trump's Mar-a-Lago home during the FBI's search last month, which the former president and his allies have decried as politically motivated. In an interview on the John Fredericks Radio Show that touched on the photo, Trump was asked how those files had gotten to Mar-a-Lago.
The former president responded that a lot of materials get accumulated over a presidential term and then get packed up when the term ends. He stressed that he wasn't trying to covertly take documents from the White House and that this was supported by pictures taken back in January 2021 that showed workers standing outside the White House with packed boxes and loading them onto a truck.
"In other words, it's not like this was some sinister plot," Trump said. "They have pictures of guys standing outside. The boxes are literally outside. The sun is pouring down and they're waiting for a truck and then they have pictures putting them on a truck. There was nothing secret about it. It didn't have to be anything secret."
The FBI recovered 76 documents from Mar-a-Lago when they searched the residence on August 8, adding to the tranche of documents that were already transported from the Florida resort to the National Archives earlier this year. The unsealed search warrant for the raid cited three potential violations of federal law, including part of the Espionage Act.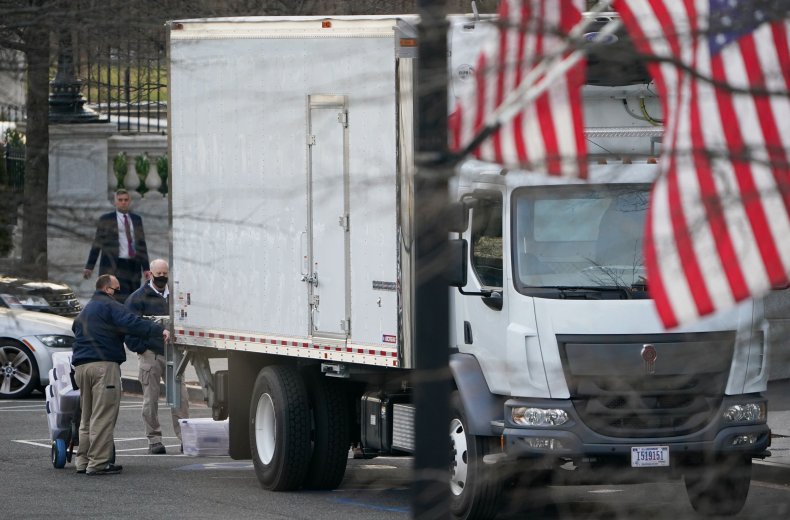 Last week, Trump's lawyers requested the appointment of a special master to oversee the Department of Justice's (DOJ) review of the recovered records. In a legal argument against the appointment of a special master, the Justice Department said that it had evidence that classified documents were "likely concealed and removed" from a Mar-a-Lago storage room in order to "obstruct" the government's probe into Trump's handling of the material.
Prosecutors also alleged that when FBI agents visited Mar-a-Lago on June 3, Trump's counsel "explicitly prohibited government personnel from opening or looking inside any of the boxes that remained in the storage room, giving no opportunity for the government to confirm that no documents with classification markings remained."
Neither Trump nor any members of his team are currently facing any charges in connection to the documents, but a legal expert told Newsweek that there was "plenty of evidence" to suggest Trump has "committed multiple federal crimes."
Newsweek has reached out to a lawyer representing Trump for comment.