Trump 2024 Bid Would Give Access to Campaign Cash, Social Media Leeway
President Donald Trump has been hinting that he may launch a 2024 campaign, after losing out on a second term to Democratic rival Joe Biden, but aside from reclaiming the highest office in the land another run for president could offer several other perks.
By becoming a candidate for public office, Trump will be able to continue fundraising, money from which he can use to travel across the country, holding mass rallies for his supporters, and continue paying staffers. He also would likely continue to receive leniency from social media restrictions that could flag some of his dicier tweets and compromise access to his account.
Trump hasn't shied away from hinting he's interested in mounting another run in four years, even ask he's refused to concede to Biden, who was projected the winner in the election last month.
"It's been an amazing four years. We are trying to do another four years. Otherwise, I'll see you in four years," Trump told a cheering audience during a recent White House Christmas party, in video one of the guests shared on social media.
Trump, 74, would be 78 during the 2024 election cycle and if successful would beat Biden's record as the oldest person to win a presidential election by five months.
A president losing a re-election bid and turning around to win a second term four years later isn't unheard of. Grover Cleveland served from 1885 to 1889 and 1893 to 1897, after losing to and then defeating Benjamin Harrison.
But it's unusual for a modern-day president to publicly plot on holding such a presence.
"It exhibits his chronic need to be the center of attention at all times," David Lubin, chair of the Department of Government at American University's School of Public Affairs, told Newsweek. "He can't bare to let the spotlight drift to the man who defeated him for even one moment."
Trump's 2020 campaign didn't immediately respond to Newsweek's request for comment about the president's future intentions.
But Lubin and other experts who Newsweek interviewed for this story questioned whether Trump is serious about another run and would seriously pursue through the 2024 election cycle.
"Does he really intend to run for president in four years?" Lubin said. "He's someone who likes to keep people guessing."
Lubin added another thought on Trump: "Does he really want to risk going down as a two-time loser?"
Chris Haynes, a political science professor at the University of New Haven told Newsweek that any early declaration from Trump—some speculate he could make an announcement during Biden's inauguration—wouldn't necessarily mean a true run for president and could amount to a "fake declaration."
"He plays fast and loose with the truth all the time," Haynes said. "I don't think he wants to be president again."
And there is the question of what Trump will do in those four years out of office. He has shown interest in cable news and has frequently criticized even normally Trump-friendly channels like Fox News.
"I feel like Donald Trump would be a lot happier being a media mogul and playing kingmaker," Ben Berger, a political science professor at Swarthmore College and executive director of the Lang Center for for Civic and Social Responsibility, told Newsweek. "That idea of having others kiss the ring would have to be an appealing thing for someone who has proclivities toward power and it would come with none of the downsides of being president."
Trump, who has declared himself a resident of Florida after shunning his hometown of New York City and is expected to move to his Mar-a-Lago resort after January 20, has raised about $170 million since Election Day, after nonstop emails and text messages to his supporters promoting multiple fruitless challenges to the election outcome. Much of that money is now going toward a new political action committee he has formed as a leadership PAC that allows broad leeway in spending.
"It's unbelievable," Lubin said of the haul.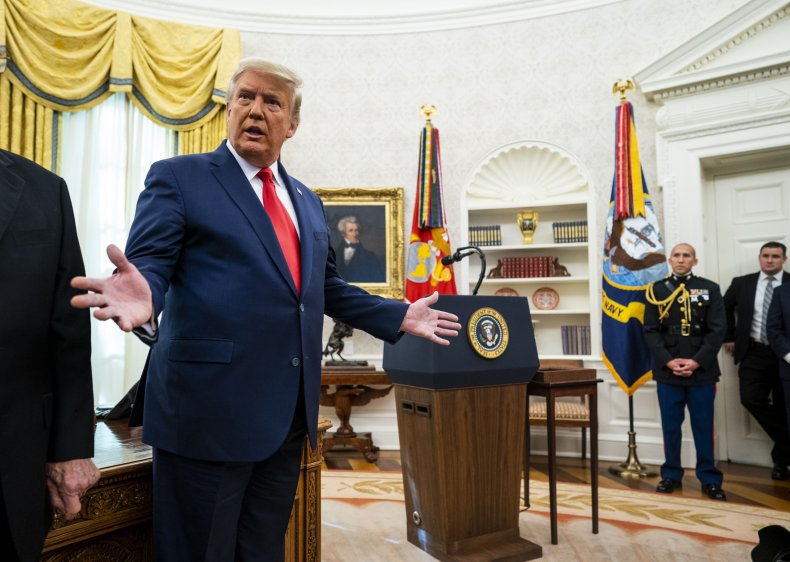 Trump also would enjoy special protections from his favorite medium, Twitter, if he's a "candidate." According to Twitter's policies, tweets from world leaders and candidates or nominees to public office "may be in the public interest to allow people to view Tweets that would otherwise be taken down."
Many of Trump's recent tweets have been flagged as containing false or misleading information but they have not been removed.
Trump, a flamboyant New York City businessman who parlayed his business acumen into becoming star of The Apprentice in the heyday of reality television, was thought to be a long-shot when he ran for president in 2016 but he fended off a slate of eminent Republican contenders to secure the GOP nomination to face Democrat Hillary Clinton.
"The first time he ran, I don't think he necessarily expected or wanted to win. It was a great marketing idea," Lubin said.
Trump staking out a run for the GOP nomination again likely would sideline others who may be hoping for a chance at the White House, including some he beat in 2016.
Those potential candidates—many of whom have stayed close allies with Trump over the past four years despite disagreements and traded insults—likely would stick close to Trump and would not challenge him for the GOP nomination.
"It freezes all donors, and it freezes all the candidates thinking of running in 2024," Haynes said. "They don't want to tick him off, so they don't want to be presumptive and have him go on a tweet storm about them."