Donald Trump Freeing 5,000 Taliban Members Compared to Biden Griner Deal
Critics of the deal that saw basketball star Brittney Griner released from a Russian prison camp in exchange for a notorious arms dealer are being reminded how the Donald Trump administration negotiated the release of 5,000 Taliban prisoners.
Griner, who was jailed after being found in possession of a vape containing cannabis oil cartridges at Moscow Airport in February, was freed on Thursday as part of a prisoner swap with Viktor Bout.
Bout, 55, known as the "merchant of death," was serving 25 years in U.S. custody after being convicted in 2011 of numerous charges, including conspiring to kill American citizens.
Bout was jailed for selling weapons to the Revolutionary Armed Forces of Colombia (FARC), and is said to have provided arms to other terrorist organizations such as Al-Qaeda, rebel forces in Rwanda, and to military conflicts in Liberia and Sierra Leone.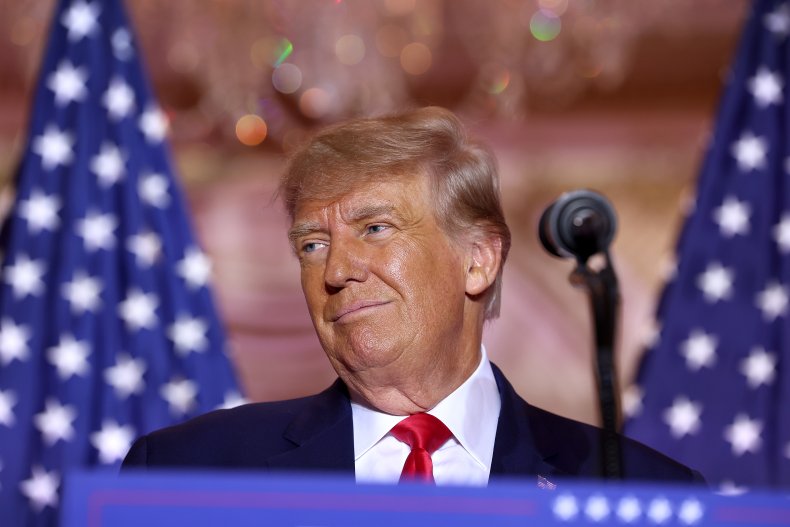 A number of Republican figures, including Trump himself, have criticized the Biden administration over the prisoner swap deal.
In a Truth Social Post, the former president asked why a swap wasn't considered for Paul Whelan, an ex-marine who is serving a 16-year jail sentence after being arrested in Moscow on suspicion of spying in 2018.
"What kind of a deal is it to swap Brittney Griner, a basketball player who openly hates our Country, for the man known as 'the Merchant of Death,' who is one of the biggest arms dealers anywhere in the World, and responsible for tens of thousands of deaths and horrific injuries," Trump said.
"Why wasn't former Marine Paul Whelan included in this totally one-sided transaction? He would have been let out for the asking. What a 'stupid' and unpatriotic embarrassment for the USA!!!"
A number of social media users pointed out how in 2020, the Trump administration negotiated a deal which saw 5,000 Taliban fighters freed in exchange for up to 1,000 Afghan government captives as part of a peace deal between the U.S. and Islamist militants.
After originally rejecting the proposal, then Afghan President Ashraf Ghani eventually went on to free the thousands of Taliban members by August 2020.
In a statement at the time, Secretary of State Mike Pompeo said the decision to release the prisoners was "unpopular," but would ultimately pave the way for the war in Afghanistan to end.
Writing on Twitter, Omar Rivero, founder of Occupy Democrats, said: "The same Trumpers who are losing their minds right now because Biden freed a single Russian arms dealer in exchange for the release of WNBA star Brittney Griner didn't say a peep when Trump freed over 5,000 Taliban prisoners. You really can't make this sh*t up..."
Human rights lawyer Qasim Rashid said: "Republicans completely ignored it when Trump released 5,000 Taliban terrorists into Afghanistan—but are now outraged that Biden helped return Brittney Griner to the United States. I can't quite figure out why.
"If you're upset that Biden exchanged an arms dealer for Brittany Griner—but approved Trump releasing 5,000 Taliban terrorists who then took over Afghanistan—stop pretending it's national security you care about," Rashid added.
Lawyer Tristan Snell tweeted: "In late 2018, Trump released Abdul Ghani Baradar, one of the top leaders of the Taliban, along with 5000 other Taliban fighters, in exchange for... *checks notes*... nobody."
One year after the Taliban members were freed, U.S. troops left Afghanistan ahead of the takeover of the country by the Jihadist group.
During the evacuation, a suicide bombing at Kabul airport on August 26, 2021, killed more than 180 people, including 13 U.S. service members.
ISIS-K, a Central Asia affiliate of the Islamic State group (ISIS), claimed responsibility for the attack.
In a briefing on Thursday, Biden said Griner was on her way back to the U.S. following "painstaking and intense negotiations," while promising the administration has "not forgotten about" Whelan.
"Sadly, for totally illegitimate reasons, Russia is treating Paul's case differently than Brittney's," Biden said. "And while we have not yet succeeded in securing Paul's release, we are not giving up. We will never give up."
Trump has been contacted for comment.