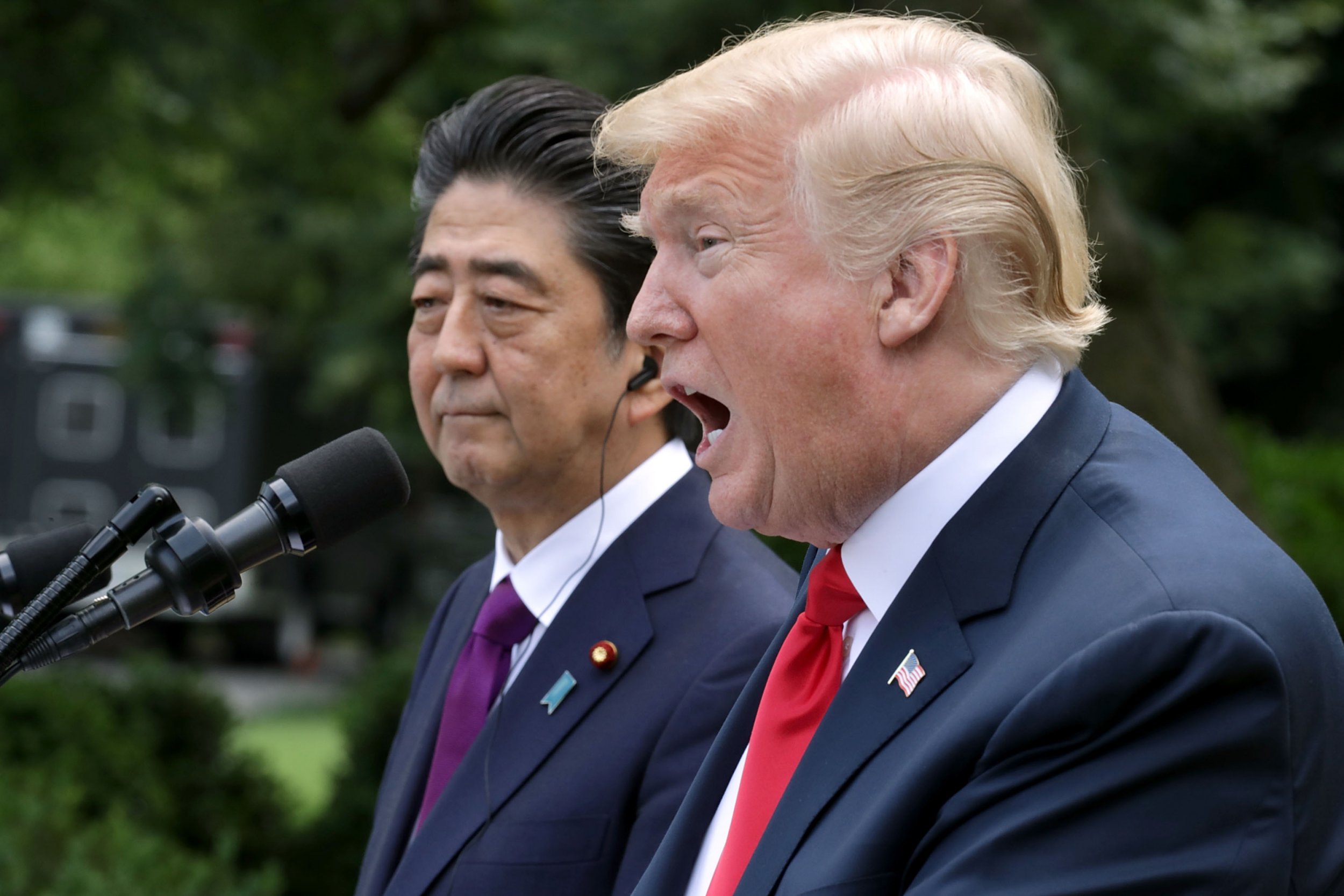 President Donald Trump reportedly told Japanese Prime Minister Shinzo Abe at the White House in June that he remembered Pearl Harbor and then ripped Abe for Japan's trade and economic policies.
The conversation served as an unusual example of Trump lashing out at Abe, who has defended the president and served as his public ally, The Washington Post reported Tuesday. Recently, however, Trump's negative opinions of Japan's trade practices, as well as a disagreement between the pair regarding the president's tactics in dealing with North Korea, have caused a rift, according to the Post.
"I remember Pearl Harbor," Trump reportedly told Abe as part of a tirade against the U.S. trade deficit with Japan. The president reportedly wanted better deals to help U.S. car and beef producers.
Trump was referring to the Japanese attack on the Hawaiian base in 1941 that launched the U.S. into World War II. Although it's unclear what he actually meant by the remark, in the decades following the war, Japan has had a limited military and served as home to a number of U.S. bases. Only in recent years has Japan expanded its military capabilities.
Such tough language toward Abe has been uncommon for the president.
"I've never heard him [trash]-talk Abe. And you can't say that about a lot of the world leaders," one unnamed U.S. official told the Post.
Trump has criticized a number of world leaders and their economic policies while railing against what he has called unfair trade practices and the U.S.'s high number of trade deficits around the world.
Trump has met with Abe more times than he has any other world leader, including eight meetings and more than two dozen phone calls.
The president has also twice hosted Abe and his contingency at his Mar-a-Lago estate in Florida, most recently in April and while Trump was working on a summit with North Korea's Kim Jong Un.
Despite their apparent closeness, Trump was described as having "ignored" Abe's advice on not ending military drills on the Korean Peninsula prior to June's summit with Kim.
And now even Abe's top advisers believe Trump is "uncontrollable," even by Chief of Staff John Kelly, Secretary of Defense Jim Mattis or national security adviser John Bolton, an unnamed source described as close to Abe told the Post.