U.S. President Donald Trump "absolutely" deserves credit for bringing about historic talks between the leaders of North and South Korea, according to Australian Prime Minister Malcolm Turnbull.
South Korean President Moon Jae-in and North Korean leader Kim Jong-un on Friday held a historic meeting in the demilitarized zone between the countries in an attempt to forge peace on the peninsula.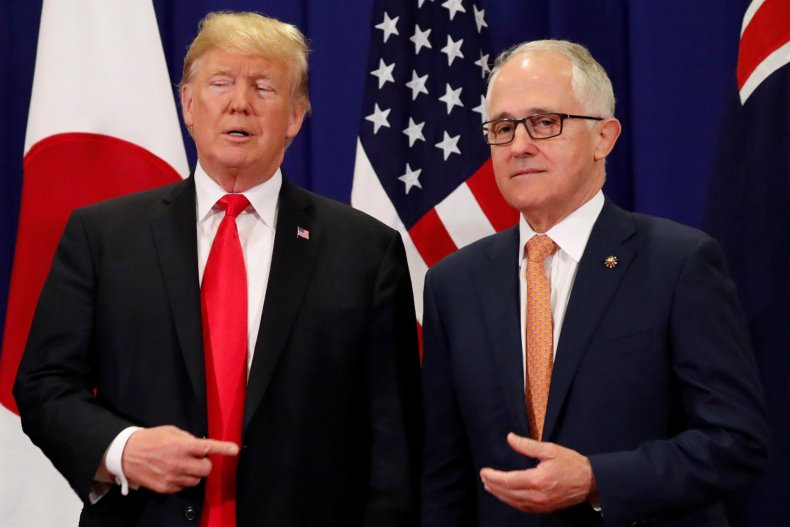 "I've given him that credit because Donald Trump has taken a very, very strong, hard line on the denuclearization issue and he has been able to bring in the support of the global community and, in particular, China," Mr Turnbull told reporters in Sydney on Saturday, as cited by Australian media.
Turnbull said that the willingness of North Korea's chief ally China to enforce sanctions has been key to bringing Kim to the negotiating table.
"You have to give great credit to President Xi (Jinping) and China for enforcing these sanctions."
"That coupled with the strong stand that President Trump has taken - and other nations (including) Japan and Australia - but overwhelmingly the pressure has come from China and the United States."
Kim and Moon had pledged to work for "complete denuclearization" of the Korean peninsula and agreed on a common goal of a "nuclear-free" peninsula.
Most of the specific commitments outlined in the official declaration focused on inter-Korean relations and did not clear up the question of whether Pyongyang is willing to give up its arsenal of nuclear weapons and ballistic missiles.
Turnbull said international pressure had brought Kim Jong-un to the point where he appeared to be prepared to move towards denuclearization.
"That's what we need - that peninsula must be denuclearized," he said.
"The leaders of North and South Korea have said that's their goal, it is the goal of the global community, what we've now got to do is not relent on the economic pressure until that goal is achieved."
Foreign Minister Julie Bishop also praised Trump, saying his aggressive stance had helped to shift the "status quo" with North Korea.
"Australia has played a significant role in the international campaign to exert maximum pressure - diplomatic, political and economic - on North Korea, to bring North Korea back to the negotiating table," she told the Liberal state conference in Melbourne.
"We'll continue playing our part in imposing maximum pressure on North Korea to ensure that it does abide by the numerous United Nations' Security Council resolutions that make illegal its nuclear weapons and ballistic missile programs."
The declaration earned guarded but optimistic praise from other world leaders, including Trump, who said that only time would tell, but that he did not think Kim was "playing."
"It's never gone this far. This enthusiasm for them wanting to make a deal... We are going to hopefully make a deal."
Still, Trump told reporters, he would maintain pressure on North Korea and "not repeat the mistakes of past administrations."