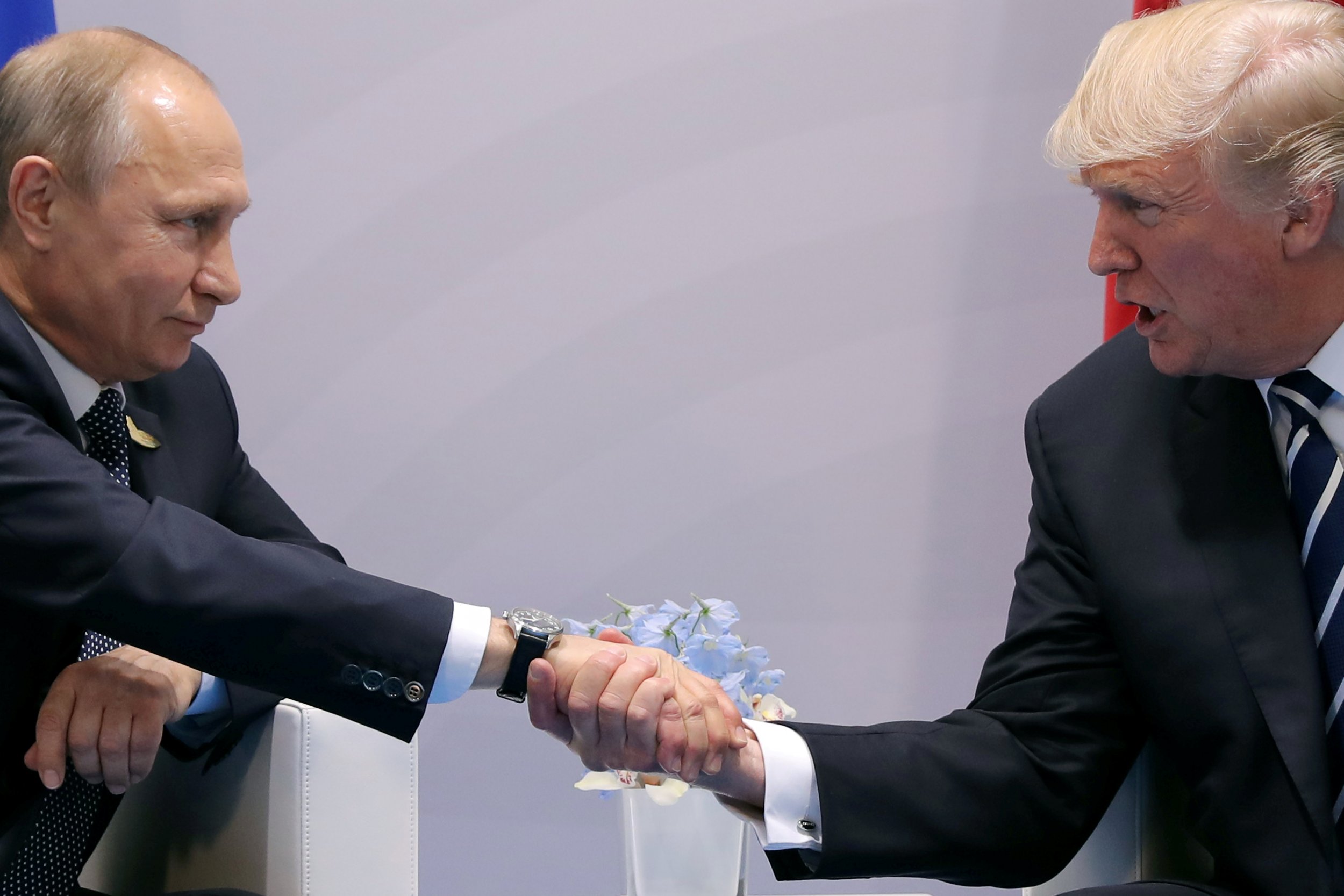 U.S. President Donald Trump said Russian President Vladimir Putin's "vehemently denied" that Russia interfered in the 2016 election, when the two met face-to-face during the G20 Summit Friday.
"I strongly pressed President Putin twice about Russian meddling in our election. He vehemently denied it. I've already given my opinion," Trump wrote in an early morning tweet Sunday.
Trump has repeatedly claimed that an American intelligence community assessment that Russia interfered in last year's election is wrong. While speaking in Poland ahead of the summit Thursday Trump said "other countries" could have been involved.
"I think it could very well have been Russia. I think it could well have been other countries. I won't be specific. But I think a lot of people interfere," Trump said. "Nobody really knows. Nobody really knows for sure."
Trump called the multiple government investigations into Russian interference a "hoax" on June 22. The FBI, CIA, NSA, and Department of Homeland Security all state that they have evidence Russia interfered in the election by hacking American political parties and mounting a misinformation campaign to tilt the election toward Trump.
The CIA received intelligence during the election last summer that Putin directed the cyber attacks against the U.S.
Ongoing investigations in Congress, the FBI, and Department of Justice are looking at whether members of Trump's campaign team and associates colluded with Russia. Late Saturday The New York Times revealed that Trump's son Donald Trump Jr. and son-in-law Jared Kushner met with a lawyer lobbying for the rollback of American sanctions on behalf of the Kremlin.
On May 8 Trump tweeted that the "Russia-Trump collusion story is a total hoax" and called the ongoing Russia investigations in Congress and the FBI a "taxpayer funded charade."
Read more: U.S. Government at Risk of 'Terrifying' Hacking Attack, but Trump Won't Do More to Fix the Problem
Trump tweeted Sunday that "it is time to move forward in working constructively with Russia!"
He cited his and Putin's discussions on "forming an impenetrable Cyber Security unit so that election hacking, & many other negative things, will be guarded and safe."
This week Cybersecurity experts told Newsweek that U.S. election infrastructure and government departments and contractors remain "massively vulnerable" to Russian hacking.
Ranking House Intelligence Committee member Rep. Adam Schiff derided Trump's idea Friday after Russian Foreign Minister Sergery Lavrov said it was discussed by the two leaders.
Schiff said it would be "akin to inviting the North Koreans to participate in a commission on nonproliferation." The whole idea "tacitly adopts the fiction that the Russians are a constructive partner on the subject instead of the worst actor on the world stage," he said.
Late Saturday U.S. officials told the Washington Post that Russian government hackers penetrated U.S. nuclear power plants and other energy companies to assess their networks this week.
Trump's intelligence chiefs, including the Director of National Intelligence, CIA, Defense Intelligence Agency, NSA, and FBI each testified that Russia interfered in the 2016 election during a Senate hearing May 11.
In his tweets Sunday, Trump attacked the media and the Democrats instead. "Questions were asked about why the CIA & FBI had to ask the DNC 13 times for their SERVER, and were rejected, still don't have it," the president wrote.
"Fake News said 17 intel agencies when actually 4 (had to apologize). Why did Obama do NOTHING when he had info before election?" Trump tweeted.
Trump wrote that sanctions against Russia "were not discussed" at the meeting and that "nothing will be done" to lift them until the "Ukrainian & Syrian problems are solved!"