Politicians and rights groups accused President Donald Trump of "peddling lies" after the U.S. leader revived his unfounded claim of "millions" of people committing voter fraud.
The president renewed the claim during a tax-reform roundtable in West Virginia on Thursday, alleging that in places like California, "the same person votes many times."
"You probably heard about that," the president said. "They always like to say, 'Oh, that's a conspiracy theory," he continued. "Not a conspiracy theory, folks. Millions and millions of people. And it's very hard because the state guards their records. They don't want to see it."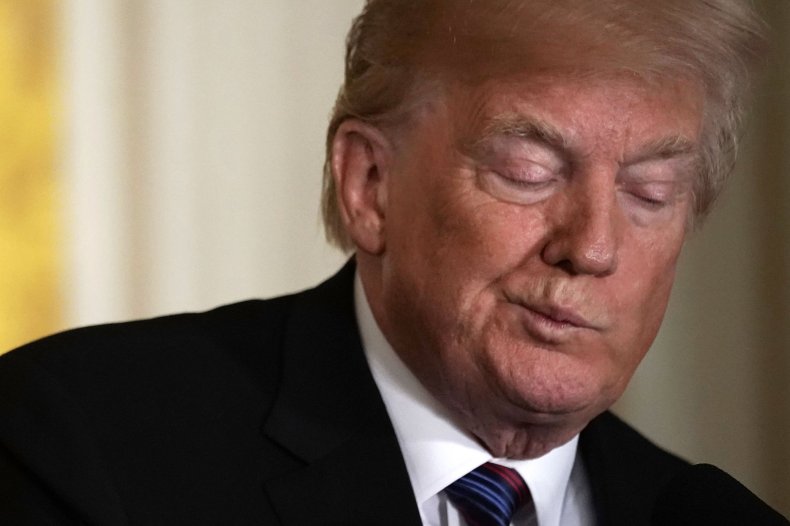 Trump had previously made claims that he would have won the popular vote in the 2016 presidential election had it not been for voter fraud.
Despite not having any evidence to back up his claims, the president claimed that illegal ballots helped former presidential nominee Hillary Clinton win the popular vote by nearly 2.9 million votes. The Democrat received more ballots in her favor than any other losing presidential candidate in U.S. history.
The American Civil Liberties Union (ACLU) pointed out that "once again, Donald Trump is claiming—without proof—that millions of people vote illegally in our elections.
"The real conspiracy is elected officials peddling lies in order to delegitimize our democracy and justify restrictions on the right to vote," the ACLU continued.
California Secretary of State Alex Padilla echoed the ACLU's sentiments, writing on Twitter: "The only fraud is the occupant of the Oval Office.
"Today's comments are just another distraction from the very real issues facing our democracy. Trump has repeatedly failed to acknowledge Russia's attempts to interfere with our elections. He's wasted valuable time and resources that could have gone to securing our election systems."
"Trump was forced to dissolve his sham election commission—his fraud commission was a massive waste of taxpayer dollars and failed to provide a shred of evidence to support his voter fraud lies," Padilla added.
In January, Trump shut down a White House commission he had tasked with investigating voter fraud after it found no hard evidence of corruption in U.S. elections.
Still, Trump claimed he had closed the commission "despite substantial evidence of voter fraud" because states "refused to provide the Presidential Advisory Commission on Election Integrity with basic information relevant to its inquiry."
Democratic U.S. Representative for California's 28th Congressional District Adam Schiff also hit out at the president, writing on Twitter: "Which is worse? A president who tells the public things he knows to be patently false? Or a president who cannot tell fact from fiction and believes his own conspiracy theories? Either way, his bogus claim of voter fraud is repugnant."