Donald Trump Rape Accuser E. Jean Carroll Says She's Received Death Threats Since Making Allegation
Advice columnist E. Jean Carroll says she has received death threats since alleging that President Donald Trump sexually assaulted her in a dressing room of a New York City department store over two decades ago.
"I put my reputation on the line, I put my livelihood on the line and I put my life on the line," Carroll said during an appearance on CNN on Monday morning. "People have told me I have to be careful."
Carroll clarified that while she personally has not read the reactions to her New York magazine excerpt, people around her have said that she's received death threats and other hateful comments since the graphic first-person account was published last week.
In the excerpt, which was adapted from Carroll's upcoming book, she described how Trump had recognized her as "that advice lady" and sought out her help while shopping in Bergdorf Goodman during the mid-1990s.
Eventually, Trump and Carroll decided on a piece of lingerie. Trump asked Carroll to try it on, but she deflected and instead joked that he should try in on instead. When the two made their way to the department store's dressing room, Caroll alleges Trump sexually assaulted her. While she never went to the police, she did tell two friends who both confirmed her account.
CNN's Alisyn Camerota noted that President Trump has emphatically denied the alleged incident and claimed that he had never met Carroll. Though the two are pictured together in a photograph from a 1987 party that was included in Carroll's New York magazine excerpt.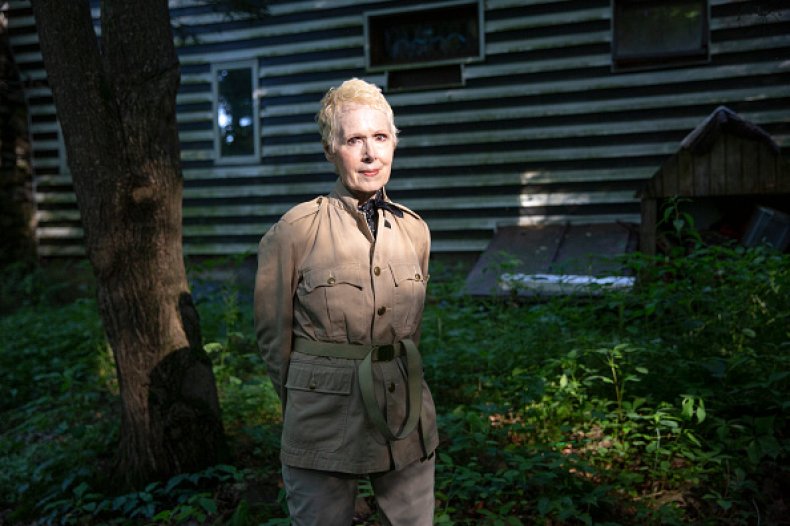 "Are you prepared to keep fighting this to tell your story?" Camerota asked, to which Carroll responded yes.
"It's the only way to change things, it is the only way. We have to hold him accountable. Not only him, but a lot of guys," Carroll added. "Men have run things, as you know, for the last 20,000 years and I'm sick of it. It's just time that women to get to run things."
In her excerpt, Carroll wrote that she did not come forward earlier because "receiving death threats, being driven from my home, being dismissed, being dragged through the mud, and joining the 15 women who've come forward with credible stories about how the man grabbed, badgered, belittled, mauled, molested, and assaulted them, only to see the man turn it around, deny, threaten, and attack them, never sounded like much fun. Also, I am a coward."
President Trump has been accused of harassment, sexual misconduct and sexual abuse by more than a dozen women. He has denied all of the allegations, including Carroll's. In response to her New York magazine account, Trump told reporters to "give me a break."
"It's a total false accusation," he told the press when leaving the White House on Saturday. "I don't know anything about her. She's made this charge against others, and you know, people have to be careful, because they are playing with very dangerous territory."