Trump Accuses Bloomberg of 'Serious Crime' in Helping Ex-Prisoners Vote
President Donald Trump accused Michael Bloomberg of committing "a serious crime" on Sunday, in reference to the billionaire businessman and former New York City mayor's efforts to help individuals with felony convictions vote in Florida.
Bloomberg raised more than $16 million to support an initiative led by the Florida Rights Restoration Coalition, which aims to pay outstanding fines and fees for previously incarcerated people who are registered Florida voters, The Washington Post reported last week. The fundraising endeavor, just one portion of the $100 million Bloomberg pledged to spend in Florida "to help elect Democrat Joe Biden," was reportedly detailed in a recent memo obtained by the newspaper. Florida is considered a battleground state ahead of November's general election.
"Wow, nobody realized how far Mini Mike Bloomberg went in bribing ex-prisoners to go out and vote for Sleepy Joe," Trump wrote on Twitter Sunday morning. "He is desperate to get back into the good graces of the people who not only badly beat him, but made him look like a total fool. Now he's committed a serious crime!"
Florida Attorney General Ashley Moody requested a federal investigation into Bloomberg's fundraising initiative in response to The Washington Post article. Moody suggested the initiative violated election laws in a letter issued to the Florida Department of Law Enforcement and Federal Bureau of Investigation, which called for further inquiry.
Jason Schechter, a Bloomberg spokesperson, reportedly described the attorney general's response as a "transparent political ploy" and "the latest example of Republicans attempting to keep Floridians disenfranchised" in a subsequent statement, according to NBC News.
In early September, an Appeals Court in Atlanta ruled Florida residents with previous criminal convictions must pay court fines and fees in order to register to vote, The New York Times reported. The decision overturned a federal judge's ruling over the summer, which determined the Florida law requiring those payments was discriminatory and unconstitutional. Roughly 1.4 million people convicted of past felonies became eligible to vote in Florida with the passage of an amendment to the state's constitution in 2018. However, hundreds of thousands remained unable to register to vote in the presidential election as of Friday, CBS News reported.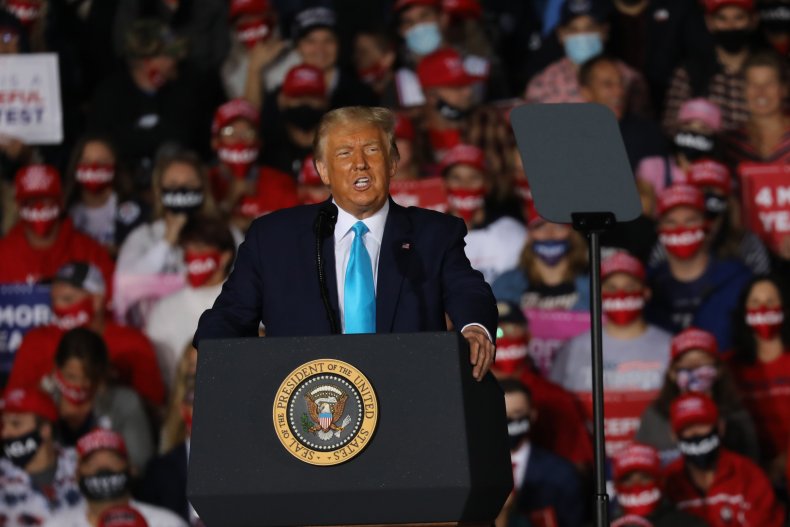 People convicted of felonies are not permitted to vote while incarcerated in the majority of U.S. states, according to ProCon.org. Florida is one of nine states where voting restrictions are most significant, compared to nearly 40 others where individuals' rights to vote are restored upon release from prison, or after parole and probation are completed.
Newsweek reached out to the Trump campaign and Bloomberg Philanthropies for comments, but did not receive replies in time for publication.