Donald Trump Says China Is Interfering in Midterms to Damage Republicans Because 'We Are Winning on Trade'
President Donald Trump has upped the ante even further in his spat with China, now accusing it of trying to meddle in the upcoming midterm elections.
He made the claim as he chaired a Wednesday morning meeting of the United Nations Security Council, which was discussing weapons of mass destruction.
Trump told the meeting, "Regrettably, we found that China has been attempting to interfere in our upcoming election against my administration.
"They do not want me or us to win because I am the first president ever to challenge China on trade, and we are winning on trade, we are winning at every level. We don't want them to meddle or interfere in our upcoming election," Trump said.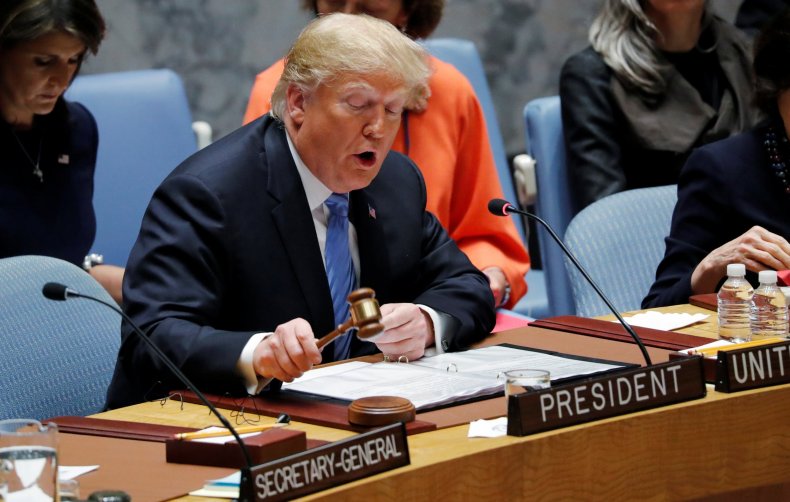 Earlier in the week, China canceled trade talks with the U.S. after Washington imposed new tariffs on $200 billion of Chinese goods and products. In turn, China retaliated by imposing tariffs on $60 million in U.S. goods.
The midlevel delegation was due to travel to Washington ahead of a visit by Chinese Vice Premier Liu He, which has also been canceled.
Adding to the tensions is Beijing's criticism of Washington's plans to sell weapons to Taiwan. Meanwhile, in a Wednesday editorial, the state-run, English-language China Daily said Beijing would "respond to the US' provocations."
"Now that the Trump administration is aggressively seeking to challenge China's interests on both the economic and military fronts, one wonders whether Washington wants to permanently damage Sino-US relations," the editorial continued.
"And since the Trump administration is trying to jettison all principles that govern bilateral relations in a desperate bid to suit its own purpose, China should not only prepare for the worst but also be ready to appropriately respond to the US' provocations," it read.
Chinese State Councilor Wang Yi warned of an escalation of rhetoric during a meeting on the sidelines of the U.N. General Assembly session with former Secretary of State Henry Kissinger, who played a key role in establishing strong ties with China when he was in the Nixon administration.
"China and the United States can have competition, but should not use a Cold War mentality to view each other, and nor should they slip into the trap of a zero-sum game," Wang said.
"Recently, certain U.S. forces domestically have been continually blackening China's name, creating antagonistic feeling, which has caused serious harm to the atmosphere of Sino-U.S. ties," he said, according to Reuters.