Trump Accuses Media of Smearing Covington Students Filmed in Encounter With Native American Elder
President Donald Trump on Monday defended the Kentucky high school students at the center of controversy over a video showing them in an encounter with a Native American elder.
In footage that went viral over the weekend a MAGA-cap wearing student from Covington Catholic High School in Kentucky, who has since identified himself as Nick Sandmann, can be seen standing face-to-face with Native American elder Nathan Phillips, who is 64. In the footage, Phillips plays a drum and is singing while Sandmann smiles and stares at him.
Sandmann has claimed in a statement that he was not attempting to intimidate Phillips as he had been accused of doing, but attempting to defuse a confrontation.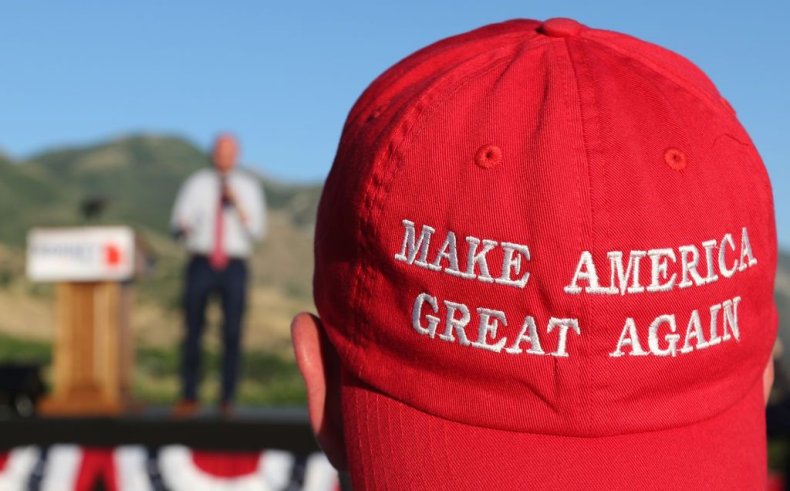 Footage has emerged showing Phillips approaching the students, and African-American protesters from the Hebrew Israelites group insulting them. Vietnam veteran Phillips has said he was attempting to calm tensions between the groups.
Other footage emerged Monday showing students mocking Phillips in the encounter near the Lincoln Memorial.
The students were in the capital for the March for Life anti-abortion protest, while Phillips was attending an indigenous people's march.
In a tweet Monday, President Donald Trump accused the media of attempting to smear the student.
"Looking like Nick Sandman [sic] & Covington Catholic students were treated unfairly with early judgements proving out to be false - smeared by media. Not good, but making big comeback!" Trump tweeted.
He then quoted a report on Fox News' Tucker Carlson Tonight: "New footage shows that media was wrong about teen's encounter with Native American."
The students' congressman, Republican Thomas Massie, has also defended them, and in a tweet thanked the president for his support.
"Thank you @realDonaldTrump for supporting our CovCath students," he tweeted.
In the report cited by Trump, Carlson criticized the media for showing short clips of the encounter between Phillips and the students.
"The full video of what happened on Friday in Washington is well over an hour long. The four minutes that made Twitter don't tell the story but, instead, distort the story. A longer look shows that the boys from Covington Catholic in Kentucky were not a roving mob looking for a fight," Carlson said.