Trump Admin Appeals Ruling That Gay Couple's Daughter Is a U.S. Citizen
The Trump Administration is appealing a June federal court ruling confirming the U.S. citizenship of a gay couple's child born in Canada through a surrogate.
The U.S. State Department asserts that Kessem Kiviti, the daughter of Roee and Adiel—two Israeli-born naturalized U.S. citizens—isn't herself a U.S. citizen because she is not biologically related to both fathers.
The Kivitis are both naturalized U.S. citizens who were born in Israel: Roee has lived in the U.S. since 1982 and he became a U.S. citizen in 2001. Adiel moved to the U.S. in May 2015 and he became a U.S. citizen in January 2019. The couple married in California in 2013. Kessem, their daughter, was born through a surrogate in Canada in February 2019 via Adiel's sperm and a donated egg, according to LGBTQ Nation.
The legal headache for the couple started in 2017 when the State Department changed the language on its website regarding the 1952 Immigration and Nationality Act (INA). The 1952 law once considered any child born to a married couple living abroad as a U.S. citizen at birth if one of their parents was a U.S. citizen.
However, in 2017, the U.S. State Department changed its website to state, "A child born abroad must be biologically related to a U.S. citizen parent. Even if local law recognizes a surrogacy agreement and finds that U.S. parents are the legal parents of a child conceived and born abroad... if the child does not have a biological connection to a U.S. citizen parent, the child will not be a U.S. citizen at birth."
As such, the U.S. State Department says it doesn't consider Adiel a U.S. citizen. Because Kessem is his biological daughter but has no genetic relation to Roee, who the State Department does consider as a U.S. citizen, the department argues that Kessem isn't a U.S. citizen either.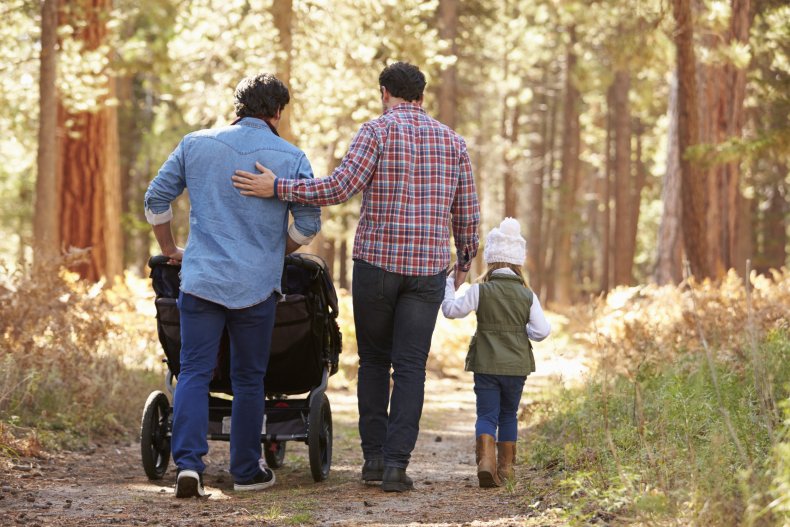 Kristen Thompson, Communications Director of Immigration Equality, a group dedicated to LGBTQ immigration issues who is part of the Kivitis' legal team, told Newsweek, "The Immigration and Nationality Act (INA) does not require a married U.S. citizen to be biologically related to their child for their child to be a U.S. birthright citizen. There's nothing in the law that says that they do, but the State Department argues both married parents are required to have a biological connection with their child."
"Clearly, it's impossible for two cisgender men to be biologically related to their child," Thompson added. "The 9th Circuit Court of Appeals twice affirmed that no biological relationship is required, and the 2nd Circuit did as well."
Immigration Equality executive director Aaron Morris said in a statement, "It's just really frustrating and cruel that [the State Department] won't change this policy, especially when they've never articulated a single governmental interest that is served by the policy."
Immigration Equality, Lambda Legal, an LGBTQ legal advocacy organization and Morgan Lewis, a private law firm, are all representing the Kivitis, according to the Washington Blade.
The rule change affecting the Kivitis is also affecting other same-sex couples currently fighting similar legal battles against the Trump Administration.
Andrew and Elad Dvash-Banks are a married American-Canadian and Israeli couple whose surrogate-born son was denied a passport because he only possesses his Israeli-born father's DNA.
Similarly, Allison Blixt and Stefania Zaccari are a female same-sex couple with surrogate-born kids. One of their sons who was born in London to was denied a U.S. passport because he only had a genetic tie to Blixt's Italian-born spouse.
Update (8/20/2020, 11:30 p.m.): This article has been updated to include statements from Immigration Equality.