Majority of $33M Awarded to Fill Title X Gaps Went to Areas Largely Unaffected by Abortion Gag Rule: Analysis
An analysis shows that the Trump administration's plan to fill service gaps at women's clinics that resulted from new federal restrictions doesn't extend to the areas that were most affected by those changes, which were made to the Title X Family Planning Program.
Issued by the Department of Health and Human Services (HHS) earlier this year, the new rules prohibit medical providers involved in the $286 million program from referring patients for abortion services. The only exceptions are cases of rape, incest or medical emergency.
The changes, referred to by abortion rights activists as a "gag rule," resulted in several providers giving up the federal funds. Planned Parenthood and at least six state health departments (in Illinois, Maryland, Massachusetts, Oregon, Vermont and Washington) announced this summer they were exiting Title X.
To help make up for the holes in reproductive health care coverage, HHS announced at the end of September that it was awarding an additional $33.6 million to existing grantees in 2019. In its press release, the agency said the awards would "prioritize unserved and underserved jurisdictions and low-income individuals" and would aid in "filling service gaps left by the grantees that chose to leave the Title X program."
But an analysis from the Kaiser Family Foundation, a health care nonprofit, found that a majority of the grantees that received supplemental funding—83 percent—either didn't experience any changes to their state's program or they lost less than one-fifth of their network of clinics.
"In a lot of these states that have had grantees withdraw and are no longer having Title X funds to support family planning services for low-income women, these supplemental funds are not providing support," Alina Salganicoff told Newsweek. Salganicoff is the Kaiser foundation's senior vice president and director of women's health policy.
The additional $33.6 million went to 35 different states and Washington, D.C., although the government did not publish how much funding went to each site or how it was used. No money went to the five states whose only Title X grantee left the program: Maine, Oregon, Utah, Vermont and Washington. Also, 16 of the states that were awarded funds still had all of their grantees in Title X program but were given the money to expand their services.
"I would not say that they didn't need the money," Salganicoff said about the majority of states awarded funds. "But they didn't lose the money—they still had money."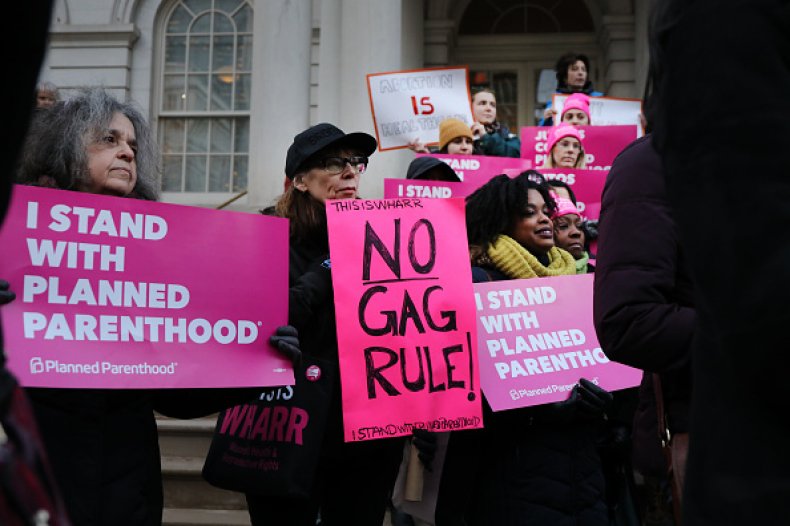 In a statement to Newsweek, Planned Parenthood's vice president for government relations and public policy, Jacqueline Ayers, slammed the Trump administration's attempt to fill service gaps with the additional $33.6 million funding.
"The Trump administration is frantically scrambling to try to fill the gaps in care created through its own unethical gag rule," Ayers said. "If the Trump administration truly wanted to expand access to birth control, they would repeal the gag rule and allow our nation's program for affordable birth control [to] do what it does best: provide birth control. Instead, the Trump administration continues to fall far short of preserving access to care for patients who need it the most."
According to Power to Decide, a nonprofit that works to prevent unplanned pregnancies, 876 women's health clinics across the country have lost federal funding after the Trump administration's changes to Title X.
The director of media relations at Power to Decide, Paloma Zuleta, told NBC that these changes are most likely to affect low-income women of color. Zuleta told the network that if clinics have to change their hours or lay off staff, it's "a deterrent for women to be able to access the health care that they need."