Trump Admin Blocks Undocumented College Students from Receiving Federal Coronavirus Aid Intended for Food, Housing
The U.S. Education Department on Tuesday released guidelines prohibiting undocumented college students from receiving emergency federal Covid-19 aid intended for expenses such as food, housing and child care.
The CARES Act passed by Congress provides roughly $6 billion in cash grants for college students to cover expenses "related to disruptions to their educations" amid the coronavirus pandemic. The Trump administration released new guidance today clarifying that assistance will only be given to those who are permitted to receive federal financial aid.
While American citizens and some permanent residents fall under those who qualify, hundreds of thousands of undocumented students will not be allowed access to the aid. The policy mandates that students must have filed, or be eligible to file, a Free Application for Federal Student Aid (FAFSA). The guideline does not expressly exclude undocumented immigrants, but it makes clear such students will not be entitled to the education stimulus funds. International students will also not be eligible.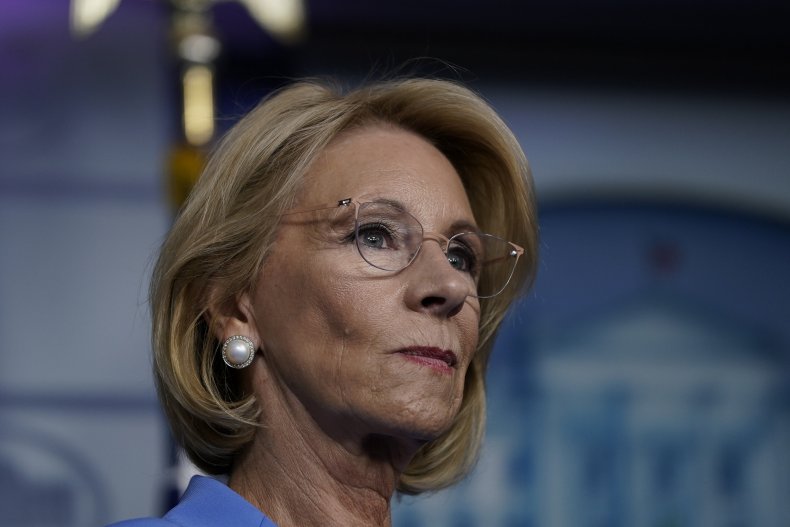 David Baime, senior vice president for government relations and policy analysis at the American Association of Community Colleges, questioned whether Congress had intended for members of the Obama-era Deferred Action for Childhood Arrivals (DACA) program to be excluded and suggested that the department may have misinterpreted the legislation.
"There's nothing in the law that seems to preclude these funds from going to students who are not eligible for Title IV," Baime said, according to The Chronicle of Higher Education. "We're disappointed at an extremely narrow interpretation of the statute."
In a statement emailed to Newsweek, Education Department press secretary Angela Morabito maintained that Education Secretary Betsy DeVos was merely following federal relief laws. "The CARES Act makes clear that this taxpayer funded relief fund should be targeted to U.S. citizens, which is consistently echoed throughout the law," Morabito said.
On April 9, DeVos announced that more than $6 billion will be "immediately distributed" to college and university students to help cover their expenses amid the pandemic, but the cash has been slow to reach recipients. According to Politico, only $6 million of the $6.28 billion—less than 1 percent—had been doled out to campuses as of last week.
Faced with criticism from education leaders, the department directed the blame at colleges, whom they have accused of "dragging their feet" in submitting the paperwork required to access the funding. While the department said that only 27 percent of eligible institutions had submitted applications by Friday, higher education groups have called the program bureaucratic and confusing.
Under the stimulus legislation, the department will direct funding to colleges based on the number of their eligible students. The institutions are then supposed to allocate the funds to their students.