President Donald Trump's administration condemned the Hong Kong government's decision to delay its legislative elections in a statement Friday, saying the action undermines democracy just one day after Trump called for the U.S. presidential election to be delayed.
"We condemn the Hong Kong government's decision to postpone for one year its legislative council elections and to disqualify opposition candidates," White House Press Secretary Kayleigh McEnany said during a news briefing Friday. "This action undermines the democratic processes and freedoms that've underpinned Hong Kong's prosperity, and this is only the most recent in a growing list of broken promises by Beijing, which promised autonomy and freedoms to the Hong Kong people until 2047 in the Sino-British Joint Declaration."
Hong Kong's Chief Executive Carrie Lam evoked an emergency order to delay the September Legislative Council elections, stating the move was necessary because of the coronavirus pandemic.
The decision made by the pro-Beijing government has received criticism from pro-democracy activists who claim officials are using the pandemic as an excuse to thwart the important election.
"Clearly it is the largest election fraud in #HK's history," Joshua Wong, a pro-democracy activist, tweeted Friday following Lam's announcement. Wong and 11 other pro-democracy candidates said they are barred from running in September's election, The New York Times reported Thursday.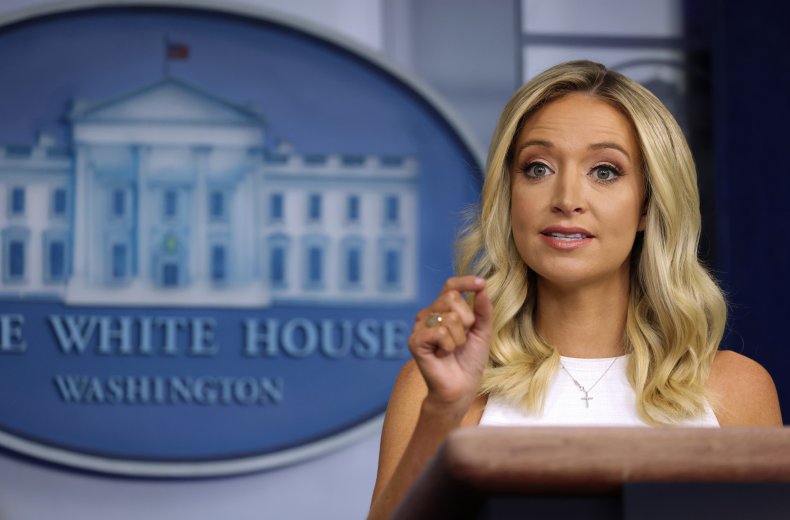 The statement from White House officials condemning Hong Kong's decision to delay its election comes just one day after Trump tweeted that November's presidential election should be delayed.
The president expressed concern that the national push for mail-in-voting would cause "the most inaccurate and fraudulent election in history." Many Americans are opting to cast their ballots from home via mail because of the coronavirus pandemic.
Trump's suggestion was met with heavy criticism across party lines, including several top Republican lawmakers. Senate Majority Leader Mitch McConnell told WNKY that the election date is set in stone, while Trump ally Sen. Lindsey Graham said delaying the election "probably wouldn't be a good idea."
McEnany read the prepared statement in front of reporters Friday in response to a question about whether Trump supported the Chinese-backed government's decision to delay its election. After she finished reading the statement, McEnany quickly transitioned to discussing doctors' testimonies on the coronavirus pandemic without mentioning Trump's own tweeted suggestion.
Vox journalist Aaron Rupar tweeted a video of McEnany's statement, writing that the press secretary addressed Hong Kong's decision to delay its election "without a shred of irony."
Newsweek contacted the White House for comment, but did not hear back in time for publication.