President Donald Trump and his administration do not have a "fully formulated" plan in place to deal with the more than 3,500 people aboard the Grand Princess cruise ship–among which 21 people have tested positive for coronavirus (COVID-19), despite the vessel being set to dock in Oakland, California on Monday, Secretary of Housing and Urban Development Ben Carson said Sunday.
Carson made the remarks during an interview with ABC News This Week, declining to provide details about any plans that were in the works. Vice President Mike Pence, who is spearheading the Trump administration's response to coronavirus, announced on Friday that 19 crew members and two passengers on the cruise ship were infected. His announcement came before those aboard the ship were notified.
"The vice president met with the CEOs of the major cruise ship companies yesterday, and they are coming up with a plan within 72 hours of that meeting," Carson told This Week anchor George Stephanopoulos on Sunday.
Although he insisted that a "plan will be in place" by the time the ship docks in California, Carson declined to provide any details. "It hasn't been fully formulated," he said.
Passengers aboard the vessel expressed frustration and anger on Friday after they found out watching the news that they were caught in close quarters with the virus.
"We apologize but we were not given advance notice of this announcement by the U.S. federal government," an announcement broadcast on the ship said, CNN reported. "It would have been our preference to be the first to make this news available to you."
Debbi Loftus, a passenger, told CNN that she learned about the 21 passengers and crew members being infected by watching MSNBC.
"The fact that we weren't told first made us quite upset and angry," she said. "There's no excuse for this."
Trump and his administration have faced significant criticism for their handling of the coronavirus outbreak. The president has publicly countered the expert opinions of health officials with the Centers for Disease Control and Prevention (CDC), while his administration has reportedly overruled the advice of public health experts on ways of dealing with the infection's spread. Trump also previously described the virus as a "new hoax" from the Democrats.
The president pushed back against criticism of his administration's handling of the outbreak with a Sunday tweet.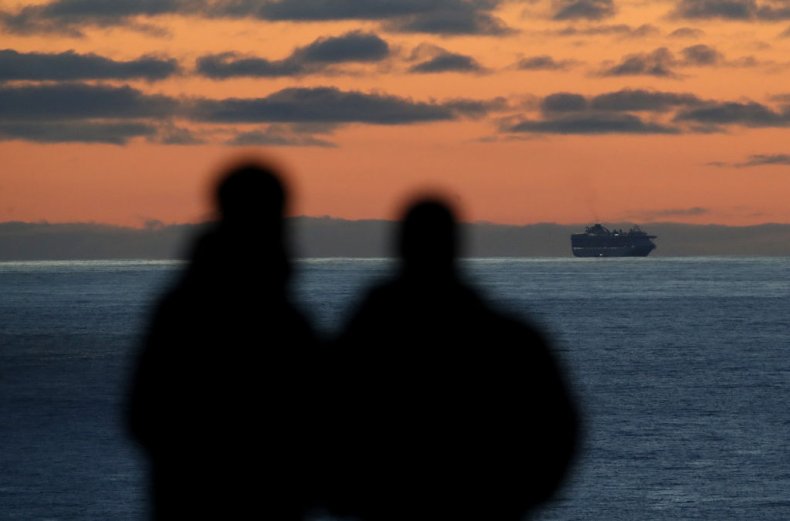 "We have a perfectly coordinated and fine tuned plan at the White House for our attack on CoronaVirus. We moved VERY early to close borders to certain areas, which was a Godsend. V.P. is doing a great job," he wrote. "The Fake News Media is doing everything possible to make us look bad. Sad!"
As of Sunday, 19 people had died of the virus in the U.S. Confirmed cases have been reported in 30 states and Washington, D.C. Globally, more than 100,000 people have been confirmed to contract the virus while nearly 3,600 have died. The majority of infections and deaths have been in China, where the virus was first discovered.
Health experts believe that the overall death rate from the virus is 2 percent or less, noting that there are likely many cases that have gone unreported. Data suggests that the risk of death is even lower among those 30 or younger, with deaths increasing significantly among the elderly. Pre-existing health conditions–such as respiratory problems, heart disease and diabetes–also appear to lead to complications in those infected with COVID-19.