Trump Admin Expected to Advise Every American to Wear A Face Covering in Public Amid Coronavirus Pandemic
The federal government is expected to issue a recommendation from the Centers for Disease Control (CDC) within the coming days that all Americans should wear cloth masks or other facial coverings when going out in public as a way to reduce infections, according to The New York Times.
During today's White House's coronavirus briefing, Vice President Mike Pence alluded to the forthcoming recommendation, stating that the government expects to release an official guidance "in the next several days."
Though the new recommendation would mark a shift for both the CDC and Trump's task force, health officials in California have worried that widespread use of face masks could put a strain on the pre-existing shortage of masks for healthcare workers, first responders, and other essential employees.
Dr. Sonia Angell, director of the California Department of Public Health, also warned that the widespread use of face masks won't help stop the virus if citizens stop following other precautions like social distancing and hand washing.
The CDC initially said that only healthcare workers and those caring for infected individuals should wear masks. But the CDC has been reconsidering the use of homemade masks as a way to avoid publicly transmitting or contracting coronavirus.
In a March 30, 2020 interview, CDC director Dr. Robert Redfield told NPR, "The data and this issue of whether it's going to contribute [to prevention] is being aggressively reviewed as we speak."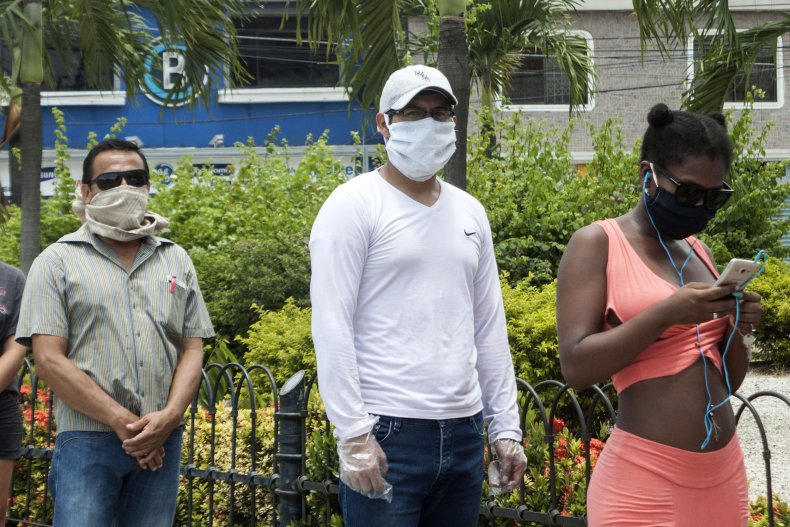 Studies have shown that medical-grade, surgical and N95 masks are more effective than homemade cloth masks at preventing infection, especially since homemade masks tend to fit more loosely than professionally made masks. Medical-grade masks also contain filters which help reduce the inhalation of potentially infectious microbes.
However, Angell added that the mere sight of a face mask in public can remind others to keep their distance and discourage wearers from touching their own faces.
Just last week, George Gao, director-general of the Chinese Center for Disease Control and Prevention, said that America and Europe made a "big mistake" by not telling citizens to wear masks earlier on in the pandemic.
Newsweek has reached out the CDC to ask about their recommendations about the types of masks citizens should wear in public to reduce possible infection.