Trump Admin Modeling Predicts Daily Coronavirus Deaths Nearly Doubling to 3,000 Despite President Urging Reopening of Economy
Modeling from the Centers for Disease Control and Prevention (CDC) projecting the spread of the novel coronavirus predicts that nationwide daily new cases of COVID-19 and deaths caused by the virus will continue to surge into June, despite the president urging for the economy to reopen.
A report compiled by Federal Emergency Management Administration (FEMA) using data from the CDC, which was first reported by The New York Times, showed that daily deaths from COVID-19 will nearly double from the current daily level of about 1,750 to about 3,000 by June 1. Additionally, the number of new daily confirmed infections from the novel virus will surge by 700 percent by the end of May, growing from the current level of about 25,000 to about 200,000.
Meanwhile, President Donald Trump has urged the country to begin reopening the economy. Local leaders across the nation have begun allowing some businesses shuttered by stay-at-home orders to reopen, while some states have allowed their social distancing measures to expire.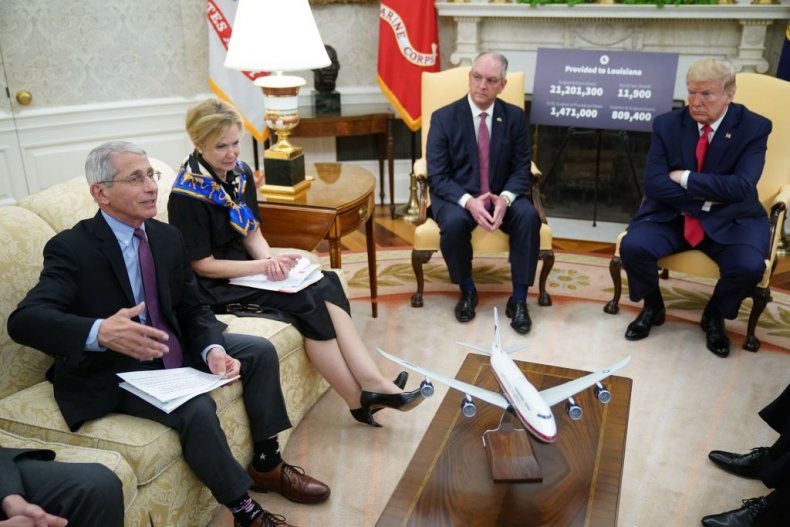 "There remains a large number of counties whose burden continues to grow or are in an elevated incidence plateau, including in the Great Lakes region, parts of the Southeast, Northeast, and around southern California," the CDC/FEMA report said in a note included next to a map of the U.S., which highlighted hotspot areas for the novel coronavirus.
In a statement emailed to Newsweek, White House Deputy Press Secretary Judd Deere said that the Coronavirus Task Force had not reviewed the report.
"This is not a White House document nor has it been presented to the Coronavirus Task Force or gone through interagency vetting. This data is not reflective of any of the modeling done by the task force or data that the task force has analyzed. The President's phased guidelines to open up America again are a scientific driven approach that the top health and infectious disease experts in the federal government agreed with," Deere said. "The health of the American people remains President Trump's top priority and that will continue as we monitor the efforts by states to ease restrictions."
Health experts have urged caution as states have begun allowing some business to reopen and the federal government has allowed its stringent social distancing guidelines to expire. The White House has said governors are responsible for the lockdown measures within their states, suggesting that the federal guidelines were no longer necessary.
Although Trump has pushed for the economy to reopen, declaring "we're opening our country again," other government health officials have expressed concern that the virus will continue to spread.
"It's going to take a long time for us to really wrestle this one down," Anne Schuchat, the deputy director of the CDC, said during a brief online conversation with a medical journal last week, Politico reported. "The extent to which this [disease] is challenging, it's hard to overstate."
Dr. Anthony Fauci, director of the National Institute of Allergy and Infectious Diseases, also noted in an interview with PBS last week that there was "no doubt" that the number of new cases of COVID-19 would increase as the country moved to reopen. However, he asserted that if adequate testing, contact tracing and other measures were in place, the number could be kept to a minimum.
"As you try and relax mitigation, if we have the capability of identifying, isolating and contact tracing in a highly effective and efficient way, then the numbers will stay low," he said.
Meanwhile, polling has shown that most Americans are concerned about returning to normal life too soon. A poll conducted from April 21 to 26 by NPR, PBS and Marist showed that 65 percent of respondents believed it was a "bad idea" for people to return to work without adequate testing. Additionally, 80 percent said it was unwise to allow restaurants to reopen for dine-in service.
As of Monday morning, the U.S. had more than 1.16 million confirmed cases of the novel coronavirus, according to a tracker by Johns Hopkins University. Of those infected, more than 180,000 have already recovered while nearly 68,000 have died.
This article has been updated with a statement from White House Deputy Press Secretary Judd Deere.