Ex-Trump Officials Accused of Violating His Executive Order on Lobbying
Five former Trump administration officials have been accused of breaking an executive order by potentially conducting lobbying activities they are banned from undertaking.
In 2017, President Donald Trump blocked former political appointees from certain forms of lobbying following their departure from public service.
The executive order, titled Ethics Commitments by Executive Branch Appointees, included preventing them from ever lobbying the U.S. on behalf of a foreign government, as well as imposing a five-year ban following the end of their role on other lobbying.
This came as part of Trump's insistence he would "drain the swamp" during his campaign ahead of the 2016 election.
"This was something, the five year ban, that I was talking a lot about on the campaign trail and we will now put it into effect," he said at the time of signing the order.
A new report from Public Citizen, titled "COVID Lobbying Palooza," suggested that at least 40 lobbyists working on issues linked to the coronavirus crisis have links to Trump.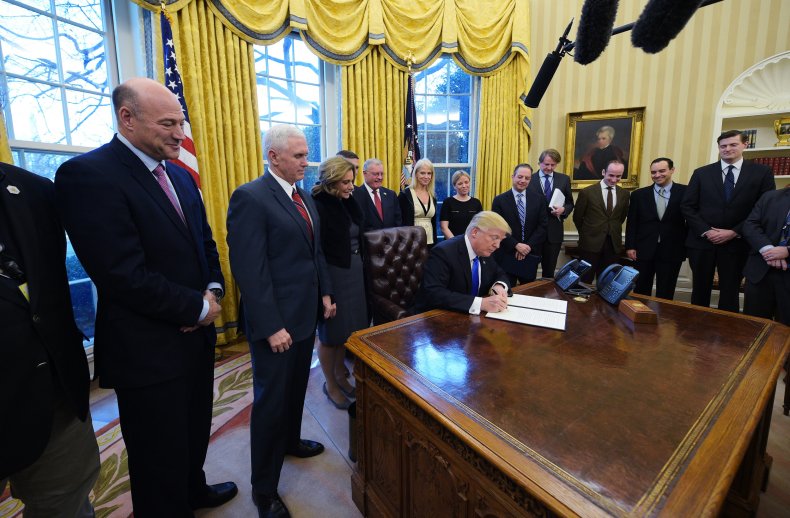 It also suggested that "at least five COVID lobbyists may have violated a Trump executive order that restricts lobbying activities by appointees who leave the administration."
These included:
Courtney Lawrence, former deputy assistant secretary for legislation at the Department of Health and Human Services, who works for healthcare firm Cigna.
Shannon McGahn, former adviser to the Treasury Secretary Steven Mnuchin, who works for the National Association of Realtors. Its website lists her as senior vice president of government affairs.
Jordan Stoick, former senior adviser to the Department of the Treasury, who works for the National Association of Manufacturers as vice president of government relations.
Geoff Burr, former chief of staff to Transportation Secretary Elaine Chao, who works for Brownstein Hyatt Farber Schrek as a policy director. The firm's website states Burr "leverages his far-reaching and senior-level experience in the executive branch to drive successful outcomes for clients with significant interests in transportation, labor and employment and many other sectors."
Emily Felder, former director of the Centers for Medicare and Medicaid Services' Office of Legislation, who works for Brownstein Hyatt Farber Schrek as senior policy adviser and counsel. According to the firm's website, she uses her "legislative experience to successfully represent the interests of clients before Congress."
Following on from this, Public Citizen has requested an investigation, writing to several inspectors general calling for the matter to be looked into.
"Public Citizen requests that the appropriate ethics officers investigate and determine whether these former officials are in compliance with their binding oaths not to make lobbying contacts or conduct lobbying activities with respect to the agencies in which they served as well as with any covered executive branch official in the Trump administration," the letter read.
Further detailing the accusations, it added: "In each of these cases, the lobbying disclosure reports indicate that the former officials worked with a team of lobbyists in making lobbying contacts with their former agencies or other agencies in the executive branch, which would constitute a violation of either Paragraphs 1 or 3, or both, of Executive Order No. 13770.
"It is certainly possible that the lobbying reports misrepresent whom the former officials actually contacted. For example, others on the lobbying team may have contacted agencies of the executive branch while the former officials only contacted Congress. That seems unlikely but it cannot be conclusively determined by the public record."
Paragraph 1 of the order states: "I will not, within 5 years after the termination of my employment as an appointee in any executive agency in which I am appointed to serve, engage in lobbying activities with respect to that agency."
While paragraph 3 adds: "In addition to abiding by the limitations of paragraphs 1 and 2, I also agree, upon leaving Government service, not to engage in lobbying activities with respect to any covered executive branch official or noncareer Senior Executive Service appointee for the remainder of the Administration."
Newsweek has contacted the employers of the five former officials mentioned, the inspectors general, the Office of Government Ethics and the White House for comment.
This page will be updated with any responses.
In response to the accusations, a spokesperson for McGahn's employer, the National Association of Realtors, told Newsweek: "NAR takes its lobbying disclosure and ethics requirements seriously. NAR and its employees are in full compliance with the LDA's post government employment restrictions as well as the Trump ethics pledge."
A spokesperson for Brownstein Hyatt Farber Schreck, which employs Burr and Felder, said: "We are confident that our lobbyists are in compliance with all lobbying rules and applicable prohibitions and did not violate their Trump Administration pledge. Further, none of these individuals have lobbied the Executive Branch. These individuals are permitted to lobby the Senate or House and the LDAs reflect that."
Linda Kelly, general counsel at National Association of Manufacturers, which employs Stoick, said the organization adheres to legal and ethical rules.
"This claim is misleading and irresponsible," said Kelly. "Jordan Stoick has never lobbied Treasury during his time at the NAM. The NAM carefully adheres to the legal and ethical rules regulating lobbying activity, including ensuring that its employees comply with all applicable prohibitions on contacting their former employers.
"Even a person with the most basic understanding of the legal requirements of the LDA can understand that every staff member who worked on an issue and every covered official contacted is listed on the same page of the report and in no way means every lobbyist contacted every listed office."
A spokesperson for Cigna, Lawrence's employer, said all of its lobbyists work in line with regulations.
"Cigna's team of lobbyists, including Ms. Lawrence, are in full compliance with the ethics rules and regulations set forth by the Administration and the Lobbying Disclosure Act (LDA)," they said.
"In compliance with LDA disclosure requirements, the first quarter 2020 Lobbying Disclosure-2 form was completed in a way that groups together the work of multiple colleagues in one entry, rather than reflecting the work of a particular individual."
Update: A comment from the National Association of Realtors was added to this story on 07/07/20 at 9:10 a.m. EDT.
Comment from Brownstein Hyatt Farber Schreck was added to this story on 07/07/20 at 10:30 a.m. EDT.
Comment from the National Association of Manufacturers and from Cigna were added to this story on 08/07/20 at 2:10 a.m. EDT.