Trump Admin Only Covers Full Cost of National Guard for Two GOP-Led States
This week, the administration of Republican President Donald Trump continued to fund the ongoing presence of the National Guard which has been assisting states with coronavirus response efforts.
However, Trump provided complete funding for some states and partial funding for many others, leaving some governors upset over what they perceive as potentially politicized funding decisions by the White House.
But while most states will only receive 75 percent of the funding to pay for the National Guard, effectively requiring states to pay the remaining 25 percent, Florida and Texas—two Republican-led red states which both supported Trump in the 2016 election—will have 100 percent of their National Guard funding covered by the Trump administration.
The White House also agreed to cover 100 percent of the National Guard costs for Arizona, California and Connecticut through the end of September, but of those, only Arizona is a red state.
A senior administration official told The Hill that funding assistance designations were based on COVID-19 positivity rates in each state. States with positivity rates above five percent were given 100 percent funding and states with positivity rates below five percent were given 75 percent.
But state-by-state positivity rates reported by John Hopkins University show that most states have positivity rates above five percent. Newsweek contacted the White House for comment.
Another White House official told the publication that the governors of the states receiving 100 percent funding personally called the president to request total funding. The official said that the president can choose to extend or add funding for other states at his discretion.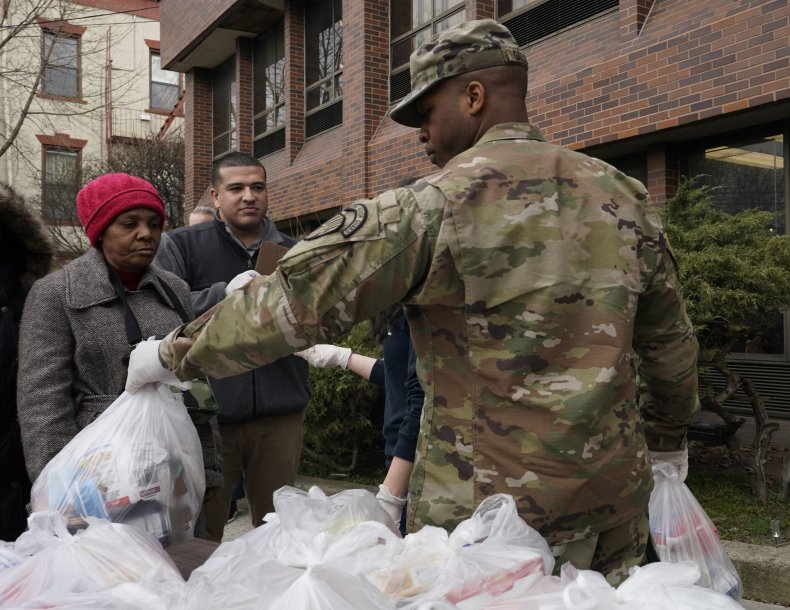 Noam Lee, executive director of the Democratic Governors Association, blasted the president's uneven funding in a statement.
"This is a disgrace. With American lives at risk, the president is continuing to manipulate our nation's pandemic response to benefit his own political fortunes," Lee wrote.
"The National Guard deployments are the latest development in the partisan games the president has played with states seeking critical supplies and aid. While the coronavirus doesn't discriminate between 'red' states or 'blue' states, it is disturbingly clear that our president does."
The funding decisions are particularly crucial now as the ongoing COVID-19 epidemic has begun a national resurgence, leaving state governments strapped for cash as their economies largely shutdown to try and contain the virus.
Louisiana's Democratic Governor John Bel Edwards wrote a letter to the president mentioning that his state has a higher COVID-19 case rate and death rate per capita than Texas or Florida. His state will have to pay roughly $2.5 million per month through the end of the year to keep the National Guard in its borders.