Trump Admin Plans to Reject Asylum Seekers, Undocumented Foreigners at Mexico Border Amid Coronavirus Pandemic: Report
The Trump administration intends to reject all asylum seekers and undocumented foreigners at the Mexico border to mitigate the spread of the novel coronavirus.
Four unnamed administration officials told the New York Times that the plan, which is expected to be introduced in the coming days, aims to stop the spread of COVID-19 through detention centers and to border patrol personnel. The officials say that entry into the U.S. from the Mexico border ports of entry will still be granted to U.S. citizens, individuals with green cards and documented foreigners. Although those entering from blocked countries, such as Europeans, will still be restricted by the temporary coronavirus travel bans.
According to the Times, the rule is expected to be announced within the next two days. Border patrol agents will then begin turning documented foreigners and asylum seekers away at the ports of entry on the southwestern border without due process. They will not be detained at an American facility.
The officials argued that this action was necessary to prevent an outbreak within the U.S. immigrant population, which could then spread to border agents. If this occurs, a lack of personnel guarding the legal ports of entry could result in a weakened border defense system, they say.
Newsweek reached out to the White House for comment.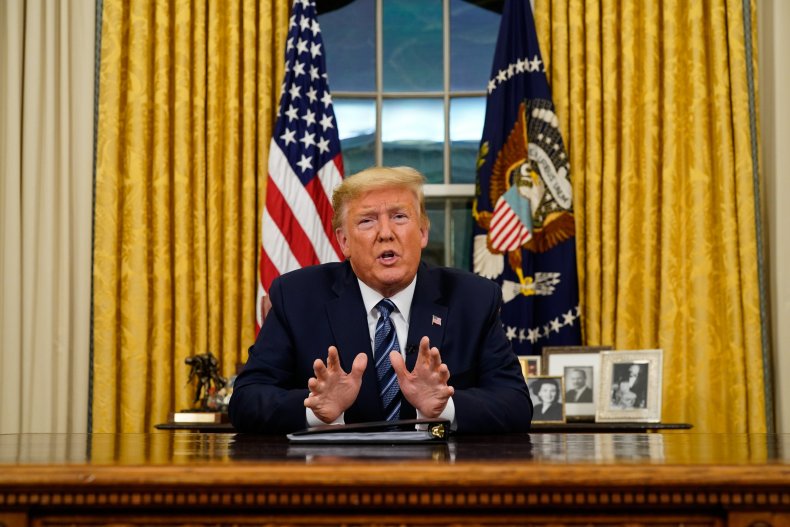 On Tuesday morning, the novel coronavirus had reached at least 155 countries, with over 185,000 known cases and 7,300 deaths worldwide. More than 80,000 people have recovered from the virus.
Within the U.S., more than 5,200 individuals have been tested positive, with at least 92 deaths related to the disease. Washington state, New York and California have seen the largest number of cases in America, while Wyoming, Vermont and Alaska have reported the fewest, according to the CDC.
Roughly 46 of the positive cases in the U.S. are from the Diamond Princess cruise ship. Another 28 are from the Grand Princess, another vessel from the same company, according to USA Today.
The virus was first detected in Wuhan city of the Hubei province of China and has infected over 81,000 people across the mainland, as well as 108,000 outside the country.
Trump has announced tougher guidelines in an attempt to stop the spread domestically, which includes avoiding social gatherings of more than 10 individuals and eating at restaurants or bars. The White House has also advised citizens to refrain from visiting nursing homes until further notice. "Even if you are young and otherwise healthy, you are at risk—and your activities can increase the risk of contracting the coronavirus for others," the White House said in a statement.