Donald Trump and North Korea: A Timeline of Engagement Beyond Fire and Fury
CIA director Mike Pompeo met North Korean leader Kim Jong Un in a top-secret meeting, The Washington Post first reported on Tuesday.
While the White House initially refused to comment on the CIA chief's travel, President Donald Trump confirmed on Wednesday that Pompeo met with Kim—not during the Easter weekend as the Post reported, but last week.
"Mike Pompeo met with Kim Jong Un in North Korea last week. Meeting went very smoothly and a good relationship was formed. Details of Summit are being worked out now. Denuclearization will be a great thing for World, but also for North Korea!" Trump wrote in a tweet.
The high-level meeting, which took place about a month after the president indicated Pompeo would succeed Rex Tillerson at the State Department, represented the most direct contact between the Trump administration and the North Korean regime ahead of a proposed summit between the countries' leaders that, according to Trump, will take place by early June.
Trump first declared his interest in meeting with Kim in May, when he told Bloomberg he'd be "honored" to meet the North Korean leader "under the right circumstances."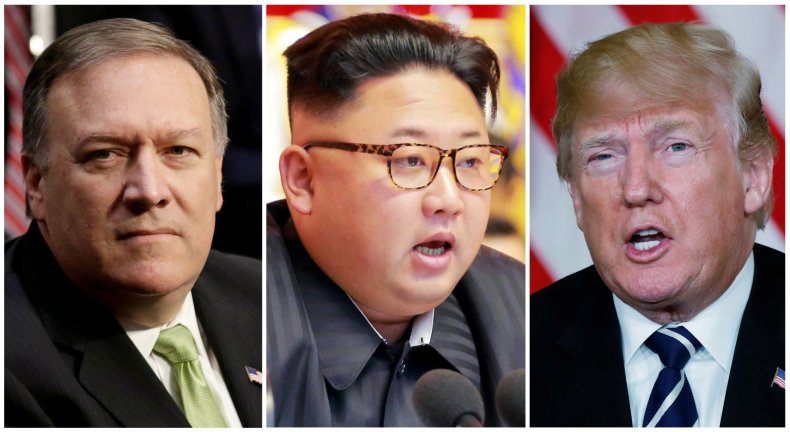 But until the recent Olympic overture, North Korea's numerous missile and nuclear tests had made those circumstances less than ideal.
January 2017 - May 2017: Focus on China
Even before his inauguration on January 21, Trump had put North Korea on top of his agenda. "North Korea just stated that it is in the final stages of developing a nuclear weapon capable of reaching parts of the U.S. It won't happen!" a tweet he wrote on January 2 read, followed by another tweet in which Trump called out China for not helping enough with its rogue neighbor.
Trump continued to demand China's support in dealing with North Korea for the next two months. "North Korea is behaving very badly. They have been 'playing' the United States for years. China has done little to help!" he wrote on March 17, 2017.
The meeting with Chinese President Xi Jinping on April 7, 2017, improved Trump's opinion of Chinese efforts to contain North Korea.
"I have great confidence that China will properly deal with North Korea. If they are unable to do so, the U.S., with its allies, will! U.S.A." he wrote shortly after the meeting. When North Korea test launched a missile at the end of the month, Trump thought about China.
"North Korea disrespected the wishes of China & its highly respected President when it launched, though unsuccessfully, a missile today. Bad!" he tweeted on April 28.
"North Korea has shown great disrespect for their neighbor, China, by shooting off yet another ballistic missile...but China is trying hard!" he tweeted again, a month later, after North Korea test-fired a ballistic missile on May 29.
June 2017: The end of the era of strategic patience
Within the first six months of Trump's government, North Korea held nine separate missile tests, but the case of Otto Warmbier, the American student who was sentenced to 15 years' hard labor in North Korea in 2016, heightened the already tense relations between Washington and Pyongyang. The U.S. secured the release of the prisoner on June 13, but the 22-year-old was in a coma and died on June 19.
By the end of the month, Trump announced: "The era of strategic patience with the North Korea regime has failed. That patience is over." He also called on the U.N. Security Council to impose new sanctions on the regime.
July - September 2017: Fire and Fury
Trump's warnings failed to halt Kim's missile tests. On July 4, North Korea launched its first intercontinental ballistic missile (ICBM) believed to be capable of reaching the U.S. mainland.
"North Korea has just launched another missile. Does this guy have anything better to do with his life?" Trump tweeted in apparent exasperation that day, hoping that China would put "a heavy move" on North Korea and "end this nonsense once and for all."
The "nonsense" not only continued, but escalated. North Korea test-launched a second ICBM on July 28 and disclosed detailed plans to strike the U.S. territory of Guam 10 days later. Trump took the bait and gave the world some of the most bombastic statements ever made by a sitting American president.
"North Korea best not make any more threats to the United States," Trump told reporters from his golf course in Bedminster, N.J., on August 8. "They will be met with fire and the fury like the world has never seen."
"Military solutions are now fully in place, locked and loaded, should North Korea act unwisely. Hopefully Kim Jong Un will find another path!" Trump warned on August 11 as North Korea continued to taunt a strike on Guam.
North Korea continued test launching different types of ballistic missiles. Three short-range ballistic missiles fell in the sea of Japan on August 26 and an intermediate-range ballistic missile flew over the Japanese island of Hokkaido on August 29. Pyongyang also carried out a hydrogen bomb test on September 3, followed by yet another ballistic missile launch on September 15.
These prompted Trump to issue a stern warning to the country at the U.N. General Assembly on September 19 in which he said the U.S. would "have no choice but to totally destroy North Korea" if provocations from "little rocket man" continued. Kim Jong Un personally responded, branding Trump a "mentally deranged U.S. dotard" that he'd "tame with fire."
October 2017 - December 2017: No time for talks
As October began, Secretary of State Rex Tillerson said the U.S. had begun communicating with the North Koreans, but Trump strongly rejected the diplomatic move.
"He is wasting his time trying to negotiate with Little Rocket Man," was Trump's reaction to Tillerson's idea, which spurred a flurry of speculation over how long would the Secretary of State remain in his position.
In November, Trump visited South Korea as part of an 11-day, five-nation tour of Asia. He failed to visit the demilitarized zone, the border area separating the two Koreas, as weather conditions prevented his helicopter from landing, but he kept intimating that Kim should give up his nuclear weapons. Shortly after returning from the trip, Trump reinstated North Korea on the U.S. 'state sponsors of terrorism' list.
By mid-December, after North Korea test-fired its most powerful ICBM to date on November 29, Tillerson once again raised the prospect of talks with the regime "without preconditions"—a statement which the White House swiftly corrected him on, saying "The President's views on North Korea have not changed."
By the end of the year, the U.N. Security Council passed another round of sanctions against North Korea, its third that year targeting financial transactions, trade and oil transfers to the country.
January - February: Overture of Olympic scale
North Korea changed its tune at the beginning of 2018, with Kim's New Year speech citing the opportunity presented by the Winter Olympic Games in Pyeongchang, South Korea, to improve relations and create a peaceful environment on the Korean peninsula.
Kim sent his sister Kim Yo Jong to the Olympics opening ceremony on February 9. While no meeting took place with vice-president Mike Pence, who headed the U.S. delegation with the promise to prevent Pyongyang from "hijacking" the event, it was later revealed that the option of a meeting was discussed but did not materialize because the North Koreans cancelled at the last moment.
March: Meeting agreed
Kim Jong Un used the medium of South Korean officials to reach out to Trump, inviting him for talks which he promptly agreed to on March 8.
Tillerson, who had to accept in February the retirement of key North Korean expert Joseph Yun from the State Department, was dismissed from his role shortly afterwards as Trump paved the way for Pompeo to take over.
North Korean state-controlled media reported Kim acknowledging the summit, whose date and location have yet to be confirmed, for the first time on April 10—about a week after his first foreign trip to China and around the time of the meeting with the CIA chief.