Trump Administration Awards New Contracts To Build 65 More Miles Of Border Wall With Hundreds Of Miles Still To Go
The Trump administration has awarded three new contracts to build about 65 miles of new border wall across the Rio Grande Valley—the busiest sector for Border Patrol agents.
According to a press release from the U.S. Customs and Border Protection agency (CBP), the new border wall sections will be built across Starr, Hidalgo and Cameron Counties in Texas.
"The border wall system will include an 18-30 foot tall steel bollard wall, all-weather roads, lighting, enforcement cameras, and other related technology to create a complete enforcement zone," the press release states.
Construction of the new border wall sections is expected to begin in early 2020, according to CBP, "pending availability of real estate."
Importantly, it will also be taking place in locations where no barriers currently exist, unlike the border wall sections that are currently being built to replace and fortify existing structures.
According to a border wall status update shared with Newsweek, as of September 30, CBP has only seen 69 miles of its border wall built, with sections constructed "in place of dilapidated and outdated designs."
Despite the slow progress, the agency has maintained that by the end of 2020, it plans to have seen 450 miles of new border wall system built, in addition to having another 59 miles under construction in "high priority locations across the Southwest border."
That means that, as it stands, CBP still likely has more than 350 miles of border wall left to build before the end of 2020.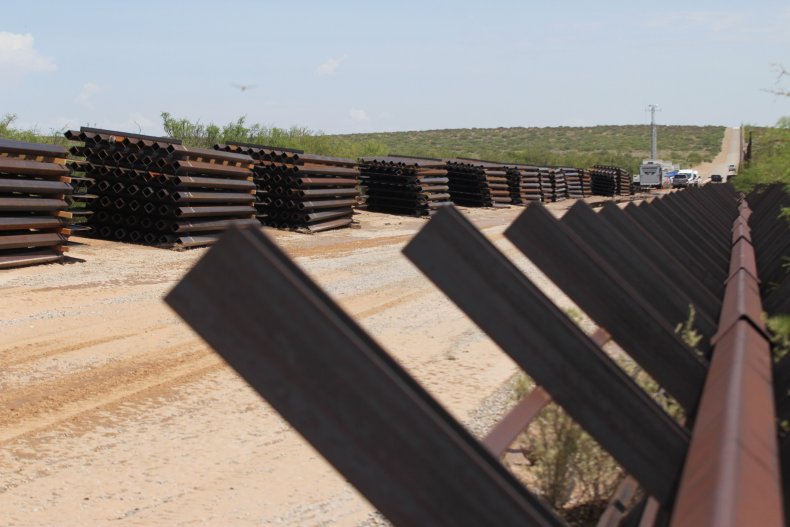 According to the agency, its newly signed contracts will see a combined total value of $812,604,005 spent on the new border wall sections, with deals for construction within the Starr and Hidalgo counties awarded to Southern Border Constructors, while further construction in the Cameron and Hidalgo Counties has been awarded to Gibraltar-Caddell Joint Venture.
CBP said the projects are not part of President Donald Trump's emergency declaration and that no Pentagon funding will be used.
According to the agency, the Rio Grande Valley Sector is the nation's busiest, accounting for approximately 40 percent of apprehensions at the border.
"These projects will improve the RGV Sector's ability to impede and deny illegal border crossings and the drug and human smuggling activities of transnational criminal organizations," CBP said.
This article has been updated with a border wall status update from CBP.