Trump Administration Broke the Law By Withholding Ukraine Aid, Federal Watchdog Says—Here's Why It Matters
The Trump administration broke federal law by withholding roughly $400 million in foreign military assistance to Ukraine, a nonpartisan federal watchdog agency said Thursday.
The conclusion by the Government Accountability Office (GAO) that the Office of Management and Budget (OMB) violated the law came the same day that the impeachment trial against President Donald Trump will officially commence.
The House impeached Trump last month for abusing his power and obstructing Congress over his decision to withhold congressionally appropriated aid to Ukraine last July while he and those close to him, such as his personal lawyer, Rudy Giuliani, pressured Ukrainian officials to mount a politically motivated investigation. One of those desired investigations centered on the son of one of Trump's political opponents: former Vice President Joe Biden.
Why does this matter?
OMB attempted to justify that holding the funds—which was directed by Trump—and failing to notify Congress was a "programmatic delay," assertions that GAO said "have no basis in law." It undercut the narrative that's been touted throughout the impeachment proceedings that he was concerned about corruption and not about his re-election chances.
"Faithful execution of the law does not permit the President to substitute his own policy priorities for those that Congress has enacted into law," GAO determined. "OMB withheld funds for a policy reason, which is not permitted under the Impoundment Control Act (ICA). The withholding was not a programmatic delay. Therefore, we conclude that OMB violated the ICA."
Under the ICA, Congress must be notified when a president delays appropriated money.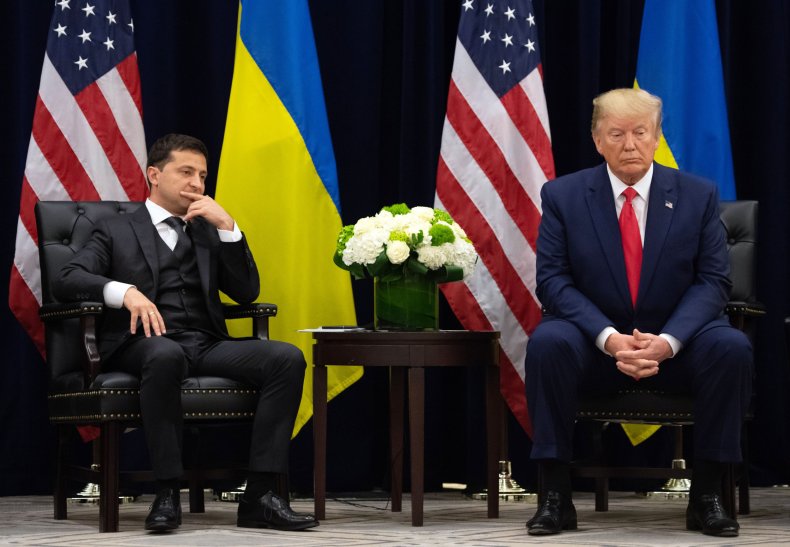 GAO further said that their investigation was hindered by noncompliance from OMB and the State Department, which "have failed, as of yet, to provide the information we need to fulfill our duties."
The federal watchdog agency's determination was denounced by the administration.
In a statement, OMB spokesperson Rachel Semmel said: "We disagree with GAO's opinion. OMB uses its apportionment authority to ensure taxpayer dollars are properly spent consistent with the President's priorities and with the law."
A senior administration official went a step further, accusing GAO of committing a "pretty clear overreach as they attempt to insert themselves into the media's controversy of the day."
This is big for impeachment—at least for Democrats
Trump eventually lifted the hold on the money in September, but only after the existence of a whistleblower was reported and Congress began investigating.
Lev Parnas, an indicted Giuliani associate, gave a damning interview Wednesday night following tranches of previously unknown information he provided to impeachment investigators about his former role in Trump's Ukraine dealings.
"It wasn't just military aid. It was all aid," Parnas told MSNBC's Rachel Maddow. He said Giuliani told Ukrainian officials that Parnas represented Trump's position and to inform the foreign country that aid would not be released without a probe into the Bidens and Hunter's former role in a Ukrainian gas company, Burisma.
"It was never about corruption," Parnas said, refuting one of the president's claims. "It was specifically about Burisma."
GAO's ruling was immediately lauded by Democratic lawmakers, who said the "illegal" withholding of funds "was a brazen assault on the checks and balances inherent to our democracy." They said it underscored the need for additional witnesses during the Senate impeachment trial.
"Given that this illegal conduct threatened our security and undermined our elections, I feel even more strongly that the House has chosen the right course by impeaching President Trump," Rep. Nita Lowey (D-NY), chair of the House Appropriations Committee, said in a statement. "No one is above the law."
Sen. Chris Van Hollen (D-MD), who was one of the first lawmakers to raise concerns about the withheld aid prior to the anonymous whistleblower complaint that jumpstarted the impeachment inquiry, said the ruling further made clear Trump tried to interfere in the 2020 election for "personal, political goals."
"This is all part of their scheme to abuse the power and prestige of the presidency, to further President Trump's own personal, political goals," he said in a social media video.