Trump Administration Planning to House Migrant Children on Military Bases as Shelters Reach Capacity: Report
The Trump administration appears to be moving forward with plans to separate parents and children at the southern border, reportedly weighing options of where to house minors who enter the United States illegally.
The administration's latest idea? The country's military bases.
Officials from the Department of Health and Human Services have notified their colleagues in the Department of Defense of visits they will make to bases in Texas and Arkansas over the coming weeks to scout locations for this purpose, according to reporting from The Washington Post Tuesday. HHS officials, however, were careful to note that "no decisions have been made at this time" with regards to whether the bases will ultimately serve as temporary housing for migrant children.
In an emailed statement, the Administration for Children and Families at HHS told Newsweek its office is responding to a problem of "violent gangs...exploiting loopholes in U.S. laws to bring gang members into the United States or recruit unaccompanied alien children once placed with a sponsor."
"For these and many other reasons the Trump Administration has been calling on Congress to close dangerous loopholes in U.S. immigration laws," wrote the agency division. "Until these laws are fixed, the American taxpayer is paying the bill for costly programs that aggravate the problem and put children in dangerous situations.
The statement continued: "The Office of Refugee Resettlement at HHS' Administration for Children and Families is responsible and required to care for minors who are in the country illegally without a parent or guardian. Operating this program requires routinely evaluating the needs and capacity of an existing network of approximately 100 shelters in 14 states. Additional properties with existing infrastructure are routinely being identified and evaluated by federal agencies as potential locations for temporary sheltering."
Attorney General Jeff Sessions announced changes to the long-time immigration policy of keeping parents and children together earlier this month, promising that anyone caught bringing a child across the border illegally will be prosecuted. "That child will be separated from you as required by law," Sessions said at the time. "If you don't like that, then don't smuggle children over the border."
Sessions's guidance was in-line with the Trump administration's hardline stance on illegal immigration, especially with regards to the migrant caravan that recently reached the U.S.-Mexico border. But administration officials suggest it will be difficult to carry out President Donald Trump's vision for U.S. immigration policy in practice—and finding housing for thousands of beds for migrant children is just the latest.
An HHS official told the Post that the facilities in Texas and Arkansas are currently at 91 percent capacity, and the Department of Homeland Security hasn't given HHS staffers any clue as to how many minors they should expect to house under the new Trump administration guidance.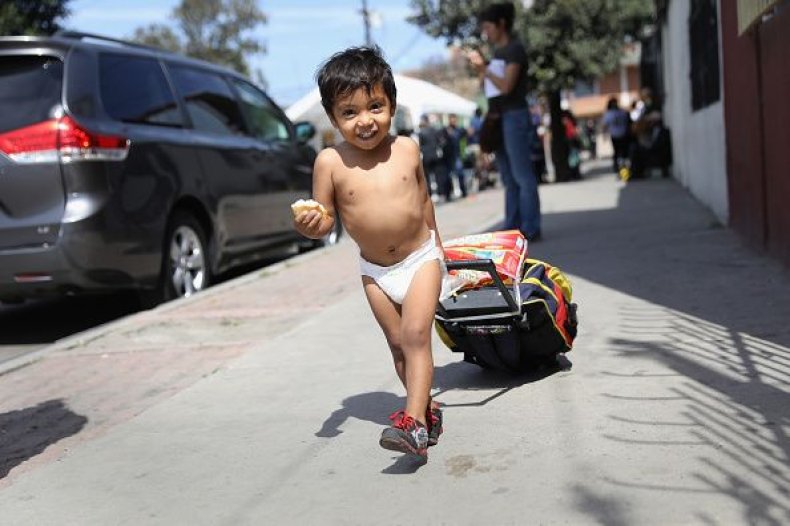 President Barack Obama's administration once used military bases in Texas, Oklahoma and California to house the thousands of children who crossed the border in 2014, many of whom were unaccompanied.
Mexico in particular has since cracked down on Central American migration into the U.S., and since then, illegal border crossings have fallen dramatically. That's not the case, however, according to Trump. "Mexico is doing very little, if not NOTHING at stopping people from flowing into Mexico through their Southern Border, and then into the U.S.," he claimed last month.
"We haven't seen anything like that since that time," Shannon O'Neil, senior fellow for Latin American studies at the Council on Foreign Relations, told Newsweek in April, referring to the 2014 child migration crisis. "It's not that Central Americans have stopped leaving their countries and trying to come into the U.S.—it's because Mexico has stopped letting them through."
Still, officials have been intent on bending to the wishes of a president who is becoming increasingly frustrated with his administration's inability to block undocumented immigrants from entering the country—one of his most emphatic campaign promises.
DHS Secretary Kirstjen Nielsen reportedly drafted a letter of resignation after Trump apparently berated her at a meeting last week for falling short of her duties to secure the country's borders.
Her office denied that she'd written such a letter, and in a statement to The New York Times, Nielsen said she understood where the president's anger stemmed from.
Trump, she said, is "rightly frustrated that existing loopholes and the lack of congressional action have prevented this administration from fully securing the border."