Now that President Donald Trump's second Supreme Court nominee, Brett Kavanaugh, has been confirmed to the bench, the Justice Department is looking to fast-track a plan to phase out former President Barack Obama's Deferred Action for Childhood Arrivals program.
A case concerning the administration's plan for DACA is currently stuck in the 9th Circuit Court of Appeals, where the judges heard oral arguments in May but have yet to issue an opinion. Department of Justice attorney Mark Stern wrote in a letter on Wednesday that if a decision is not made soon, the agency will petition to have the Supreme Court—and its new five-justice conservative majority—take over.
The circuit court is reviewing an appeal of a preliminary injunction that has prevented the administration from taking any course of action on DACA, the Obama-era legislation that protects young undocumented immigrants who came to the U.S. as minors from risk of deportation, until the litigation is resolved.
Trump has changed his position on DACA multiple times, at some points promising to show "great heart" in dealing with the program. Even after canceling the program in 2017, Trump seemed to be open to negotiation, but then in April he tweeted that there would be "no DACA deal" between Republicans and Democrats.
The Justice Department's goal is to have the case in front of the Supreme Court before the judicial term ends in June 2019. With Kavanaugh's ascension to the high court, the bench will consist of five reliably conservative justices and four more liberal justices.
The request to move ahead on phasing out DACA came as a record number of migrant parents are entering the United States with children.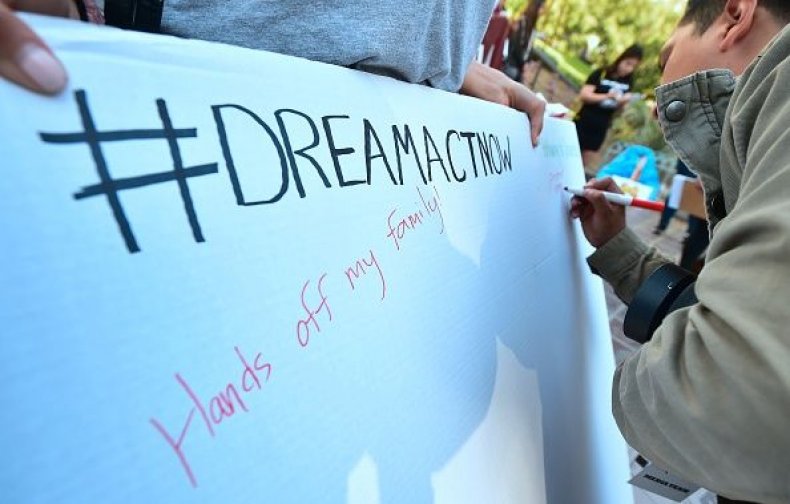 An unpublished Department of Homeland Security report obtained by The Washington Post showed that Border Patrol agents arrested over 16,650 family members in September. That is the highest one-month total on the department's record and an 80 percent increase since July.
The record number of immigrants entering the country with young children comes three months after Trump signed an executive order ending family separation at the U.S.-Mexico border.
The president has renewed his calls for a border wall in recent weeks, revamping the immigration conversation just weeks ahead of the highly contested midterm elections.
"Hard to believe that with thousands of people from South of the Border, walking unimpeded toward our country in the form of large Caravans, that the Democrats won't approve legislation that will allow laws for the protection of our country," Trump tweeted on Wednesday morning.
The president followed up with another social media post, saying, "Republicans must make the horrendous, weak and outdated immigration laws, and the Border, a part of the Midterms!"