Trump Decision To Deport 200,000 El Salvadorian Refugees Will Tear Families Apart
The Trump Administration's decision Monday to deport nearly 200,000 El Salvadoran refugees who fled gang violence and natural disasters has crushed Christian Chavez Guevara's hopes and dreams and will ultimately tear his family apart, he said.
Chavez Guevara, 37, has lived and worked in the U.S. under the refugee deportation protection known as Temporary Protected Status—but now must say goodbye to his wife and three U.S.-born daughters.
"All my dreams and hopes ended today. My life and the life of my family will end," Chavez Guevara told reporters on Monday to discuss the Administration's decision.
Chavez Guevara is one of 195,000 El Salvadorans—who have 193,000 U.S.-born children—grappling with whether to take their children to a land they've never known, leave them behind or remain in the U.S. undocumented and risk deportation under President Donald Trump, who has vowed to deport immigrants living in the country illegally.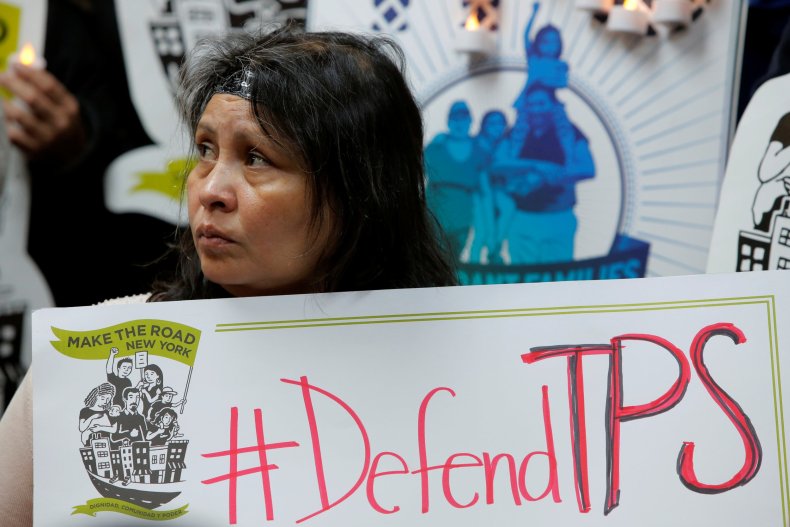 The Houston resident, who works in the information technology industry, says he is scared to return to El Salvador, where violent crime is rampant.
"I don't want to take any of my kids to a violent environment, but I don't want to leave them here. It's difficult to think about," Chavez Guevara said. "If I leave, and my kids stay here, they will lose a part of their lives."
The Department of Homeland Security can designate countries for temporary protected status in cases of war, famine, epidemics or natural disasters and extend it for periods of six, 12 or 18 months. TPS currently is granted to recipients from 10 foreign countries. El Salvadorans received TPS in in 2001 after a series of earthquakes left tens of thousands homeless. The program was signed into law by President George H.W. Bush in 1990.
Secretary Kirstjen Nielsen, in her first major immigration decision since she took office on December 6, ended protection for El Salvadorans because she believes the original conditions caused by the 2001 earthquakes no longer exist, according to a Homeland Security statement.
The agency declined to comment on the effect the decision will have on families with American children. "We're not getting involved in individual family decisions," a senior administration official said.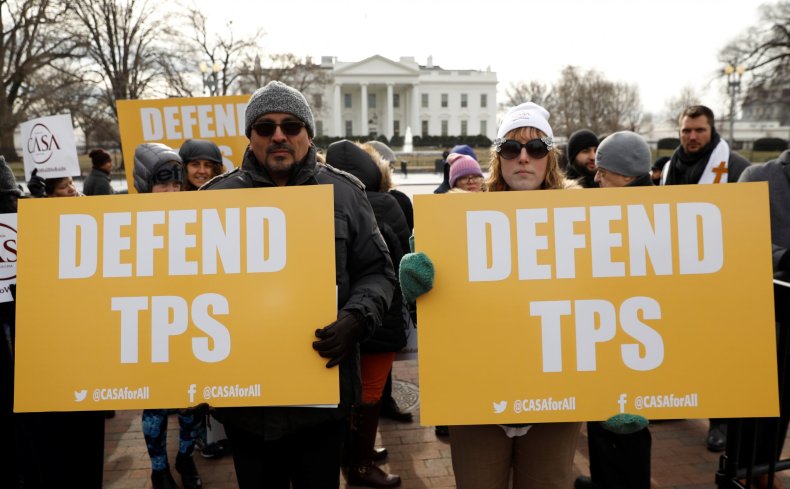 Los Angeles resident and TPS immigrant Dina Paredas, 50, plans to risk deportation to stay in the U.S. with her two children, ages 14 and 17.
"If I were to go back, it would expose my children to be gang members or to a violent situation where they could be assaulted or taken advantage of," Paredas said in Spanish.
Staying in the U.S. illegally means losing her work permit and job as a housekeeper at a Los Angeles hotel. Paredas is part of the 88 percent of El Salvadoran TPS holders who are in the labor force and don't qualify for public assistance.
Nielsen's decision Monday comes just weeks after the Administration ended temporary protection to 50,000 Haitian refugees, 2,500 Nicaraguans and just over 1,000 Sudanese refugees. The decision is in line with Trump's pledge to curb both legal and illegal immigration in the U.S.