Trump Administration Office Overseeing Separated Children Deleted Entire Staff Directory Months Before Scandal
The office responsible for overseeing the care of immigrant children separated from their families at the U.S.-Mexico border removed its staff directory from its website months before it fell under the national spotlight over its role in enforcing the Trump administration's "zero tolerance" immigration policy, a new report has found.
The Sunlight Foundation's Web Integrity Project said the Office of Refugee Resettlement (ORR) took down a web page listing the names, email addresses and phone numbers of 22 members of the office's leadership, including the email address of ORR Director Scott Lloyd, "without any notice."
The webpage, which can still be found through the Internet Archive's Wayback Machine, was removed on October 23, 2017, the Department of Health and Human Services (HHS), which oversees the ORR, has confirmed to Newsweek.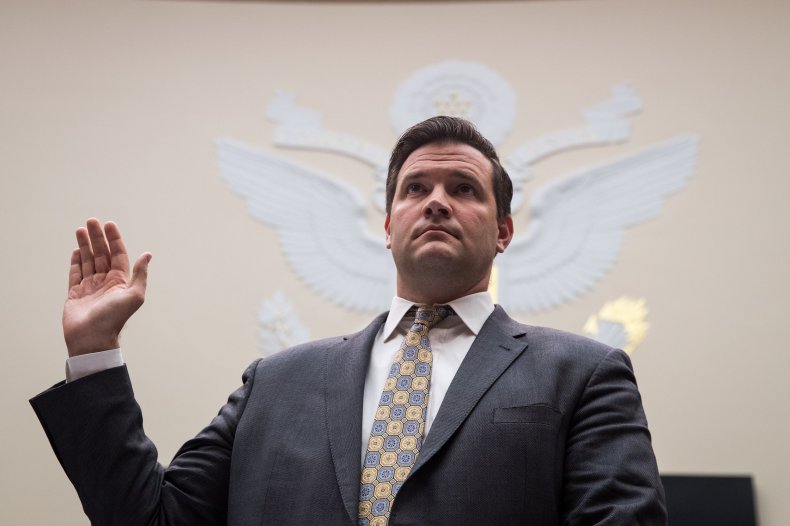 Newsweek subscription offers >
The Sunlight Foundation noted that the change would have been made "just before the political firestorm over the Trump administration's family separation policy at the border."
The Trump administration sparked widespread outrage over its "zero tolerance" family separation policy, which saw around 2,500 children separated from their parents at the U.S.-Mexico border before President Donald Trump rescinded the rule on June 20.
His administration received a court order to reunite families by July 26, 2018, a deadline which civil rights groups, including the American Civil Liberties Union, said the government failed to meet, given that the parents of hundreds of separated children had either been deported from the country before they could be reunited, were deemed "unfit" to be reunited or had waived their reunification right.
Both the ORR and the HHS have faced strong criticism over their lack of communication with the public and media about the Trump administration's efforts to reunite parents with their children.
Newsweek subscription offers >
"Much of the public outcry has centered on poor communication by the [ORR], which has been plagued by insufficient resources and a lack of experience working in crisis contexts," the Sunlight Foundation said in its report, adding that the office failed to "communicate transparently with the public during the controversy."
"The timing of this looks like it did happen months before the controversy really got into full swing," Web Integrity Project Director of Programs Rachel Bergman told Newsweek.
Bergman said that while it was "not essential for transparency to always mean including individual information" of leadership members, the erasure of such information without any warning could reflect a "broader tendency towards secrecy and poor communication.
"To have that information available and then not give a reason or notice for it being removed and making it much more difficult [for others] to communicate with this office does reduce transparency," she said.
Read more: USCIS Deleted Hundreds of Web Pages on U.S. Asylum Protocol After Trump Took Office, Watchdog Says
HHS spokesperson Caitlin Oakley told Newsweek in an emailed statement that the ORR's staff directory was removed as part of an "overall" update to the website "designed to get individuals with questions to email mailboxes and phone numbers that are regularly monitored."
"Any suggestions that there was a correlation between this action and the 'zero tolerance' policy would be totally inaccurate," Oakley said.
The Sunlight Foundation said in its paper that because the ORR did not provide any advance notice or explanation for why it removed its staff directory from its website, it "may violate the Paperwork Reduction Act."
The Paperwork Reduction Act requires agencies to "provide adequate notice when initiating, substantially modifying, or terminating significant information dissemination products," the foundation said.
The HHS has rejected that claim, however, telling Newsweek that the ORR staff directory webpage was removed in line with other HHS Administration for Children and Families (ACF) program office webpages and replaced with information contained on the ORR's About Page.
To date, the ORR's website no longer appears to list individual contact details for its leadership, but it does provide generalized contact numbers for the general public, media members and a hotline for parents of unaccompanied minors on its "About" page.
The agency's website also includes a "State Programs Directory," which allows users to obtain the contact information of its affiliated programs and agencies by state.
This article has been updated with a statement from the Department of Health and Human Services.
Trump Administration Office Overseeing Separated Children Deleted Entire Staff Directory Months Before Scandal | U.S.