Trump Administration Sets New Record for Deportation Filings, With Nearly 385,000 Cases Filed in Fiscal Year 2019 So Far
The Trump administration has set a new record for the number of immigrants ordered to be removed from the U.S., with nearly 385,000 deportation proceedings filed in the first 11 months of fiscal year 2019, blowing well past the number of cases the U.S. saw filed last fiscal year.
Between the months of October 2018 and August 2019, the U.S. saw a total of 384,977 deportation proceedings filed, according to data from the Syracuse University's Transactional Records Access Clearinghouse (TRAC), which obtains its data from the Department of Homeland Security through Freedom of Information Act requests.
Of course, with data from the month of September still to come, that number is only expected to grow.
Already, the 384,977 figure has swept past fiscal year 2018's numbers, with TRAC's data showing that 340,974 proceedings were filed in that fiscal year.
In November, the Trump administration had already made headlines for breaking records with its 2018 numbers, but, at the time they had been reported to be much lower, with 287,741 proceedings reported to have been filed.
While, at the time, that number was still high enough to break records, representing the highest figure since TRAC began tracking deportation orders in 1992, the true number of deportation proceedings filed in fiscal year 2018 has only continued to grow.
The reason for that, Susan Long, a statistician and professor at the Syracuse University's Whitman School of Management and the co-director of the TRAC Research Center, tells Newsweek, is because some of the data on deportation filings from previous fiscal years is still coming in, largely due to processing delays, meaning that the "total" figures are also changing.
"There are delays in getting things in because these are new filings and so what happens is each month when you get them... you find that there are not just new ones that came in covering the current fiscal year, 2019, but some laggards that have come in from prior periods," Long said. "You know, the government releases these preliminary estimates and they change [them] when more data comes in."
Given that the data sets for each fiscal year are subject to change, it is likely that the number of deportation proceedings filed in fiscal year 2019 will only continue to grow over the coming months.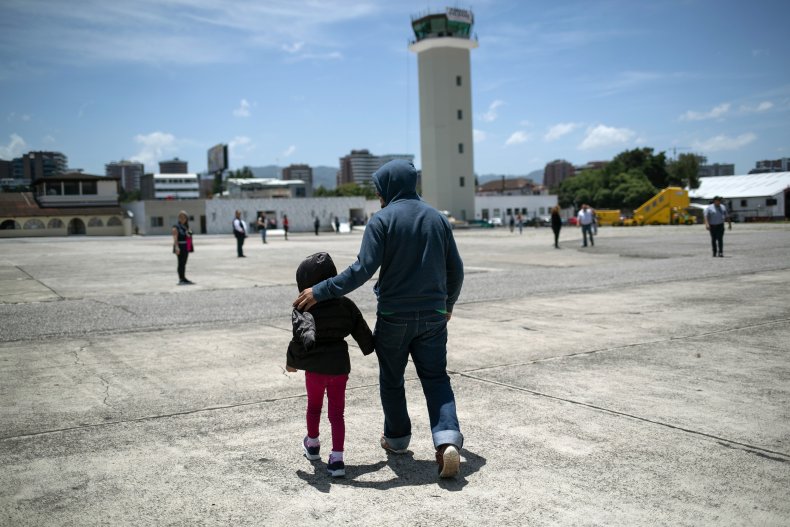 Of course, it is not only the number of deportation proceedings filed this fiscal year that have broken records; as TRAC announced this week, the immigration court backlog has surpassed 1 million cases, despite the Trump administration's proclaimed efforts to cut back on asylum claims.
"The latest case-by-case court records through the end of August 2019 show the court's active case backlog was 1,007,155," TRAC said in a report released Wednesday. "If the additional 322,535 cases which the court says are pending but have not been placed on the active caseload rolls are added, then the backlog now tops 1.3 million."
"We've set several new records," Long said. "The backlog is a brand new record. I mean, it just keeps going up."
Asked if she was surprised however, the statistician said she was not.
"There are several reasons why...the backlog is going up," she said. "One, is that we don't have enough judges, what can I say?"
While an increasing amount of money is being appropriated "for immigration enforcement," she said, "judges are not so exciting to appropriate money for and there just aren't enough of them."
Meanwhile, Long said, "there have been a lot of decisions made that have made things less efficient."
During the last partial government shutdown, for example, the U.S. saw thousands of cases postponed, as only those of detained immigrants moved forward.
While Long said that the "backlog has been going on for years and years," it has grown substantially since the time that Trump took office in January 2017.
Ultimately, Long said, "the case loads are just overwhelming for judges." Yet, "what the [deportation proceedings] filings also show is that there are more cases."
"Under the Trump administration, they have increased enforcement," she said. "So, that's more workload for the courts."