Trump Administration Aims to Gut Clean Water Standards to Help Out Coal Power Plants
The Environmental Protection Agency announced on Thursday it will scrap Obama-era rules governing coal ash disposal. The changes would provide companies with annual compliance cost savings of up to $100 million, but environmentalists warn that doing away with the regulations risks poisoning clean drinking water for millions of Americans and pollute already-endangered ecosystems.
The changes would extend how long the over 400 coal-fired power plants across the country can maintain unlined coal ash ponds and allow states to determine how frequently they would test disposal sites for groundwater contamination.
EPA Administrator Scott Pruitt championed the rule changes as a way of promoting federalism.
"Today's coal ash proposal embodies EPA's commitment to our state partners by providing them with the ability to incorporate flexibilities into their coal ash permit programs based on the needs of their states," Pruitt said in a statement announcing the changes.
Pruitt went on to boast that the proposed changes "would save the regulated community between $31 million and $100 million per year."
But as pointed out by Alexander C. Kaufman and Chris D'Angelo of the HuffPost, Pruitt's announcement failed to mention the risks coal ash poses to human health and the environment.
"This is the second biggest toxic pollution threat in our country, and we need to clean it up—not make things easier for polluters," Earthjustice attorney Lisa Evans said in a statement. "People living near more than a thousand toxic coal ash sites are at risk. They face contaminated drinking water, toxic dust in the air, and serious health threats just because the EPA is choosing to side with polluters over the public."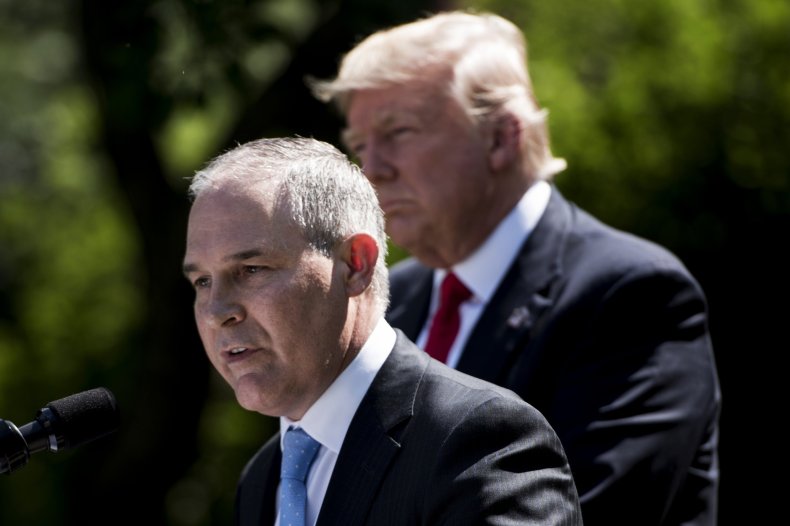 According to the EPA, coal-fired power plants in the United States produce around 140 million tons of coal ash per year. The waste is usually started in wet ponds, almost half of which operate without liners and other safeguards meant to prevent chemicals from seeping into groundwater.
Multiple scientific studies have demonstrated that coal ash—which contains carcinogenic substances like arsenic, lead, and selenium—has a demonstrable adverse effect on surrounding communities and the environment. An EPA study from 2010 showed that "people living within one mile of unlined coal ash ponds can have a 1 in 50 risk of cancer—more than 2,000 times higher than what the EPA considers acceptable," as cited by Sierra Club. The study also shows that living within a mile of a wet coal ash storage pond is as hazardous as smoking a pack of cigarettes a day.
Particularly at risk are the over 1.5 million children who live near coal ash disposal sites across the country, as coal ash has been shown to increase the risk of children developing learning disabilities, birth defects, asthma, and cancer.
Many industry trade groups have come out in support of the changes, celebrating Pruitt's role in lessening the federal government's role in overseeing coal-fired power plants.
"The proposed rule will provide states and the industry with greater certainty as they work to close ash basins safely and responsibly and continue to manage other ash management facilities such as landfills," Quin Shea, the vice president for environment at the industry trade group Edison Electric Institute, told The Washington Post in a statement.
Frank Holleman, a senior lawyer at the Southern Environmental Law Center, countered by highlighting the dangers posed by coal ash and decried the administration's efforts to protect Americans from carcinogen.
"Coal ash is polluting rivers, lakes and wells across America, but President Trump's EPA is trying to weaken the standards that are supposed to protect Americans from this toxic threat," Holleman said in a statement. "These proposals will weaken rules that protect our groundwater from arsenic and mercury and continue to extend the use of unlined, leaking coal ash pits next to our waterways. America's families and clean water deserve better."
The EPA said it will accept public comment on the proposed changes for 45 days. It then "plans to move quickly to take final action after the close of the comment period."