President Donald Trump's administration faces two legal challenges in two different federal courts on Monday over its efforts to crack down on asylum requests at the southern border.
In Washington, D.C., the administration will be forced to defend policies that the American Civil Liberties Union said were aimed at "gutting protections for asylum seekers fleeing domestic violence and gangs."
That lawsuit, Grace v. Sessions, was launched earlier this year after then-Attorney General Jeff Sessions, who was recently forced to resign, put forward "expedited removal" policies that instructed asylum officers to "generally" deny asylum claims from immigrants fleeing domestic violence and gang brutality.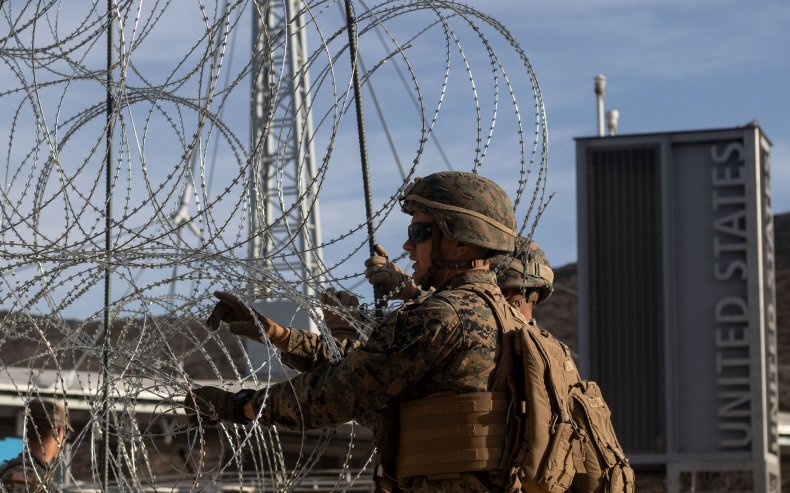 ACLU Immigrants' Rights Project Managing Attorney Jennifer Chang Newell was expected to present arguments at 10 a.m. to Judge Emmet G. Sullivan, who is presiding over the case, according to the ACLU.
Across the country in San Francisco, a federal judge will hear a challenge to a recent proclamation made by Trump that seeks to bar anyone caught crossing into the U.S. illegally from claiming asylum.
The East Bay Sanctuary Covenant v. Trump lawsuit was filed by the ACLU and several partnering organizations, including the East Bay Sanctuary Covenant, on November 9, hours after Trump signed the asylum ban proclamation.
On Monday, the ACLU will be in court to seek a temporary restraining order to block the Trump administration from enforcing the policy.
ACLU Immigrants' Rights Project Deputy Director Lee Gelernt will be presenting arguments at 9:30 a.m. PT, or 12:30 p.m. ET, to Judge Jon Tigar, who is presiding over that case.
The two legal challenges unfold as thousands of Central American migrants make their way to the U.S. border to seek asylum, continuing to arrive in Mexican border town of Tijuana.
The Trump administration deployed thousands of military troops to the southern border in anticipation of the migrants' arrivals, with asylum seekers facing weeks, if not months, of waiting to make their asylum claims at the San Ysidro port of entry in San Diego.
In addition to vowing to stop migrants at the border, Trump has also threatened a government shutdown if Congress doesn't provide funding for his long-promised border wall.
Speaking to reporters outside the White House on Saturday, the president said this would be a "good time" for a government shutdown if the border wall funding does not come through.