Trump Administration Holds Highest Rate of First-Year Staff Turnover
President Donald Trump's first year in office has seen a record number of staff turnover, with 34 percent of the administration resigning, being reassigned or being fired.
The high level of staff turnover, detailed in a Wall Street Journal report Thursday, is unprecedented in the last 40 years, and is especially unusual given the seniority of the staffers who have left the White House.
Administration turnover rate in the past year has been tracked by Kathryn Dunn Tenpas, a senior fellow at the Brookings Institution who has tracked White House turnover for more than three decades. Her analysis shows that 21 of the 61 officials she's tracked have left the administration or been reassigned, a much higher rate than years prior.
"That's unprecedented to me. The first year always seems to have some missteps on staffing, often because the skills that worked well running a campaign don't always align with what it takes to run a government," Tenpas told the Journal. "In this case, it's a president with no experience in government and people around him who also had no experience," she continued. "So it's not surprising that it's higher than normal, but it's still surprising it's this high."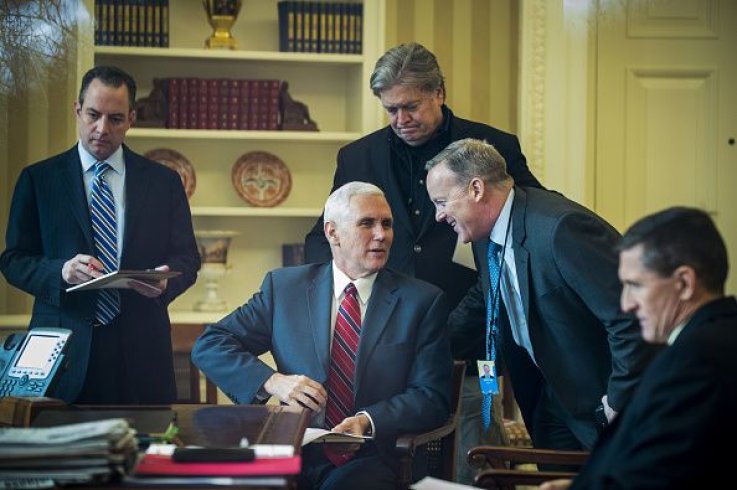 The next-highest administration turnover rate was when Ronald Reagan was in the White House. In 1981, 17 percent of senior aides left Reagan's administration.
"Not only is the percentage double, the seniority of people leaving is extraordinarily high," said Tenpas of the Trump administration compared to Reagan's.
Barack Obama's turnover rate during his first year in office was 9 percent, and Bill Clinton's was 11 percent.
Trump's first year has been marked by several dramatic departures, like Reince Priebus, who resigned in July after the shortest tenure as White House Chief of Staff in history, and Anthony Scaramucci, who went down in flames just 10 days after he was sworn in.
Former national security adviser Michael Flynn, former chief strategist Steve Bannon and former press secretary Sean Spicer all departed from the administration in the first year as well, and have remained in the public eye since.
A senior administration official told reporters last week that the turnover rate shouldn't be seen a sign of weakness.
"Is it a mistake to have to fire people? You're asking, did he make a mistake in hiring them in the first place? You have to be more specific about people," said the official.
If the Trump administration follows past trends, turnover will be even higher in the second year. According to Tenpas's research, Reagan's turnover jumped from 17 percent in 1981 to 40 percent in 1982. Clinton lost 27 percent of top staffers in year two, and President George W. Bush, who lost just 6 percent of senior aides in a first year, lost 27 percent of them the following year.
Trump Administration Holds Highest Rate of First-Year Staff Turnover | U.S.