Trump Administration Forced to Extend TPS Protections to More Than 250,000 Immigrants Due to Court Injunction
The Department of Homeland Security announced on Thursday that to comply with a court injunction it would extend the Temporary Protected Status it sought to terminate for hundreds of thousands of immigrants from El Salvador, Nicaragua, Haiti and Sudan.
The department said in a notice that current TPS holders from those four countries, of which there are more than 250,000, could keep their protected status until January 2, 2020.
"The TPS designations of Sudan, Nicaragua, Haiti, and El Salvador will remain in effect, as required by the preliminary injunction order of the U.S. District Court for the Northern District of California," the notice stated. "TPS for those countries will not be terminated unless and until any superseding, final, non-appealable judicial order permits the implementation of such terminations."
The Department of Homeland Security added that in the event that the preliminary injunction enforcing the extension was reversed "and that reversal becomes final, DHS will allow for an orderly transition period."
In a statement emailed to Newsweek, National TPS Alliance spokesperson José Palma said that while advocates "welcome this victory, it cannot distract from the urgency and need for robust legislative reform that provides permanent solutions for all Temporary Protected Status holders.
"TPS Holders continue to be at the forefront fending off the racist attacks against our communities, racing against the clock," Palma said.
Hiwaida Elarabi, a TPS holder from Sudan who is a plaintiff in the case that led to the injunction, said that while the extension "gives space to breathe to some of us…thousands of TPS holders who are not included in this lawsuit are still in limbo without any court protections."
Elarabi said Congress needed to "act now" and work to ensure permanent protections for all TPS holders "fighting to keep their families together."
A DHS spokesperson told Newsweek that the TPS program "was terminated as required by law by the Secretary for a number of countries. Litigation ensued and DHS is complying with the intervening court order.
"Today's Federal Register Notice is evidence of that continued compliance. What is often not reported is that the Trump Administration has forcefully advocated for Congressional action to provide legal status for long-standing TPS beneficiaries in good standing: a change to the law is needed, not judicial intervention."
The graphic below, provided by Statista, illustrates the number of people currently on Temporary Protected Status.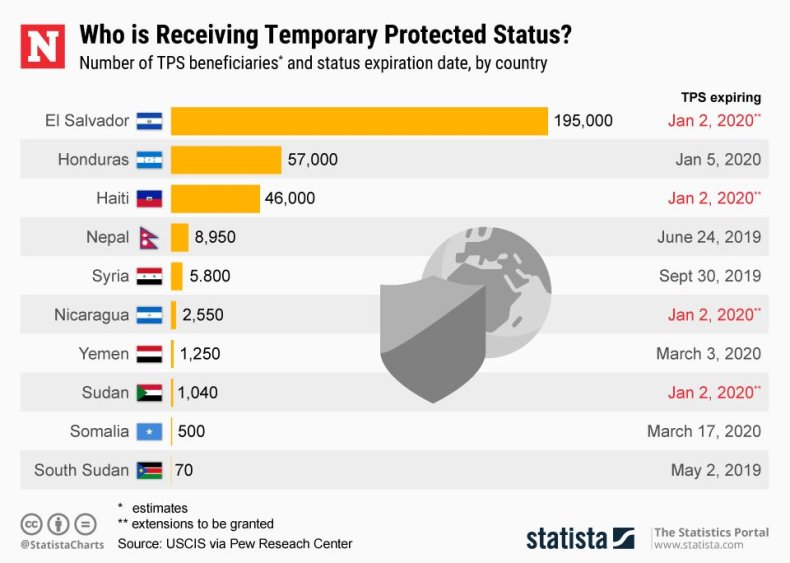 Homeland Security's extension of TPS programs came in response to an injunction from a lawsuit, Ramos v. Nielsen, which was filed in March 2018 by nine TPS holders from El Salvador, Nicaragua, Haiti and Sudan, as well as five children of TPS holders who were born in the U.S., seeking to prevent the Trump administration from enforcing its plan to end TPS protections.
Another lawsuit, Bhattarai v. Nielsen, was filed on February 10, 2019, challenging the termination of TPS programming for people from Honduras and Nepal.
TPS is granted to citizens of countries that the U.S. government considers to be affected by conditions that temporarily prevent nationals from returning safely or that prevent the country from being able to adequately handle the return of its citizens. The status can also be extended to eligible applicants without nationality, who last resided in a country that is covered by the program, according to U.S. Citizenship and Immigration Services.
The TPS designation is typically reserved for countries affected by ongoing armed conflict, environmental disasters or other extraordinary and temporary conditions.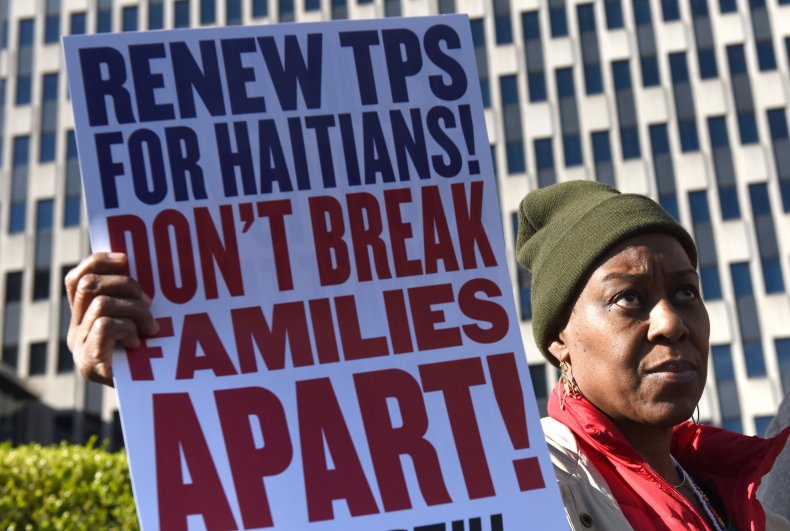 This article was updated to include an infographic and comment from a TPS spokesperson.