The Trump administration appears to have overseen the construction of dozens of miles of President Donald Trump's border wall since the first case of coronavirus was reported in the United States.
On January 10, 10 days before the first case of coronavirus was reported, the government celebrated completing 100 miles of new border wall.
Acting Homeland Security Secretary Chad Wolf traveled to Yuma, Arizona, on that day to celebrate what he called a "milestone" with the installation of a plaque marking the 100th mile.
Fast forward nearly three months later and much has changed in the world, with countries, including the U.S., clamping down at their borders to prevent the spread of COVID-19.
Border wall construction, however, appears to have carried on, with a spokesperson for the U.S. Customs and Border Protection agency telling The Washington Times that the agency had completed more than 140 miles of new border wall system as of Saturday.
Newsweek has contacted CBP for an update on its border wall progress.
The spokesperson further said that another 197 miles of border wall was currently under construction. They added that the government was still confident it would reach its goal of seeing 450 miles completed by the end of 2020.
Border wall construction has continued despite repeated calls from immigration, civil rights and environmental groups for the Trump administration to halt development on the project amid the coronavirus outbreak.
In addition to arguing that border wall construction funds should be going towards combating the COVID-19 pandemic, advocates have warned that the project could also put the health of workers and residents at risk.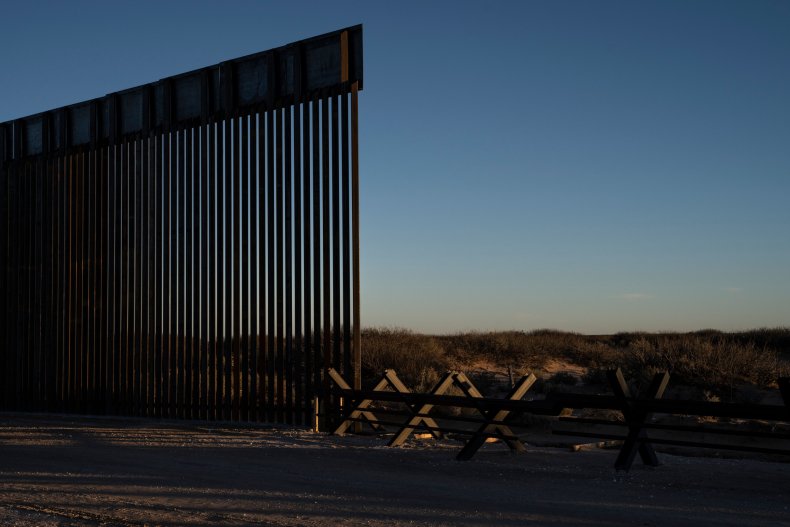 In an online petition, which has been signed by more than 100 groups, including the Texas Civil Rights Project, Al Otro Lado, America's Voice, the Center for Gender & Refugee Studies advocates and many others, advocates call on the Trump administration to "halt all border wall construction during the COVID-19 pandemic."
"The world is in the midst of an unprecedented public health crisis," the petition, posted on the Texas Civil Rights Project's website, states. "It is unconscionable that the U.S. government is demanding to survey the homes of border residents with plans to send construction crews and agents. This puts thousands of families and individuals at a higher risk of exposure and spread of COVID-19," they warn.
Instead, advocates say, "the government should be focused on quickly responding to keep us all safe, not wasting resources on a needless wall that is literally endangering the lives of thousands."
In the wake of the COVID-19 outbreak, President Donald Trump has insisted that the U.S. needs the wall now "more than ever."
Earlier this month, the president tweeted out that the wall was "going up fast". "We need the Wall more than ever!" he said.