Trump Administration Has Illegally Attempted to Deport DACA Recipients, Advocates Say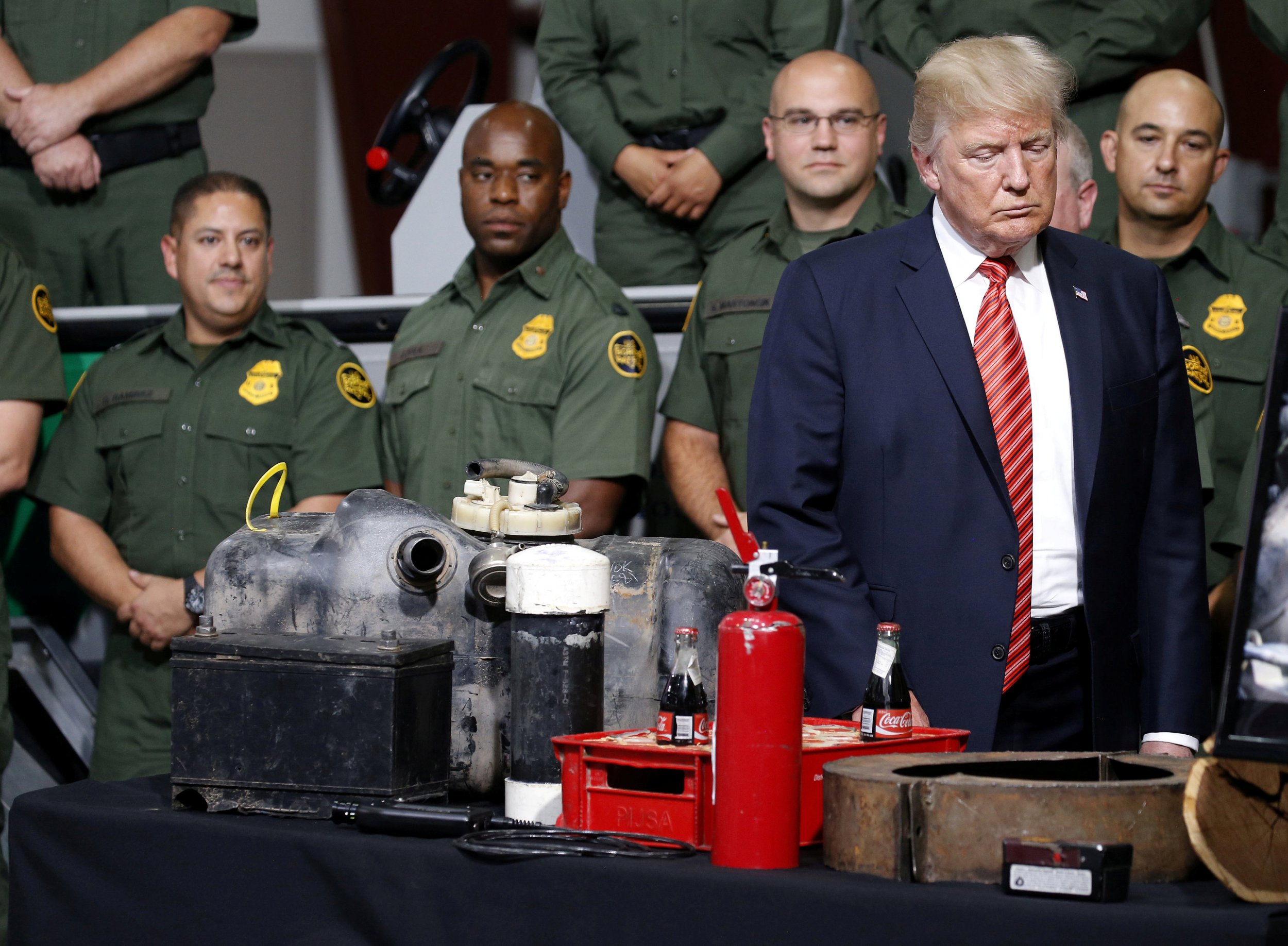 The evening of February 12 began uneventfully for Los Angeles-area resident Jesus Alonso Arreola. The 23-year-old undocumented immigrant from Mexico began his shift as a Lyft and Uber driver and picked up a fare in San Diego.
The money for the trek three hours south would help pay his parents' rent, care for his ailing sister and provide for his pregnant girlfriend, who was expecting the couple's first child.
Arreola, who also worked as a cook at the famed Chateau Marmont in West Hollywood, was among the first young adults to receive special protection from deportation under the Deferred Action for Childhood Arrivals program enacted by the Obama administration in 2012. As long as he worked and avoided a criminal record, Arreola was supposed to be safe from the clutches of Border Patrol.
So he thought.
"I had no idea that picking up that fare would change my life," Arreola wrote in a blog post for the American Civil Liberties Union.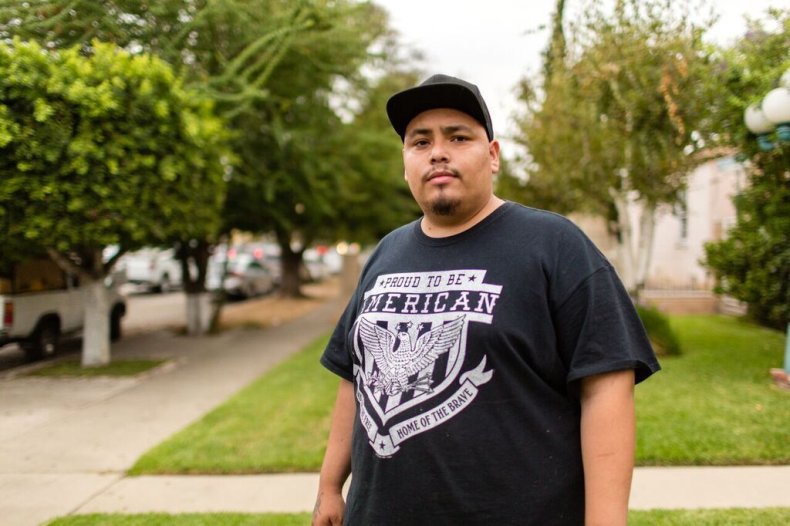 Arreola's vehicle was swarmed by Border Patrol agents as his arrived to pick up his passengers. They accused him of human smuggling: The people he was meeting had crossed the U.S.-Mexico border illegally, agents told him.
"I kept thinking, 'I didn't do anything wrong. I didn't smuggle anyone. I never even saw the people I'm accused of smuggling,'" Arreola wrote.
Arreola was eventually released with no criminal charges, but was stripped of his DACA status because he was issued a Notice to Appear (NTA) in immigration court for deportation proceedings. He also lost his jobs as a result.
A U.S. District Court judge for the Central District of California last week ordered the Trump administration to reinstate Arreola's DACA status, ruling that the move violated the law.
Arreola is representative of nearly a million DACA recipients brought to the U.S. as children, many of whom have been living in fear since the Trump administration narrowed its sights on the protected group.
Using court notices as a method to revoke DACA is an unprecedented and illegal tactic that is being employed increasingly by the administration, immigration lawyers and advocates said, as is detaining DACA holders for hours to run criminal background checks and arresting protected recipients for being in the country illegally.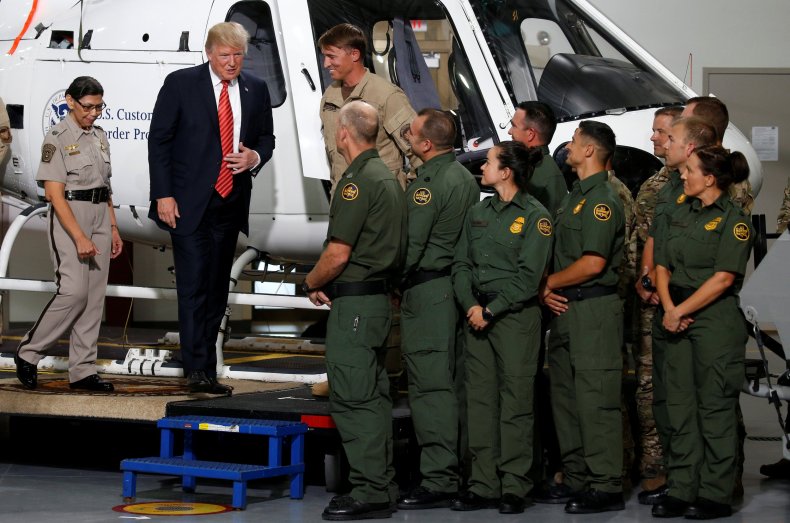 "That an NTA cancels DACA automatically is incorrect and [the government's] rules actually don't allow them to do that," ACLU attorney Katrina Eiland told Newsweek.
The crackdown on DACA isn't isolated to southern border states like California and Texas, Eiland said. It's also happening in states such as Georgia and Minnesota, she said.
U.S. Representative Marc Veasey (D-Texas), an outspoken advocate for DACA, told Newsweek that Trump's enforcement actions against the program's recipients must be investigated.
"We need to make sure the president is actually following the law and that he's not making up his own," Veasey said.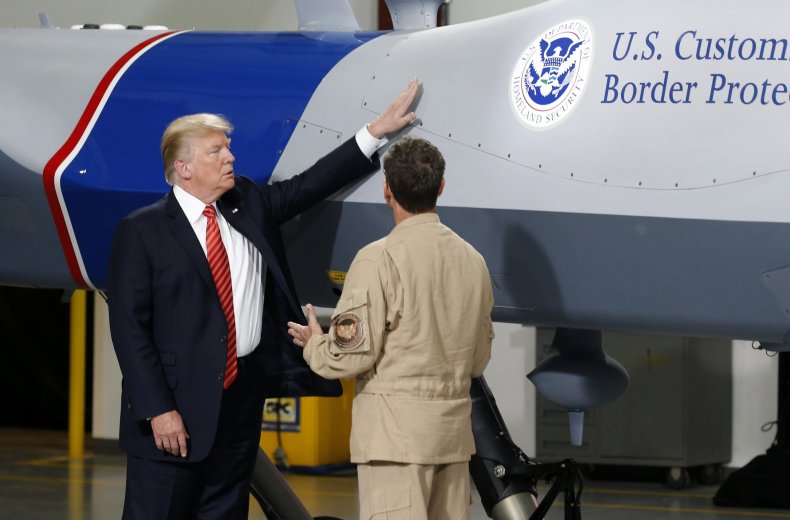 Despite the ruling in the Arreola case, Customs and Border Protection officials insist DACA recipients can be disqualified if they are issued immigration court notices. Other such criteria: gang membership, participation in criminal activity, being deemed a national or public safety threat and participation in activities that threaten the U.S., a spokesperson said.
Since President Donald Trump's January inauguration, immigration advocates and news outlets have reported an uptick in detention of DACA holders. But the government keeps patchy records on DACA revocations and has no data on DACA detentions.
Citizenship and Immigration Services only keeps record of DACA terminations because of links to gang activity and gang convictions, and even those statistics aren't comprehensive, according to agency data. Gang-related revocations have doubled under Trump, the data show.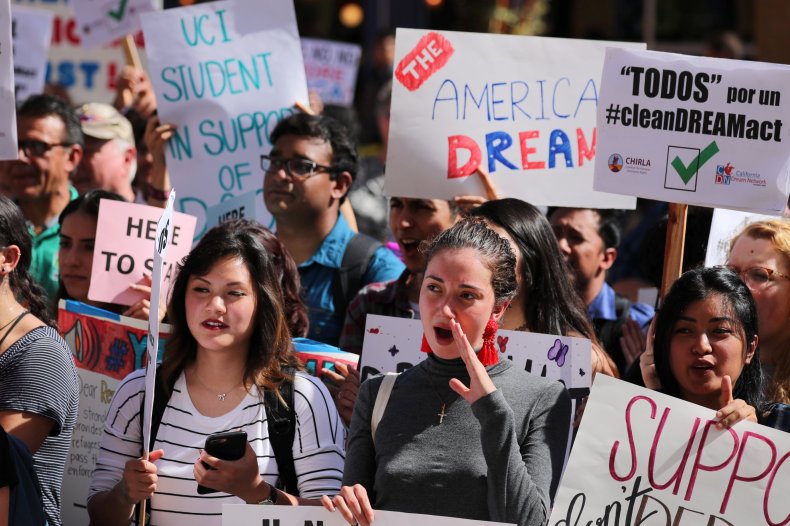 With little government data, immigration advocates, lawyers and lawmakers have had to rely largely on anecdotal accounts to get their information, they said.
On February 17, Juan Manuel Montes, 23, a DACA recipient who has lived in the U.S. since age 9, was arrested by a Customs and Border Protection officer and deported to his native Mexico three hours later. Montes is the first known DACA recipient deported by the Trump administration. The circumstances surrounding his detention and deportation are unclear, USA Today reported.
Another DACA recipient, Felipe Abonza-Lopez, 20, of San Marcos, Texas, was detained October 11, held without charges and stripped of his protected status for allegedly participating in human smuggling, according to Customs and Border Protection. Abona-Lopez was eventually released without charges, but still faces deportation.
Amy Fischer, policy director of the Refugee and Immigrant Center for Education and Legal Services, who worked on Abonza-Lopez's case, told Newsweek she's aware of six other cases in Texas where DACA recipients were inexplicably detained at border checkpoints for hours.
Earlier this year, a group of DACA recipients at the Falfurrias immigration checkpoint in Texas was held for several hours.
"This incident signals a troubling shift in policing of these young people," U.S. Representative Vicente Gonzalez (D-Texas), a DACA advocate, wrote in a letter to Trump following the incident. "This begs the question, what checks are being performed? How far are we from rounding up these young people for deportation? I urge all DACA recipients to stay alert."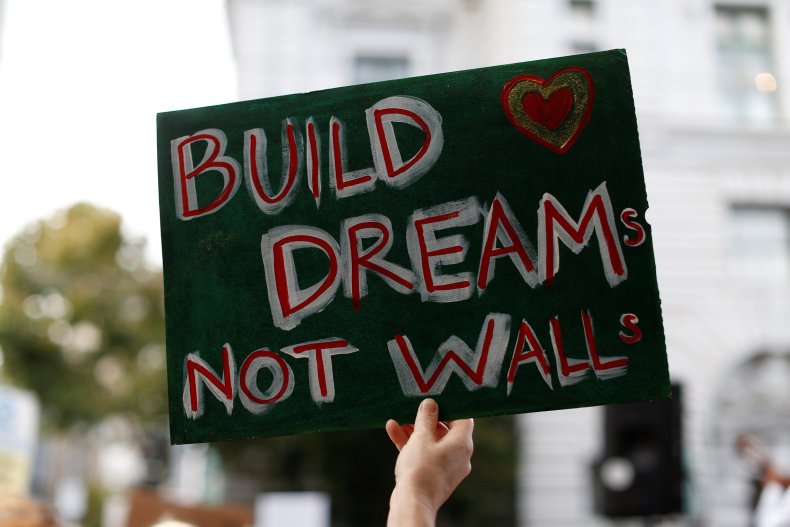 Immigration hardliners argue that DACA recipients aren't exempt from detention.
"Even President Obama made it clear that this is not blanket immunity from everything, that there were certain rules that need to be adhered to," said Ira Mehlman, media director for the Federation for American Immigration Reform, a nonprofit organization that seeks to reduce both legal and illegal immigration.
Trump has largely delivered on his promises to crack down on immigration, sending a wave of panic through DACA's nearly 800,000 recipients.
In less than a year in office, Trump has increased round-ups of undocumented immigrants regardless of age, criminal history or protected status; expanded detention space; stepped up workplace raids; and, in September, announced the wind down of the DACA program, directing the Department of Homeland Security to stop processing new and renewal applications. Trump asked Congress to act to save it, but DACA recipients could begin to lose their status in March.
Recipient Selina Armenta, 21, of Madison, Wisconsin, told Newsweek she lives in fear since the Trump administration began targeting the protected group. The Mexico native has lived in the U.S. since she was 3 years old.
She looks over her shoulder more often, is careful while driving and is more suspicious of law enforcement, which she said could be working with immigration officials.
"I'm in surveillance mode all the time. It's a lot more intense now," Armenta said. "I'm starting to hear people are getting picked up for the smallest infraction."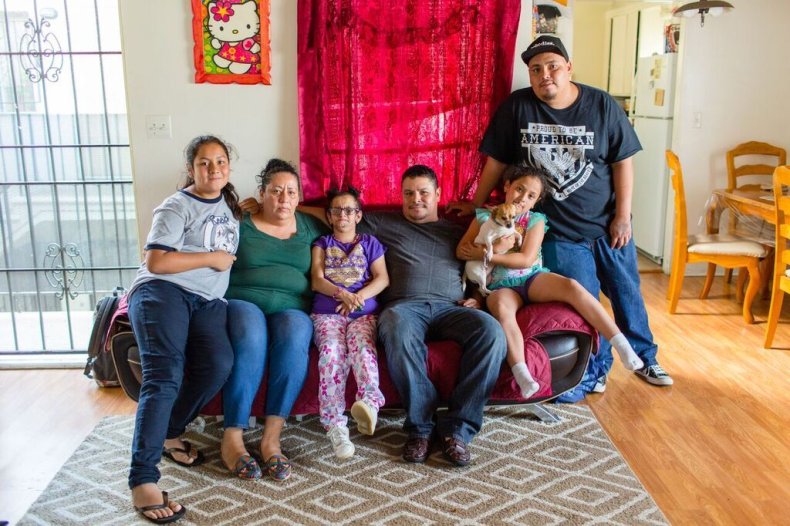 The aspiring immigration attorney and legal studies major at the University of Wisconsin said an infraction as simple as failing to signal a right turn could rip her from her parents and American-born siblings.
Armenta's DACA expires next month. She's waiting for a two-year extension, for which she applied in August.
Alexandra Toribio, 21, a Dallas resident who fled gang violence in her native Peru at age 7 with her parents, has struggled with severe anxiety since reports of DACA roundups surfaced, she said.
"It's very hard to try to stay strong through it, because you feel you're constantly just being torn down," a tearful Toribio, whose DACA expires in November 2019, told Newsweek.
"Everyone keeps telling me to be positive and it's really easy to say that, but it's so hard to stay in a good mental state," the marketing major at the University of Texas at Arlington said.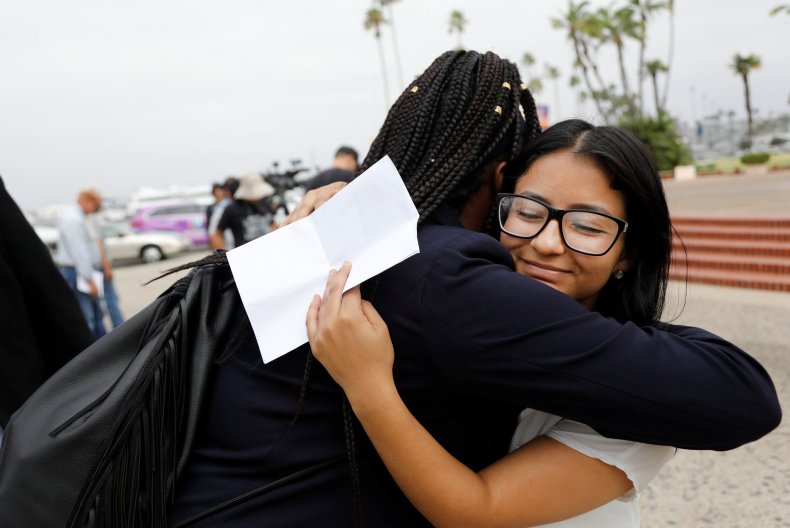 Veasey said his constituents with DACA protection suffer the same anguish as Armenta and Toribio, adding he's aware an increasing number of DACA recipients are being detained for prolonged periods at border checkpoints.
"People are living in fear now," Veasey said. "You're living in the unknown."
While Republican lawmakers have remained silent on the uptick in DACA detentions and revocations, some have been vocal on passing the bipartisan DREAM Act to create a pathway to citizenship for DACA recipients as part of the year-end spending bill.
"It would be sad to miss this opportunity," U.S. Senator Lindsey Graham (R-S.C.), who co-sponsored the DREAM Act, told CNN. "The president has talked very warmly about the DREAM Act kids."
He added: "I think most Americans want to give these DREAM Act kids a more certain life. So, let's do it in December."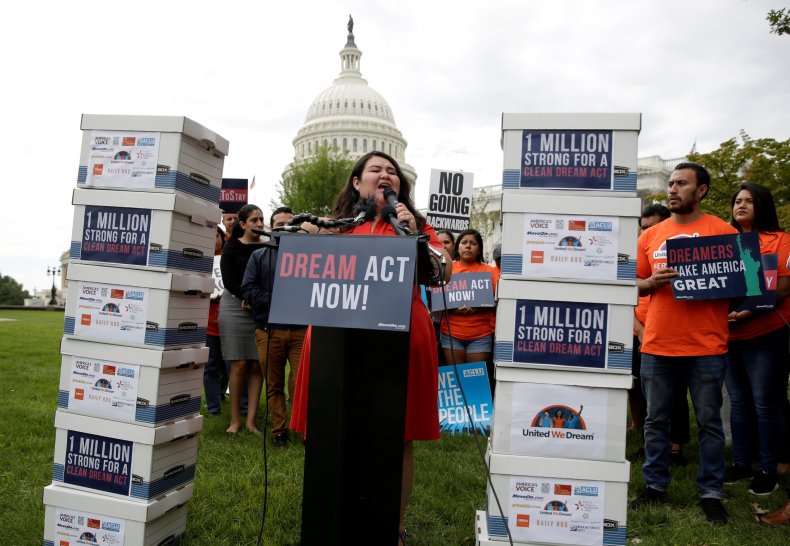 But an attempt to incorporate the DREAM Act or any other provision for DACA recipients in the spending bill could lead to a government shutdown. Trump and GOP senators reportedly agreed during a closed-door White House meeting that they would not include a fix for the program as part of the December spending bill.
For Arreola, who's been in the U.S. since he was 1 year old, a DACA fix would make him "feel a part of society" and allow him to continue to legally support his family in the only country he knows.
"I want to be here to raise [my son]. I grew up taking care of my sister Lupe. I want to keep holding her hand when she's walking down the street," Arreola wrote. "I know L.A. like the back of my hand—the lookout spot on Mulholland Drive, the beach in Malibu, the best Korean barbeque—and I want to continue the life I've lived here since I was a baby."