Trump Administration Ignored Offer of Free Flu Clinic for Migrants Despite Child Deaths, Physicians Say
A group of physicians say the Trump administration ignored their offer to pilot a free flu clinic for detained migrants and asylum seekers in the U.S., despite flu infections being responsible for at least three deaths of migrant children in federal custody during the 2018 flu season.
Earlier this month, physicians sent a letter to then-acting Department of Homeland Security (DHS) Secretary Kevin McAleenan and Health and Human Services (HHS) department Secretary Alex Azar, requesting to hold an "influenza vaccine clinic" for detained migrants free of charge.
"Flu is a preventable illness," the letter dated to November 5 and signed by seven physicians from across four states, including the three physicians behind the activist group Doctors for Camp Closure, which has advocated against the use of detention centers to house migrants, asylum seekers and refugees, states.
Yet, it continues, "flu infections were responsible for at least 3 child deaths...in federal custody during the 2018 flu season, which is 9 times the mortality incidence of the general pediatric population. In our professional medical opinion, this alarming mortality rate constitutes an emergency which threatens the safety of human lives, particularly of children."
In the last fiscal year, three young people, ages 2, 6 and 16 were found to have died in federal custody due to flu-related causes.
Following the death of 16-year-old Guatemalan Carlos Hernandez, the Border Patrol had to temporarily shut down the Texas detention center where he had been held and quarantine a number of other sick people.
With flu season already underway, the physicians asked that they be granted "immediate permission" to access Customs and Border Protection (CBP) facilities in San Ysidro, California in order to run a pilot program providing 100 doses of the influenza vaccine "at no cost to the U.S. government or its agencies."
The group said they were offering the pilot program "in response to this emergency and the reality that [the U.S. Customs and Border Protection agency] is "unwilling to provide these immunizations in accordance with current, evidence-based standards to ensure the health of migrant children and families under its care."
The physicians asked, in bold writing, that the DHS and HHS respond to their request by Tuesday, November 19 "due to the urgency of this matter."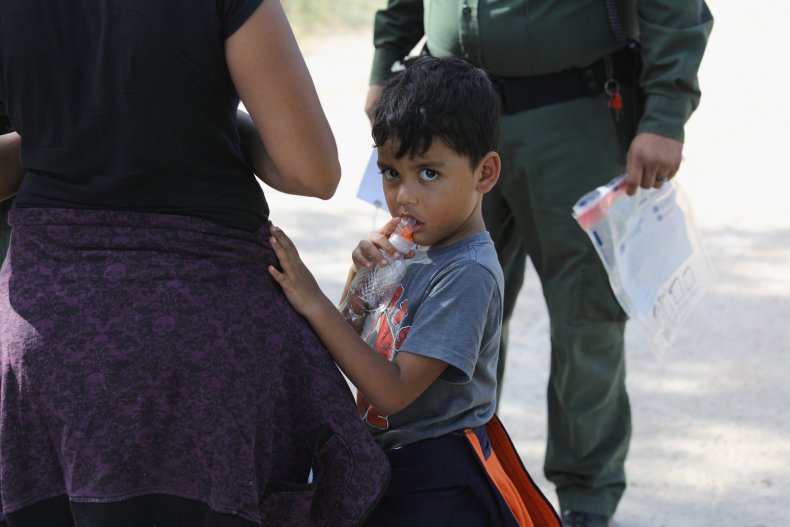 However, on Wednesday, November 20, they said no response had been received.
In an interview with Newsweek, Dr. Marie DeLuca, an emergency physician from New York City, said she was "not surprised," but was left "very disappointed" by the Trump administration's apparent dismissal of the letter.
"We have a group of doctors who are willing and ready to go and provide these free flu vaccinations," the physician said. "The only thing we don't have is access to the people that need the flu vaccinations."
"Large scale vaccination is not unprecedented or insurmountable," DeLuca and two of her colleagues, Bonnie Arzuaga, a pediatrician from Boston, Massachusetts and Danielle Deines, a pediatrician from Roanoke, Virginia said in a separate joint statement.
"Our government has undertaken similar efforts in the past and has the resources to do so," they said.
"Physicians who understand the dire need for vaccinations are ready to offer their own time, vaccine supplies, and expertise to ensure that more needless deaths do not occur. Yet they are turned away," the three physicians asserted.
"Continued refusal to acknowledge physicians' concerns by CBP, HHS, and DHS is a failure of our government to protect not only the people held in detention, but all people within our borders," they said.
Ultimately, DeLuca told Newsweek, the emergency physician would prefer to see the use of immigration detention completely brought to a halt.
However, she said, if federal immigration authorities do continue to rely on detention, then the government should be responsible for ensuring that the health and safety of detainees are prioritized.
"One thing I think is important to emphasize here is thats the situation is bring created by these detention facilities, they're creating a medical emergency," she said.
"People who are kept in very close and crowded conditions are going to be at risk for developing infectious diseases," she said. And, the consequences of that, DeLuca added, can be deadly.
"I work in emergency medicine, so right around this time of year is when we start seeing flu cases," she said. "Our biggest priority is to try to prevent death. So, that's why we're campaigning to try to get the flu vaccines into these facilities."
A CBP spokesperson told Newsweek that it has never been the agency's practice to administer vaccines. That is because CBP is a law enforcement agency, not a public health agency, the spokesperson asserted.
Because individuals are not meant to be held in CBP custody for any longer than 72 hours in either CBP hold rooms or holding facilities, the spokesperson said it would not make sense for the agency to provide immunizations or vaccination programs for people in its custody.
The spokesperson noted that CBP has significantly expanded its medical support efforts, with more than 250 medical personnel now working along the Southwest border.
The CBP rolling out a vaccinations system, the spokesperson said, would be too much of a logistical challenge.
Newsweek has also contacted the HHS for comment.
This article has been updated with statements from Dr. Marie DeLuca and from CBP.