Trump Administration Prepares Multiple Military Options for Iran, Including Airstrikes and Setting Up Ground Invasion
When President Trump's top national security advisers met for a classified meeting at the Pentagon last Thursday, Acting Defense Secretary Patrick Shanahan laid out several U.S. military options for Iran, separated into two distinct categories: retaliatory and offensive.
The revised Iran options ordered by John Bolton, President Trump's national security adviser, have different degrees and redlines for escalation, ranging from airstrikes to targeted incursions, Pentagon officials told Newsweek.
Defense Department officials who have been briefed on the details of the updated military plans for Iran agreed to speak with Newsweek on condition of anonymity. Pentagon officials confirmed a report published in The New York Times on Monday outlining an option to deploy as many as 120,000 U.S. troops to the Middle East if Iran initiates an attack on U.S. forces or continues to work on what the U.S. has alleged were secret nuclear proliferation objectives.
Pentagon officials told Newsweek that if deployed, the role of the 120,000 U.S. forces would center on logistical support and developing infrastructure to preposition U.S. forces for the option of a ground invasion. The original 120,000 would integrate into an additional surge of U.S. forces sent into the region.
American special operations forces traditionally play a heavy role both during and after battlespace preparation, defense officials added but said their use would depend on the Iranian scenario and the varying degrees outlined in the escalation of force matrix.
Contacted by Newsweek on Tuesday, the Pentagon referred questions to the National Security Council, who had not responded in time for publication.
Among those who attended Thursday's meeting with Shanahan: national security adviser John Bolton; Marine General Joseph Dunford, the top U.S. military officer; CIA Director Gina Haspel; and Dan Coats, the director of national intelligence.
Defense Department sources told Newsweek the attendees were on the same page in terms of the options presented citing Haspel as a "professional" and Shanahan as a "yes-man" for President Trump. However, sources said the classified meeting at the Pentagon is standard and not unusual when there are escalation factors to consider.
One Pentagon source said the meeting does not equate to the United States beginning the early stages of war. Instead, it was a show of force against Iran and part of a strategy aimed at diplomatic resolution. "It's just flexing muscles," the official said.
Senior American officials told the Times the preliminary options show how threatening Iran has become. A Pentagon source told Newsweek if anything is likely to happen involving the preliminary Iran options, it would involve a heavy guided missile strike campaign in an attempt to lead Tehran to the negotiation table with Washington.
"It depends on the escalation of force. But no matter the bravado from Iran's side, when you get hit it with 500 missiles every day, it degrades you, which is the objective. When your opponent is weak, you get more out of any negotiation," said one official with knowledge of the Iran plans.
Since coming to office in early 2017, Trump has sought a new nuclear deal with Iran, unilaterally abandoning the agreement signed in 2015 by the two countries, along with China, the EU, France, Germany, Russia and the United Kingdom. Though the International Atomic Energy Agency has repeatedly verified Iran's compliance and other signatories have continued to support the accord, Trump has accused Tehran of using sanctions relief granted in exchange for restricting nuclear production as a means to fund militant groups and ballistic missile activity.
Trump's strategy was previously limited to a maximum pressure campaign of economic and diplomatic isolation, but recent events such as Iranian threats to close the Strait of Hormuz and a series of mysterious "sabotage" attacks against oil tankers in the Gulf of Oman, less than 100 miles away, have led to a new spike in tensions.
It is not clear if President Trump has been briefed on the updated Iran options, but Pentagon officials told Newsweek the House and Senate Armed Services and Intelligence Committees will be briefed but the American people should not expect strong opposition given the current climate on Capitol Hill.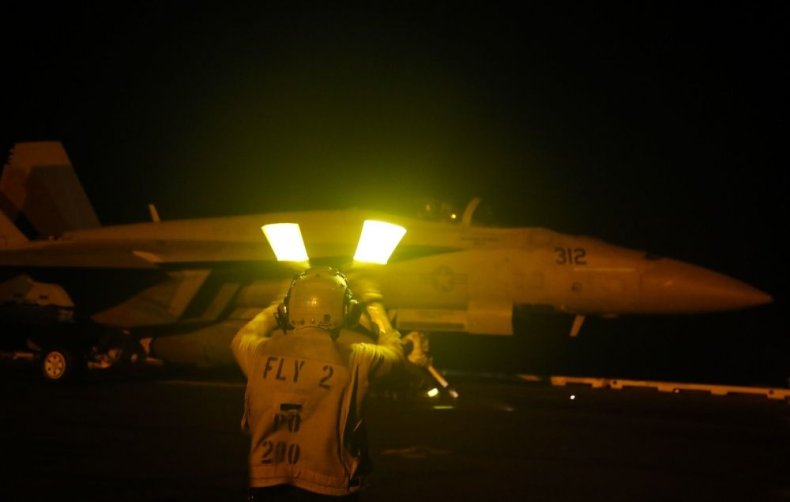 The Times piece invoked the lead-up to the 2003 Iraq War, sparked by a U.S. invasion that ultimately overthrew longtime Iraqi President Saddam Hussein. The move also sent shockwaves throughout the region and stirred a Sunni Muslim insurgency that empowered the likes of Al-Qaeda and others who would go on to form the Islamic State militant group (ISIS). It empowered Iran too, giving Tehran a political foothold in Baghdad and helping to mobilize powerful Shiite Muslim paramilitary forces that fought jihadis and U.S. troops alike before becoming integrated into Iraq's armed forces.
Adding to the conflict's controversy was the fact that the pretext for invading Iraq went unproven, and Bolton—a veteran Washington hawk—played a central role in propagating this narrative at the time. Allegations that Hussein was producing weapons of mass destruction and supported militant groups such as Al-Qaeda were rooted in bad intelligence spun to pave a warpath, and Tehran has warned the same was happening today.
Bolton used claims last week of "troubling and escalatory indications and warnings" of an alleged Iranian plot to justify an early deployment of the USS Abraham Lincoln carrier strike group and a bomber task force to the region. In an interview Thursday with NBC News, Iran's United Nations Ambassador Majid Takht Ravanchi argued these comments were based on "fake intelligence" that was "being produced by the same people who, in the run-up to the U.S. invasion of Iraq, did the same."
Iranian officials have capitalized on the lingering unpopularity of the Iraq War to warn of a repeat against a much more powerful, multifaceted foe. Modern Iran's at least half-million troops outnumbered that of Iraq's war-weary military in 2003, and potentially hundreds of thousands of largely Shiite Muslim militias across the region could gather in support of the Islamic Republic.
If the U.S. plan was simply to pummel Iran into restarting nuclear negotiations, it also remained to be seen whether Iran's elite, hard-line Revolutionary Guards would ever concede, or if Ayatollah Ali Khamenei would simply order them to escalate in hopes of dragging the Pentagon into another one of the "endless wars" that Trump campaigned against both before and after taking office.
Though a significant chunk of Congress has turned on Trump's continued support for the Saudi-led war in Yemen, lawmakers have so far proven unable to limit the president's powers to wage war abroad. In the case of Iran, legislators would similarly be incapable, and perhaps even unwilling, to stop his orders.
As for Trump himself, the president has expressed reservations in carrying on the legacies of his two predecessors in engaging in military interventions. Still, when it came to the "rogue regime" in Tehran, he appeared to be largely following Bolton's lead. Despite calling the report of Shanahan's military action plan "fake news" on Tuesday, Trump acknowledged that such a plan was a possibility.
"Now, would I do that? Absolutely," Trump told reporters when asked about the Times article before boarding Marine One. "But we have not planned for that. Hopefully, we're not going to have to plan for that, and if we did that, we'd send a hell of a lot more troops than that."
Such bellicose rhetoric has only further hardened the position of those in Iran already dismissive of diplomatic efforts and pushed those potentially looking for talks into the realm of issuing threats of their own. In a tweet published Tuesday, Hesameddin Ashena, an adviser to Iranian President Hassan Rouhani, answered the Trump administration's position by calling out the president directly. Though Ashena blamed Bolton, referencing him by his distinctive facial hair.
"You wanted a better deal with Iran. Looks like you are going to get a war instead. That's what happens when you listen to the mustache," Ashena tweeted. "Good luck in 2020!"