Trump Administration Says Many Iran 'Threats' Never Actually Happened, But It's 'Still Capable of Doing Those Things'
President Donald Trump's point person on Iran has claimed that many of the alleged Tehran-tied threats anticipated by the administration never happened, but that the Islamic Republic was still capable of carrying them out.
Testifying before the House Committee on Foreign Affairs' Middle East, North Africa and terrorism subcommittee on Wednesday, U.S. special representative for Iran Brian Hook cited "credible threat reporting in late April and early May that Iran was plotting imminent attacks against American interests in multiple theatres." He said this "threat stream" justified a heightened military U.S. military presence in the region, even though "a lot of what we were concerned about at the time has not come to pass in the time being."
"What we have seen so far have not been on the scale we have expected but that does not mean Iran is not capable of doing those things," Hook argued.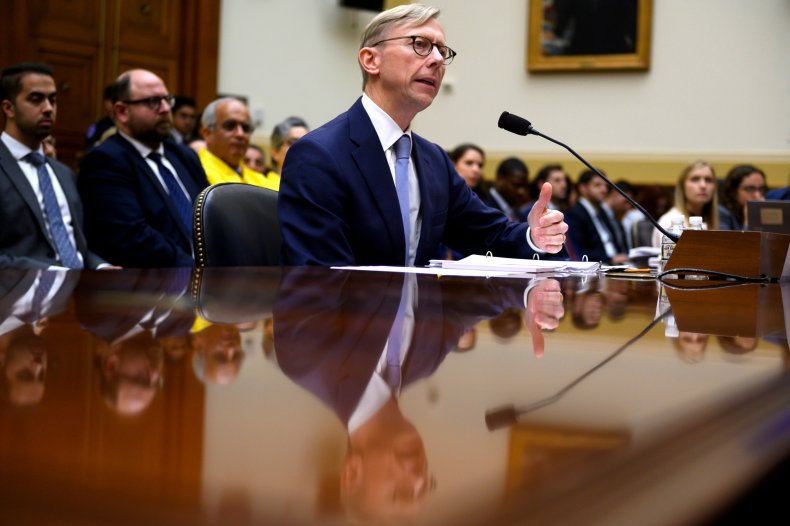 Hook's testimony came after the U.S. officially blamed Iran for recent attacks against two oil tankers, one Japanese and one Norwegian-owned, in the Gulf of Oman, near the world's most important oil chokepoint, the Strait of Hormuz. While the Pentagon has produced what it claimed to be evidence of involvement by Iran's elite Revolutionary Guards, Tehran has strongly denied this and even Washington's allies have expressed skepticism.
At the same time, the Trump administration has linked Iran to other regional incidents, such as repeated rocket attacks that have struck Iraqi bases where U.S. military personnel were known to operate. The Pentagon announced Monday it would send 1,000 more troops to the Middle East. The figure was reportedly in addition to 1,500 troops already slated to head there in response what administration has claimed were threats from Iran.
The Trump administration has accused Iran of lashing out in response to a U.S. "maximum pressure" campaign that Hook argued Thursday "is working," even if it appeared Tehran was only growing more aggressive since Trump pulled the country out of the 2015 nuclear deal still supported by its other signatories, which include China, the European Union, France, Germany, Russia and the United Kingdom.
Hook charged the Islamic Republic with attempting to set up military roots in Syria through its support for the government there; destabilizing Lebanon by backing Shiite Muslim Hezbollah movement; and prolonging the conflict in Yemen by sponsoring the rebel group known as Ansar Allah or the Houthis, which are currently battling a Saudi-led coalition.
Much of the testimony scrutinized the potential for the U.S. engaging in a conflict with Iran, though administration officials have sometimes expressed conflicting views on the matter.
While Secretary of State Mike Pompeo told CBS on Sunday that "of course" the U.S. was considering military action against Iran, Trump described the tanker incident as "very minor" in a TIME magazine interview published the following day and, while he would "would certainly go over nuclear weapons," he would leave "a question mark" over justifying such a move over international oil supplies.
Hook mostly dodged questions about how the Trump administration could justify going to war with Iran, especially as to whether it would choose to do so based on the 2001 Authorization for Use of Military Force. The U.S. has used this post-9/11 act as grounds for military operations around the world against Al-Qaeda and other jihadi organizations such as the Islamic State militant group (ISIS).
Though both the U.S. and Iran actively battled ISIS in Iraq and Syria, Washington has accused Tehran of having links to Al-Qaeda, raising congressional concerns that the administration could again bypass legislators in approving military action against the Islamic Republic. Pressed as to whether the Trump administration could do so, Hook referred lawmakers to the State Department's Office of the Legal Adviser.