Exclusive: Trump Administration Told 'Only Small Percentage' of Migrant Caravan Will Reach U.S. Border Before Massive Troop Deployment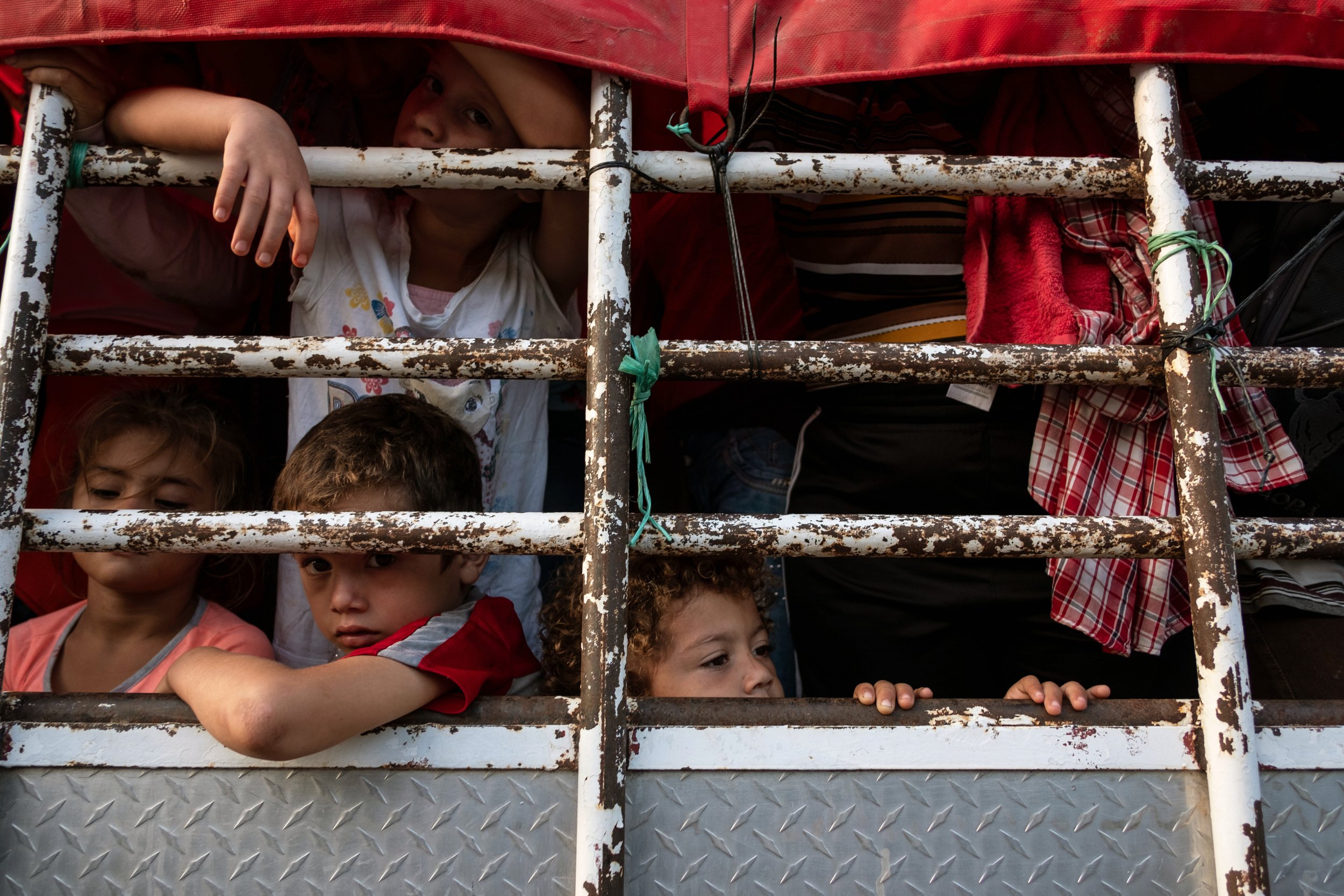 The Trump administration was informed that "only a small percentage" of Central American migrants traveling with several "caravans" headed toward the U.S. will likely make it to the border. The information was received before the administration moved ahead with plans to deploy more than 5,200 troops to the border, according to operational documents obtained by Newsweek.
The Pentagon announced Monday that it would send around 5,200 troops to the border ahead of the arrival of as many as four migrant caravans making their way to the U.S.-Mexico border. But a Defense Department official with knowledge of the deployment told Newsweek that "the units deployed right now are of actual strength between 5,000 and 7,000. With another 7,000 on standby, who can deploy with 24-hour notice."
Operational documents sent to Newsweek by a Pentagon official outlining the deployment, dubbed Operation Faithful Patriot, reveal that the government continued its plans to send troops to the border despite anticipating that "based on historic trends...only a small percentage of migrants will likely reach the border."
The estimates revealed in the documents, marked as "UNCLASSIFIED//FOUO//LES" (meaning the documents are for official use only and are law enforcement sensitive), stand in stark contrast to President Donald Trump's claims of an "invasion" at the U.S. border.
In an interview with Fox News' Laura Ingraham on Monday, Trump appeared to dismiss reports on the caravans' dwindling numbers, asserting that he was good at determining crowd sizes and knew there were "thousands and thousands" of people traveling with the caravans, based on coverage he had seen of migrants crossing a bridge into Mexico.
"That's called an invasion of our country," Trump said.
It is not clear whether Trump saw the specific documents contained in the presentation, although a Pentagon official said it was likely that the president had been briefed on the matter.
U.S. officials estimated that as many as 7,000 Central Americans were traveling with the caravans, with roughly 60 percent of the group made up of Hondurans, in addition to smaller numbers of people from Guatemala, El Salvador and Nicaragua, based on an October 25 assessment. The intelligence is included in documents that were prepared by the Joint Force Land Component Commander Threat Working Group and used in a PowerPoint presentation on Operation Faithful Patriot on Saturday.
But, of the thousands of people estimated to have been traveling with the caravan at the time, officials believed that only 20 percent would likely make it to the U.S. border, based on historical analysis.
To put this into perspective, if the U.S. had estimated that around 7,000 migrants were traveling toward the border with the caravan as of October 25, then it would have also determined that fewer than 1,500 would be likely to make it to the country's ports of entry. The intelligence assessment was still being briefed to commanders as of October 27, according to the documents.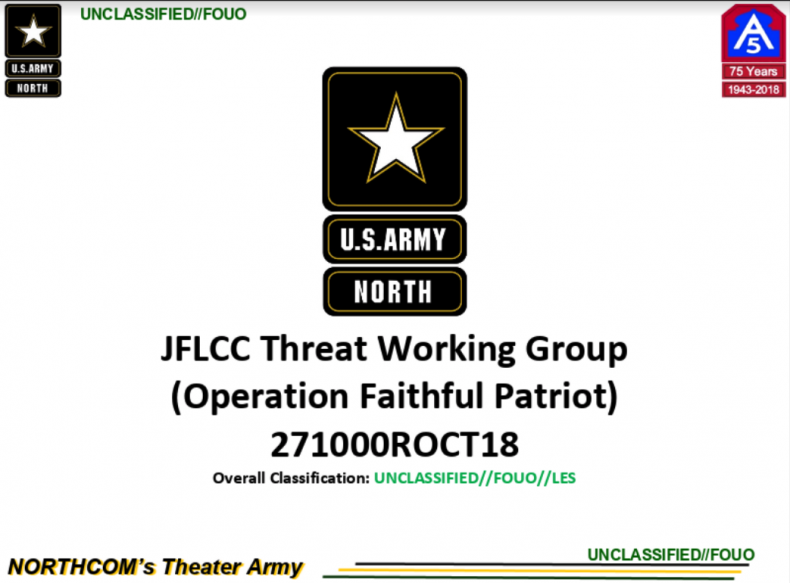 Since then, the numbers of Central Americans traveling with the caravans appear to have dwindled, with the first caravan, which departed from San Pedro Sula, Honduras, on October 13, shrinking from around 7,500 people to about 3,500 as of Monday, according to the Associated Press.
In addition to the first caravan, at least two smaller convoys departing from Honduras and El Salvador have also launched journeys to the U.S. border this month. However, the operational documents viewed by Newsweek assert that there are "four large migrant caravans" making their way toward the border.
It is unclear at this time what members of the U.S. intelligence community are observing to determine a fourth migrant caravan.
Trump has rejected claims from critics that his administration's decision to deploy troops to the border was part of a bid to stoke immigration fears ahead of the November 6 midterm elections.
"This has nothing to do with elections," Trump said. "I've been saying this long before election[s]. I've been saying this before I ever thought of running for office. We have to have strong borders. If we don't have strong borders, we don't have a country."
Still, in the days before the quickly approaching November midterm elections, the president has ramped up the rhetoric on his administration's immigration crackdown.
On Tuesday, the president revealed plans to sign an executive order that would remove the right to citizenship for babies of non-U.S. citizens and undocumented immigrants born on U.S. soil.
Declaring his intentions in an interview with Axios slated to air on HBO on Sunday, Trump said he had already consulted White House counsel on the decision, adding that efforts to end birthright citizenship were already underway.
If the president does sign such an executive order, it would be his administration's most dramatic effort yet in its hard-line campaign to crack down on immigration in the U.S.