Migrant Caravan Troop Deployment Could Cost U.S. $50 Million Despite No Evidence of Terrorists, Major Criminal Gang Presence
The Trump administration is preparing for the most dangerous, and unlikely, a scenario as it sends thousands of troops to the border to intercept a carvavan of Central American migrants making its way through Mexico at the cost of tens of millions of dollars.
Documents obtained by Newsweek from two Defense Department officials show that intelligence officials do not anticipate any terrorist infiltration and only limited involvement of criminal gangs as the caravan follows its projected route.
On Monday, the Pentagon announced that it was sending an additional 5,200 troops to the United States' southern border amid increasingly heated rhetoric from President Donald Trump, including claims of the presence of "unknown Middle Easterners," terrorists and MS-13 gang members. Those claims are not currently supported by intelligence on the ground.
The planning documents include intelligence assessments and precise movements of U.S. forces. The PowerPoint was constructed by the Joint Force Land Component Commander Threat Working Group and used in a PowerPoint presentation on Operation Faithful Patriot on Saturday. The documents are marked "UNCLASSIFIED//FOUO//LES" meaning they are "For Official Use Only" and are "Law Enforcement Sensitive."
Get your unlimited Newsweek trial >
The operational documents outline the deployment, and as of Saturday, officials planned to send troops to four specific ports of entry, located in Brownsville, Texas, McAllen, Texas, Nogales, Arizona, and San Ysidro in San Diego.
Currently, the port of entry in McAllen would be the closest entry point into the U.S. for migrants traveling with at least three caravans headed toward the U.S.
However, the McAllen port of entry is still roughly 880 miles away for members of the first of the three caravans, which is currently making its way through Mexico toward the U.S. after embarking on its journey from San Pedro Sula, Honduras, on October 13.
While McAllen might be the closest point of entry, Central American migrants traveling with a previous caravan that made its way to the U.S. in April made the journey to the San Ysidro point, which is the largest land border crossing between San Diego and Tijuana, Mexico.
Get your unlimited Newsweek trial >
The intelligence assessment included in Operation Faithful Patriot's October 27 briefing concluded that the ports of entry at Brownsville, where the Rio Grande River flows between the entry point and Matamoros, Tamaulipas, Mexico—and San Ysidro, which separates San Diego from Tijuana, Mexico, were significant areas of concern for infiltration by transcontinental criminal organizations, according to the documents.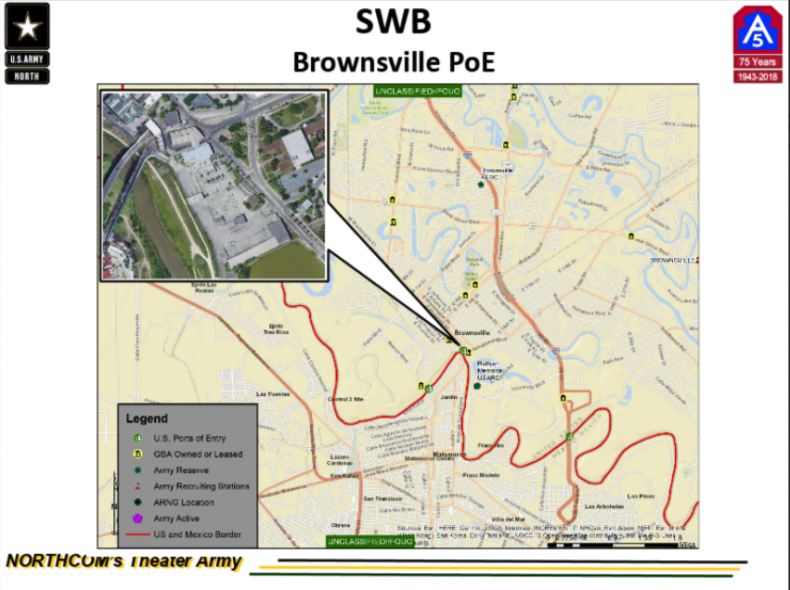 The U.S. intelligence analysts said the caravan's "most dangerous course of action" is to grow beyond the 7,000 figure while being exploited by terrorists and foreign intelligence agencies.
Analysts go on to outline the threat that transcontinental criminal organizations will become increasingly aggressive over Defense Department efforts to thwart the migration as violent cross-border engagements break out.
It is unclear how the U.S. intelligence community determined the caravan's most dangerous course of action given the current situation on the ground.
The United Nations Refugee Agency, the UNHCR, has expressed concerns over "kidnapping" and "security risks in areas the caravan may venture into." Experts have said that migrants specifically choose to travel in large numbers for "safety" purposes.
Large groups are believed to increase migrants' chances of safe passage and provide a sense of community and solidarity along the journey. Karen Jacobsen, who acts as the Henry J. Leir Chair in Global Migration at the Fletcher School of Law & Diplomacy at Tufts University, explained in a recent piece for The Conversation.
"Whether crossing Central America, the Sahara desert or the mountains of Afghanistan, migrants are regularly extorted by criminals, militias and corrupt immigration officials who know migrants make easy targets: They carry cash but not weapons," Jacobsen wrote.
"Large groups increase migrants' chance of safe passage, and they provide some sense of community and solidarity on the journey, as migrants themselves report," she added.
The U.S. intelligence community assessed that the "most likely course of action" was a dwindling of migrants as it reached the U.S. southern border, with limited transcontinental criminal organizations exploiting the group and "no terrorist infiltration," an assessment that runs counter to past statements made by the president.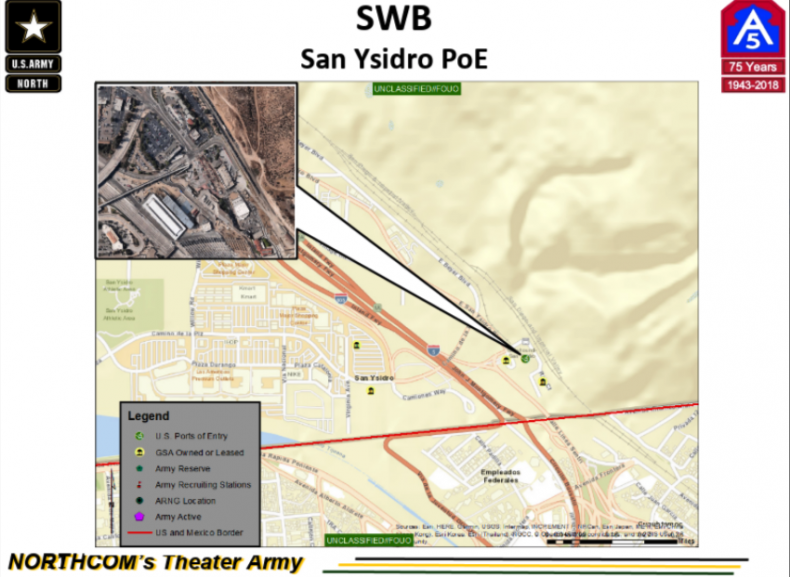 Speaking to reporters last week from the Oval Office, Trump said that terrorists could "very well be" in the caravan, lauding that he has "very good information."
Trump went on to say that in conversations he's had with both U.S. Customs and Border Patrol and Immigration and Customs Enforcement, Middle Eastern terrorists—who Trump called "some real bad ones"—illegally cross the southern border. However, when pressed for proof by CNN's Jim Acosta, Trump said he had "no proof of anything, but they could very well be."
How much will it cost?
While the Defense Department has yet to reveal costs associated with deploying thousands of U.S. troops to the southwest border, a Pentagon official familiar with the details of the deployment told Newsweek that initial values could start within the $50 million range.
The estimated financial figure surged when factoring in the movement of equipment and associated logistical support combined with the allocation of funds for U.S. troops on temporary duty, the source said.
To put this into perspective, the source compared the roughly $50 million price tag to the Pentagon spending $25 million over the course of three months to place about 3,000 U.S. soldiers on recruiting assistance duty.
The official said that if the deployment were to continue "beyond six months" the $50 million estimate would gradually increase. As of Monday, the Defense Department has said that U.S. troops have planned for continued operations until mid-December, a statement supported by the documents supplied to Newsweek.
Adam Isacson, director for Defense Oversight at research and advocacy group the Washington Office on Latin America (WOLA), has warned that costs for the deployment could cost as much as a million dollars per day.
"If it's $200 per soldier per day in logical costs, that's a million per day," Isacson said in a press release sent to Newsweek.
Indeed, if initial costs fall within the $50 million range for the anticipated 45 days troops are expected to be stationed at the border, the price tag for Operation Faithful Patriot would amount to around $1.1 million a day.
But, Isacson warned, he believed that "the actual cumulative cost of sending in 5,000 troops will likely be much greater" than $1 million per diem.
Previous deployments of National Guard troops to the southern border under former presidents Barack Obama and George Bush could provide some insight into potential costs.
In "Operation Jump Start," Bush ordered the deployment of 6,000 National Guard troops to California, Arizona, New Mexico and Texas. U.S. service members were stationed there for just over two years from June 2006 to July 2008. Bush had announced the measure in May 2006 as an "immediate step to support" CBP's efforts at the border.
In congressional testimony published on April 17, 2012, Major General John Nichols of the Texas National Guard revealed that the deployment cost the U.S. a total of $1.2 billion, which works out to approximately $100,000 per soldier per year (calculated on an annual average of 6,000 troops).
In contrast, a Newsweek analysis of 2018 data gathered by Statista shows that a U.S. Army captain, the most prevalent officer rank in the U.S. Army, would receive around $60,800 per year with over four years of service, while an Army corporal or specialist with over two years of service would earn around $26,980 annually.
Under the Obama administration, the U.S. deployed National Guard troops to the U.S.-Mexico border under Operation Phalanx, an initiative that mobilized 1,200 service members in July 2010, according to Nichols' testimony.
Documents released by the Government Accountability Office showed that the first year of that deployment cost around $110 million, working out to roughly $91,666.66 per troop that year.
The Department of Homeland Security later scaled back the presence of troops, reducing the number to 300 a year and a half later.
The Pentagon did not respond to a request for comment about the deployment costs.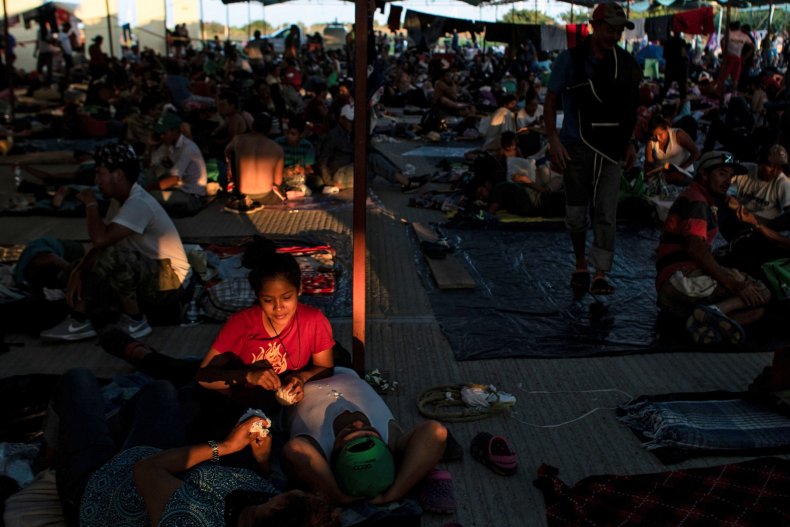 Security of the U.S. "imperiled"
On Monday, U.S. Northern Command issued a fragmentary order to subordinate and supporting commanders. A fragmentary order or "FRAGO" is used by the U.S. military to deliver modified or updated information from the initial guidance given to military commanders while simultaneously informing senior Pentagon leadership.
"The security of the United States is imperiled by a drastic surge of illegal drugs, dangerous gang activity, and extensive illegal immigration threatens the safety of the citizens and undermines the rule of law, the document states.
The language in the order appears to match that of President Donald Trump, who has repeatedly railed against asylum seekers making their way to the U.S., calling their journey an "invasion" at the southern border.
On Monday, the Pentagon announced that it would be sending around 5,200 troops to the southern border, but a Department of Defense official with knowledge of the deployment, officially dubbed Operation Faithful Patriot, told Newsweek that the units currently deployed are "of actual strength between 5,000 and 7,000" with "another 7,000 on standby, who can deploy with 24-notice."
The Trump administration's decision to deploy thousands of troops to the southern border comes as it continues to drive a hard-line campaign to crack down on immigration.
Migrant Caravan Troop Deployment Could Cost U.S. $50 Million Despite No Evidence of Terrorists, Major Criminal Gang Presence | U.S.